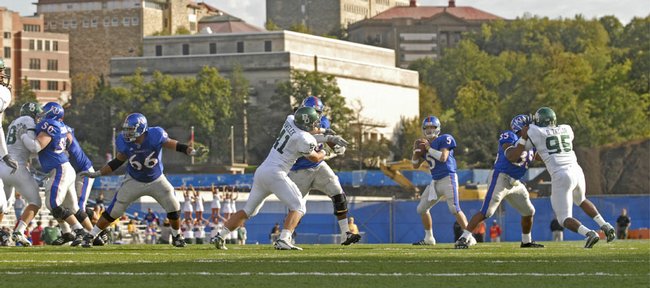 If Kansas University's offensive attack entertained you last football season, just wait.
That no-huddle spread offense? Well : it's spreading.
With teams like the Jayhawks having great success ditching the huddle and using every square foot of the field in 2007, teams across the Big 12 Conference are starting to try it as well. Already this spring, Oklahoma, Colorado, Kansas State and Baylor have experimented with no-huddle to go along with teams that already use it, like Kansas, Missouri and Oklahoma State.
The no-huddle approach, where plays are signaled in from the sidelines, gives the offense the opportunity to adjust to the defensive setup at the last second. He who acts last gets the advantage.
"It's a chess game," KU coach Mark Mangino said, "that's played over a number of years."
Interestingly enough, KU's style of attack benefits its entire team. Not only did the Jayhawks rank eighth nationally in total offense and second in scoring offense in 2007, but KU's defense faced it every day in practice and started to adjust.
It will come in handy as more and more conference teams start implementing it.
"Just watching our defense, they're starting to pick up on some the little nuances on offense that we do because they see it everyday," Mangino said. "That means our offense is making our defense better."
Oklahoma coach Bob Stoops, whose Sooners play Kansas on Oct. 18, said he evolved his offense toward no-huddle as a way to get more plays in over the course of a game. Missouri, a no-huddle spread success story, was second in the Bowl Subdivision with 1,112 offensive plays in 2007.
"The more other offenses are snapping it quicker, we want to make sure we are getting the same number of tries at it," Stoops said. "With the opportunity to change plays at the line of scrimmage, you need to be at the line quicker."
The question is, when will the defenses catch up? The Big 12 had five teams in the top 10 nationally in total offense in 2007, and several games had outrageous final scores - most notably Kansas beating Nebraska, 76-39, Colorado beating Nebraska, 65-51, and Texas beating Texas Tech, 59-43.
Most coaches asked about it Monday during the Big 12 coaches spring conference call said it's all cyclical, and eventually the tables will turn. Oklahoma State coach Mike Gundy wasn't so sure, citing more plays being run due to the no-huddle approach and a greater tendency to pass the ball.
"Up until about three or four years ago, I think defenses were ahead with all the zone-blitz packages they put in," Gundy said. "Now offenses have found a way to overcome that.
"I think it's going to continue. I think people are going to score more points than they ever have, and I don't think it's going the other way."
It's now the mission of defensive coordinators to prove Gundy wrong. Perhaps the teams with the best chance to stop the spread offense, interestingly enough, are the ones who know it and work with it on a daily basis.
Mangino wants to think so.
"How they're actually going to stop it? I think there's a lot of ways," Mangino said. "I probably don't want to discuss those because we're going to play against no-huddle spread offenses."
He sure is - more than ever before.
More like this story on KUsports.com