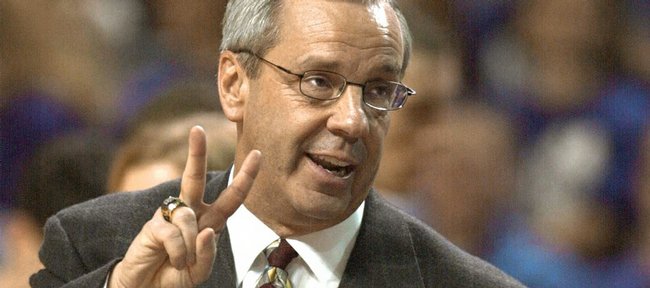 Whenever people are engaged in an intensely competitive situation, they get added incentive to succeed if they have the convenience of a villain. Without a scapegoat, they may create one, ridiculous though the fabrication may be.
Many remember when Americans could stir their juices via such villains as Togo, Hirohito and Yamamoto of Japan, Hitler in Germany, Georgia Joe Stalin and the Soviet Union's evil empire. Nowadays we know there are murderous criminals in the ranks of terrorists and jihadists, but they aren't as easy to isolate for derisive purposes and emotional pump-ups.
Because Kansas University is meeting North Carolina in the NCAA basketball semfinals Saturday, people who should know better are enjoying rag-dolling UNC coach Roy Williams primarily, with, for a change, ex-coach Dean Smith as the backup. Far too many, particularly those anonymous cowards in chat rooms and on message boards and talk shows, delight in devising and circulating disgusting trivia. Such dolts should be allowed nothing sharper than a crayon and no surface more sophisticated than a bathroom wall.
Former Jayhawk Dean Smith, who has represented his home state and Alma Mater so brilliantly for nearly 60 years, again is being harpooned for luring Williams back to Carolina after Roy's brilliant 15-year tenure as Kansas' coach. Roy virtually never failed to command and earn respect as a solid gold representative of KU.
But because Roy once indicated he might be here forever and because Dean orchestrated getting his former assistant back to Chapel Hill as the 2003 season ran down, some remain resentful, ugly and obscene when they discuss these guys. This may only add to such ire, but while at KU, Roy termed the dirty tricks tendencies of some electronic critics as being part of a Crapnet. Perfect label.
Williams has his flaws, but he was and is a platinum citizen as well as a hall-of-fame coach.
Same old barbs, Roy - even intensified as two legendary basketball programs prepare to meet in San Antonio. It is sad and depressing that two '08 coaches/good citizens who have given Kansas University a combined 20 years of the best kind of basketball imaginable, with tremendous class and dignity, are ensnarled in the current hatefulness and speculation. They deserve better.
It's hard to understand why Oklahoma State made its coaching change at a time when it distracts from the goals of alumnus Bill Self. Bill ain't leavin', so he should be left alone to direct his team's preparation rather than being dissected on the Crapnet.
C'mon, folks! Give up this constant, ever-growing childishness of demonizing alleged villains! UNC has Roy, KU has Bill and they have two super teams ready to do battle in search of another national title for their schools. Get off the coaches, enjoy the outstanding matchups and focus on the damned game, without further verbal treachery and gymnastics.
If there's any revenge factor, Kansas should bust a gut to atone for that 54-53 triple-overtime heart-ripper UNC delivered in 1957. How about getting even for Carolina's 78-68 national semifinal victory in '93? Let's return that painful favor regardless of UNC's staffers. Then gloat if you must.
It'll take an intense fire in the collective KU gut, but if it's there, Bill Self will be justified in sending his kids into battle with: "L'amour toujours, tonight for sure!"
Extra! Extra! Write the headline
So, just how would you capture the euphoria of victory - or, god forbid, the agony of defeat - in just a few words?As the Jayhawks get ready for their big game against North Carolina in the Final Four, we're giving everyone a chance to submit their suggested headlines for Sunday morning's paper.Some advice: Be clever, descriptive and, of course, concise. Remember: Your optimistic words just might end up being prophetic.For now, we'll stick with taking ideas for the national semifinal, the one pitting Bill Self and the No. 1-seeded Jayhawks against Roy Williams and his No. 1-seeded Tar Heels.Show off your headlines by going to www2.ljworld.com/headline and leaving your suggestion in the comments.
More like this story on KUsports.com