Columbia. Mo. — Brandon Rush realizes he'll be the least popular player in Mizzou Arena today.
"Their fans hate me because I didn't go there when I was coming out of (prep) school," said Rush, Kansas University's sophomore guard from Kansas City, Mo., and the brother of former Missouri standout Kareem Rush.
He heard a barrage of insults before last year's Border War game in Columbia - KU's 89-86 overtime loss to the Tigers.
"They yelled, 'You can't read. Who took your SAT? Who did this, who did that?' Stuff like that," Rush said.
"I like that kind of stuff, that kind of atmosphere," noted Rush, who scored 14 points off 5-of-13 shooting versus MU a year ago. "You know everybody in the crowd just hates your guts."
He hasn't received any phone calls from MU's student cheering group, "The Antlers," yet this week. The Antlers have found another way to make contact leading up to today's 2:45 p.m. tipoff against the Jayhawks.
"I just got a lot of 'Facebook' messages from them. They said, 'We'll get you when you come down here. You've got to play here this time,''' Rush said.
Rush admitted it's his favorite road game of the season. "Just because my brother went there," he said.
¢Self unbothered: KU coach Bill Self, who normally has to turn his cell phone off the week of the KU-MU game in Columbia, hadn't received any unwanted calls from the Antlers as of noon Friday.
"I think they forgot about me or lost my number. No calls yet. I'm sure I'll get tons of calls tonight (in the Columbia hotel room)," he cracked.
Russell Robinson also reports no phone calls. He expects to hear it from the MU faithful today, though.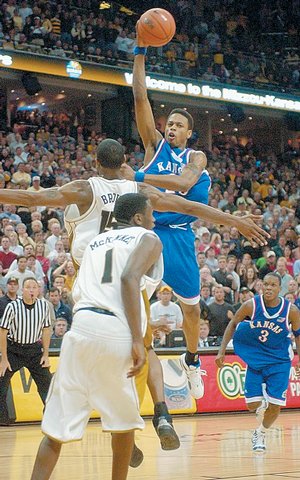 "It's probably one of the toughest places to play, the toughest fans," he said. "They have no conscience when it comes to us. It's what you play for, the rivalry. You don't expect to hear anything nice."
¢Stewart at funeral: KU junior guard Rodrick Stewart will miss today's game. He's in Mississippi for the funeral of his great-grandfather and will return to Lawrence on Sunday.
Self was asked if he might use Jeremy Case or Brady Morningstar against a team that sometimes employs four guards.
"Missouri is not a great team for us to be short on the perimeter because they play four guards a lot," Self said. "If they go small and foul problems are an issue, Jeremy (Case) or Brady (Morningtar) can be in the game, or we can use Julian (Wright) back there."
¢Back woes: KU junior forward Darnell Jackson's bad back has flared up.
"It's a lot worse than we've let on," Self said. "He can only practice 30 to 35 minutes a day. It will take an extended period of time for him to be off it before it'll heal."
Jackson first said he had a fracture; now he calls it a bad bruise.
"It's closer to a fracture than a bruise," Self said, noting Jackson does not need surgery. "He has some stress back there that can't get worse, but certainly needs time off to get better."
¢Pressing Tigers: The Jayhawks expect a true dose of '40 minutes of hell' today. MU did not press much in a 80-77 loss to KU on Jan. 15 at Allen Fieldhouse.
"They laid off here. It's kind of hard to do (press) on the road. You just don't have the same energy," Robinson said. "I imagine they will be picking us up full-court. We have to handle the pressure. The fans will be behind them. We have to come in there and try to take the fans out of the game, play the game."
"Most good pressing teams like Missouri turn up the heat a little more at home. They'll get after us no doubt," Self said.
¢Anderson's take: MU coach Mike Anderson on today's game: "Hopefully it's a game where our guys, with an opportunity to play at home, will be looking forward to the challenge."
MU is coming off a 77-55 victory over Iowa State on Tuesday in Ames, Iowa.
¢A year ago: KU squandered a nine-point lead in the last 1:51 in last year's 89-86 OT loss at Mizzou Arena.
"I remember the 40 points Thomas Gardner put on us, losing and watching them rush the floor like they won a national championship," Rush said.
¢Collins vs. Hannah: Sherron Collins had 23 points and five rebounds in the first meeting at Allen Fieldhouse; his high school nemesis, Stefhon Hannah, had 15 points and four assists.
"I mean, we are competitive. We are both from Chicago. We said, 'Good game, way to play,''' Collins said of the exchange after the game. "That's it pretty much. We didn't have many words. It was a tough loss for them. He didn't say much."
The loss gave Collins a 2-1 lead in head-to-head matchups versus Hannah. Collins' Crane High team split a pair of games against Hannah's Hyde Park squad in the Illinois prep ranks.
"I'm really 1-0. We're not counting high school anymore. We're not looking back on that," Collins said. "I try to not make it a personal thing between me and Stefhon because we're a team. Missouri versus Kansas; we're trying to win as a team."
¢Game time: Today's game is listed as a 2:30 p.m. start on most schedules. MU officials, however, indicate the game will begin at 2:45 p.m.
More like this story on KUsports.com