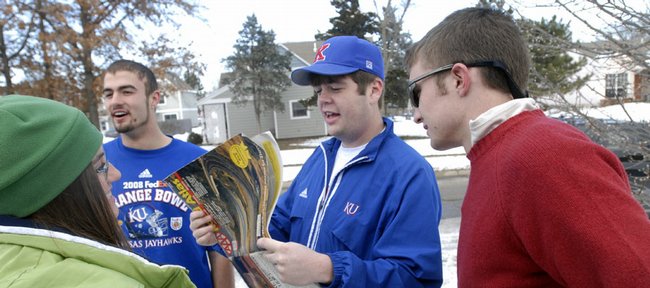 Kansas University junior Tim Burgess hasn't missed a football game this season and he isn't about to let 1,503 miles keep him from attending the last one - Thursday's game in Miami.
About noon Sunday, Burgess and 13 of his friends piled into two sport utility vehicles and a Volkswagen Jetta for the approximately 23-hour trip to watch the 11-1 Jayhawks play the Virginia Tech Hokies in the Orange Bowl.
"We've driven to every game," Burgess said. "What better way is there than to drive to the last one to put a cap on the season?"
Taking road trips is nothing new for this crew. They drove even farther - San Jose, Calif. - to watch the KU basketball team play in the Sweet 16 during the NCAA men's basketball tournament.
Other college students are making the drive as well.
Anthony Fast, also a KU student from Lawrence, said he and a friend decided to drive because it's more economical.
"I'm a college student and a single dad," he said. "My buddy - he's kind of a bar bum, you could say, and he doesn't have a lot of money either."
They decided they could make the drive down there for the cost of just one airline ticket, leaving today and coming back Sunday.
"My dad's had season tickets for about 20 years now," Fast said. "I've been going since they were awful. Within the past couple years, my buddy and I have been going to all the home games."
For Wade Hageman and his Lewis Hall freshmen floormates, there was never a question of whether they would go to the bowl game. They just waited to hear where KU was playing and then started making plans.
"It's cheaper for us to split the cost of driving five ways, rather than fly," Hageman said. "We're not going to stop anywhere, and we got a pretty good deal on a hotel room down there.
Hageman said he had been to 10 of the Jayhawks' 12 games this season. The only games he missed were at Boulder, Colo., and College Station, Texas.
Jeremy Clarkson, like many KU fans, seems to have caught the football bug more than ever before.
Clarkson, who was a student while Terry Allen was coach, said he endured many bad games.
"A part of me thought I'd never see KU in a BCS game," he wrote in an e-mail.
But when he found out he could get tickets to the Orange Bowl, he decided it was time for him to make history of his own.
Clarkson has never traveled to a Jayhawk football game, he said. Until this year.
More like this story on KUsports.com