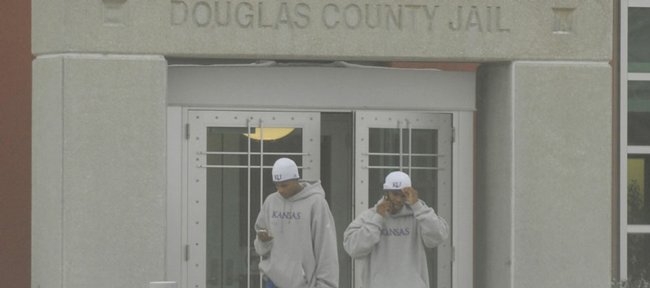 Law enforcement officials have taken Kansas junior guard Brandon Rush into custody.
City prosecutor Jerry Little confirmed just before 3 p.m. Thursday, Rush appeared in Lawrence Municipal Court to take care of a traffic matter. According to Little, Rush had outstanding warrants and the judge ordered him to be transported to the Douglas County Jail.
Rush was arrested on two warrants for failing to appear in municipal court. He's charged in one case with driving with a suspended license and speeding on Oct. 19, 2007. He also faces charges from a December 2006 case for driving on the left of a roadway and having no proof of insurance.
Rush was supposed to appear in municipal court on Nov. 28 but failed to show up. He was not scheduled to appear in municipal court today.
Kansas University basketball coach Bill Self issued a statement on the arrest of junior guard Brandon Rush and said he would not be suspended for Saturday's game in Allen Fieldhouse against DePaul.
"We are disappointed because our players need to be more responsible when handling situations in dealing with the law," Self said.
"Brandon did not to appear in court, therefore, this happened. This is a costly lesson for him and a great lesson for the rest of our players. Although this matter has been reported publicly, any team punishment will be handled internally."
Rush practiced with the team.
"My dealings with Brandon and our team under these situations, I'm not going to make it public what we talk about or what we do," Self told reporters. "I'm disappointed because we should be more responsible."
More details as they develop.