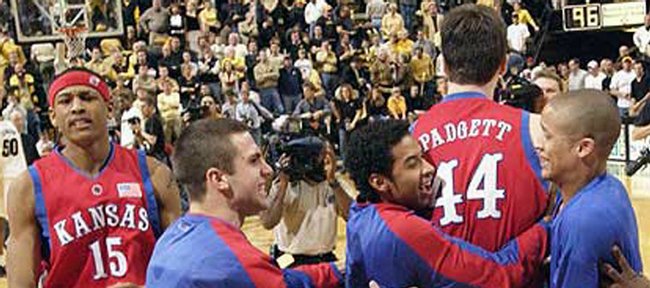 Columbia, Mo. — David Padgett called it "an ugly shot, a lucky shot."
His Kansas University men's basketball teammates and legion of Jayhawk fans would have to disagree.
"It was an unbelievable shot, as big a shot as I've had a freshman make," KU coach Bill Self said of the 6-foot-11 freshman's tie-breaking eight-footer from the baseline with two seconds to play in the Jayhawks' 84-82 victory over Missouri on Sunday at Hearnes Center.
That shot, coupled with Aaron Miles' three-pointer with :21 to play -- which erased an 80-79 deficit -- proved pivotal as the Jayhawks won the final game played in MU's 32-year-old building.
"Oh, man, it was the last thing I expected to happen," Padgett said of sinking the game-winner on Missouri's Senior Day. "It was the farthest thing from perfect. Keith was supposed to take the shot, but I was open and he passed it to me.
"I didn't really have a move. There wasn't enough time to pass it to somebody else. I turned around and heaved it up there. I just hoped somebody would tip it in."
There was no need for that. It was nothing but net for Padgett, who scored six points with two rebounds in 19 minutes.
"We practice that play all the time," said Langford, who brought the ball up-court after MU's Jason Conley hit two free throws to tie the score at 82. "When the big guy helps uphill, I'm dumping it to our big guy. He was willing to take it, to have the guts to take it. That's big for a freshman. It'll help his confidence a lot."
Padgett's shot was crucial, of course, but the game wasn't over until Miles intercepted a baseball pass from Jimmy McKinney near halfcourt.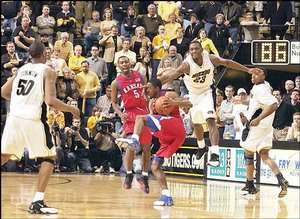 KU (20-7 overall, 12-4 Big 12 Conference) wrapped up a tie with Texas for second in the Big 12, but because of the tie-breaker will be seeded third in this week's conference tournament.
MU fell to 15-12 overall and 9-7 in the league and is seeded sixth.
"Aaron loves it. He lives for this," Self said of his junior floor general who had 15 points, eight assists and two turnovers in 37 minutes. "Aaron is an unsung player in the league. Last year he made the play that set up the win. This year he made the play again. He deserves credit."
A year ago, Miles hit an awkward-looking three that tied the Tigers in the final minute of a 79-74 KU win at Hearnes. Kirk Hinrich followed with a three that put the Tigers away.
"I wanted to get the ball in Keith's hands. I gave the ball to Keith," Miles said. "He penetrated and my man helped out, so he gave it back to me. Keith always makes the best decisions."
The Jayhawks' highlight-film ending followed a big-time error by freshman J.R. Giddens.
Giddens, who was huge with 14 points off 4-of-7 three-point shooting, had an inbounds pass stolen by Jason Conley, who raced in and slammed to give MU an 80-79 lead with just :46 to play.
At that point, it looked like MU would pull off a remarkable comeback victory, considering the Tigers trailed by 10 (77-67) after a Miles three at 4:53.
"I was worried big-time," Self said. "I was very nervous. We'd squandered a 10-point lead. It got to the point we said, 'Just get it in Keith's hands.'"
If it's any consolation, it appears Conley may have kicked the ball on his intercept of the Giddens inbound, which normally results in a stoppage of play.
"I will not make excuses," Giddens said. "I gave him an up-fake, he kicked the ball and got the dunk. We had some trouble focusing on some plays, and they executed and took advantage."
MU's Arthur Johnson was KU's main tormentor. Johnson, who had a career-high 37 points off 13-of-17 shooting and 11-of-17 free throwing, scored eight of his team's nine points as MU cut a 77-67 deficit to 77-76.
Several KU big men tried, but nobody could slow Johnson.
"It looked like he was shooting at a basket 10 feet wide," Simien gushed. "He gave us the full service today."
Simien wasn't half-bad himself, with 22 points off 8-of-15 shooting with eight rebounds in 37 minutes.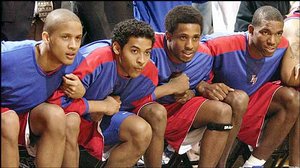 Jeff Graves had six points and two boards in 15 foul-plagued minutes.
Christian Moody had three boards in nine minutes, while Padgett hit for three baskets in five tries, including the game-winner.
"I hugged him in the locker room," Graves said of Padgett. "I wanted to kiss him, but I thought that would be silly."
The Jayhawks will have most of the week to rest up before possibly tangling again with Missouri -- in the Big 12 tournament Friday. At 8:30 p.m. Friday in Dallas, KU will meet the winner of Thursday's Missouri-Texas A&M; game.
Missouri likely will have to make a big splash in Dallas to receive an NCAA Tournament bid.
"We feel Missouri is definitely a tournament team with the talent they have," Simien said. "It's big for us to come in here and get a win, especially after losing four straight on the road. It was big for us to get a win here today."
More like this story on KUsports.com