Kansas University's Allen Fieldhouse will get a major facelift and additional features, thanks to a $12 million gift from the Ward family of Russell Stover Candies and several anonymous individuals.
Announcement of the gift was made Saturday at halftime during the men's basketball game between KU and Texas Tech.
"These gifts make a wonderful, wonderful commitment to KU," athletic director Lew Perkins said in the ceremony, which included Tom Ward, of Russell Stover.
Part of the money will be used to build a Hall of Athletics to be connected to the front of the fieldhouse, Perkins said.
"Obviously we'll take our wonderful memorabilia and put it in one area where everybody can enjoy and see it," Perkins said. "We're also looking at putting a merchandise store in there and a place where we can entertain, a Jayhawk den or something where coaches could go to host recruits."
Plans for the Hall of Athletics aren't set in stone, Perkins said, noting, "this could all change 100 times."
Improvements also will be made to restrooms, windows, locker rooms and the electrical system in the fieldhouse, which opened in 1955. Painting will be done, and there may be new seats installed.
There could even be some additional seats added to the fieldhouse, but Perkins said that was not the goal of the project.
"A lot of these things people won't even see," Perkins said. "One of the things we don't want to do is lose the integrity, tradition and history of the building."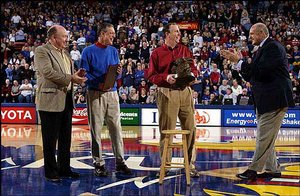 Men's head basketball coach Bill Self agreed.
"We already sell this building on its history, its tradition and its fan support, but now we'll also be able to make our facility more visually appealing to the recruits that visit Lawrence," Self said.
The announcement also was welcomed by women's interim head basketball coach Lynette Woodard.
"These improvements will enhance the terrific atmosphere here and will make Allen an even more special place for the student athletes and the fans," Woodard said.
When the announcement was made, Ward, who was standing on the court with Perkins and other KU officials, received a standing ovation. Ward also was presented with a handcrafted bronze Jayhawk. He was unavailable for comment afterward.
KU fans at the game said they liked the idea of improving the fieldhouse instead of building a brand new one.
"Shoot, yes, improve this one," said David Shoup, 51, of Shawnee. "They can build a hall of fame if they want to, but keep this building."
Blake Wells, 37, of Wichita, also liked what he heard about improvements.
"You can't find the tradition of Allen Fieldhouse anyplace else," he said.
Planning for the donation and the improvements began about four or five months ago, Perkins said. Architects now will be consulted, and work should begin in June
The two-year project won't interrupt the basketball seasons, he said.
The improvements will not include a long-talked-about video scoreboard, Perkins said. Efforts are going in another direction to find financing for that project, he said, noting it remains a high priority.
More like this story on KUsports.com