For a week now, Lawrence attorney Wint Winter Jr. has been telling friends not to spend too much time fretting over coach Roy Williams' departure.
The future, he said, was not bleak.
He said it again Monday, standing at the rear of Hadl Auditorium as Kansas University officials announced the hiring of Bill Self to replace Williams as men's basketball coach.
"It's like we fell out of a 10th-story window and we just landed in a vat of tapioca," Winter said, flashing an I-told-you-so smile.
"I've been telling people I read from a book called 'Kansas Basketball,'" he said. "It's a book that has lots of chapters, and they're all good. We've just ended a good one, the Roy Williams chapter, and we're about to start another one.
"And like all good books, it promises to be even better than the ones before it."
Winter wasn't alone in his satisfaction.
"He's the perfect hire," said Bob Nelson, 81, who also was at Monday's news conference.
"I've been a KU fan since moving here 61 years ago and I think he'll be great," said Nelson, whose friends call him "Old Jayhawk."
Danny Williams, a senior at KU, watched the news conference on TV at his apartment then headed to Buffalo Wild Wings Grill & Bar, 1012 Mass., for lunch.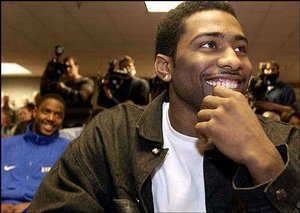 "Everything he said sort of knocked it out of the park for me," said Williams, 25. "He's got a lot of character, he was humorous with the media -- he seemed right at home from the get-go. I hope the players and recruits saw that because, really, I think next year could be as incredible as the last two."
Like so many of his friends, Williams said he was "disappointed, upset ... and took it personally" when Coach Roy Williams split for the land of Tar Heels.
"I've gotten over that," Williams said. "Coach Williams always looked at North Carolina as his dream job -- you can't blame somebody for going after their dream. And now we've got somebody in there who says KU is his dream job. I'm hoping he stays for another 20, 25 years."
Lawrence real estate agent Janet Scott got to watch most of Self's news conference.
"He said all the right things," she said. "Now, I think, the rest of us can have some closure on Coach Roy and get back to the tradition that is KU basketball."
Scottie Lingelbach, 81, said she, too, was slowly forgiving Roy Williams.
"It's been hard," she said. "I've been following this program since I enrolled at KU in the fall of 1940, and I thought he was wonderful."
Still, there one thing about Self's predecessor that's likely to stick in her craw for a long, long time: "He conned me into giving (former Missouri coach) Norm Stewart a standing ovation and a rocker," she said, laughing.
More like this story on KUsports.com