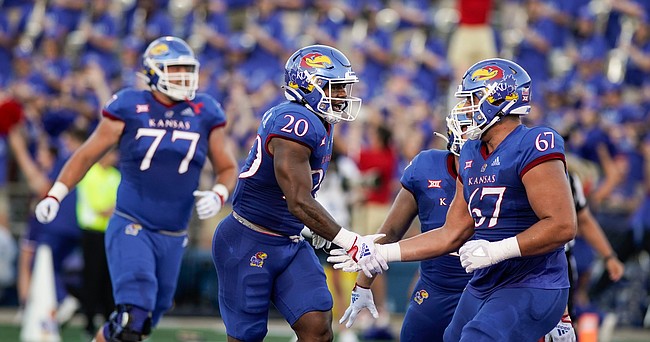 Just because the Kansas football team's Week 2 opponent opened its season one day before the Jayhawks last week, and on national television at that, did not mean the Jayhawks threw a massive watch party and studied the action in silence.
Some watched with a critical eye, others as casual fans and still more avoided it altogether.
No matter how they took in last week's West Virginia-Pittsburgh game, each seemed to pick up something that helped them when the Week 2 preparation began.
"For sure," KU wide receiver Quentin Skinner said Wednesday. "Taking (inventory) of it and keeping it in your back pocket, things you might notice, big plays."
Defensive lineman Caleb Taylor said he watched the WVU-Pitt game as a fan of football but admitted that he couldn't help himself from keeping tabs on certain things.
Mental notes, he called them.
"I've still got to be a football player and I need to know what I'm getting into," Taylor said. "I'm watching the (offensive lineman's) stance and I'm really trying to get as many keys as I can by watching the game."
Throughout his first two seasons running the Kansas offense, Andy Kotelnicki has spent a lot of time — both in season and in the offseason — studying opposing Big 12 defenses. Prior to both the 2021 season and the current season, Kotelnicki put together a loose game plan for each Big 12 opponent in the summer, watching trends, tendencies and countless hours of film to try to pick up on what each team does.
Asked Wednesday how much the one West Virginia game on film this year inspired him to tweak the plan for the Mountaineers, Kotelnicki said it was minimal. Defensive coordinator Brian Borland agreed.
"This is a bigger opponent, probably a bigger stage, but I don't know that that's going to change necessarily how we do anything," Borland said Wednesday.
Kotelnicki acknowledged that even though the Mountaineers (0-1) have played just twice since KU last faced them — a bowl loss to Minnesota and the opener vs. Pitt — there was only so much that could be learned by looking at the film from last year's 34-28 KU loss to WVU in the final game of the season.
"It's a unique game plan," Kotelnicki said Wednesday. "It was three games ago, but how many months, right? There's (been) growth I think with both teams."
That growth, along with the new faces that have aided it, is merely one part of what Kotelnicki believes is a critical part of every season for every program — constant and ongoing progress.
"Every game you play, you're evolving," he said. "You're learning about your players, you're learning about your opponent, you're learning about your current players' strengths and weaknesses and how they compare to your upcoming opponent. There's always significant improvement from Week 1 to Week 2 if you allow yourself to focus on what you need to improve from Week 1."
The Jayhawks (1-0) played a pretty clean game in all facets in their 56-10 Week 1 win over Tennessee Tech. But film study and the high standard these players have set for themselves showed that there is still plenty to work on and improve upon.
Even in the areas where that need to improve was not as obvious, the Jayhawks said they knew that being better in this game, the Big 12 opener for both teams, was important given the step up in competition.
"That's behind us and now we're on to Week 2 and ready to try to do it again," senior safety Kenny Logan Jr. said of the Tennessee Tech game.
Added Skinner of the KU offense's outburst: "Coming off last week and those big numbers on that scoreboard, we want to keep those numbers."
The recipe for how to do that is simple, Skinner said.
"Keep attacking each day and have fun," he said. "This game's fun. That's why we play it in the first place. Have fun doing it with your team, with your people and just keep grinding, daily."
KU and West Virginia are slated to kickoff at 5 p.m. Saturday in Morgantown, West Virginia on ESPN+.