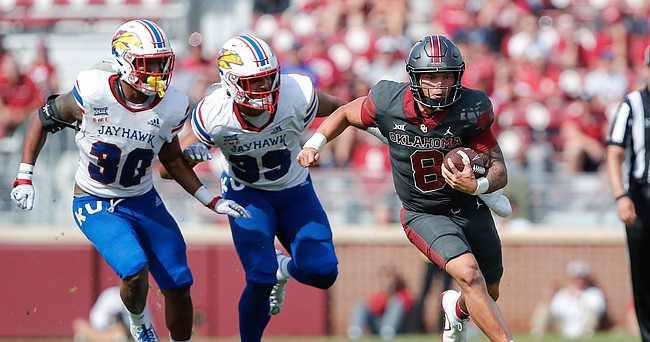 After finally cracking the Associated Press Top 25 poll for the first time in 674 weeks after their win over Iowa State, the Kansas Jayhawks' streak of weeks ranked is over at 2.
KU fell out of this week's AP Top 25 after a 52-42 loss at Oklahoma over the weekend.
The loss dropped the Jayhawks to 5-2 on the season (2-2 in Big 12 play) and was KU's second in a row. In Week 6, KU lost at home to then-No. 17 TCU, 38-31, in front of a sold-out crowd as the featured game for ESPN's College GameDay.
That outing, which Kansas nearly won, was impressive enough for the pollsters to keep the Jayhawks right where they were at No. 19 in the poll. But the second consecutive loss was enough for voters to drop them.
KU fell 11 spots into the "others receiving votes" category and essentially will enter Week 8 as the No. 30 team in the nation. KU received 12 points in this week's voting, which put them 102 points behind No. 25 Tulane.
TCU, which knocked off No. 8 Oklahoma State this weekend in a battle of two of the top teams in the Big 12, jumped up to No. 8 in this week's poll. The Frogs are the highest ranked member of the Big 12 Conference, which has four teams ranked this week in addition to Kansas receiving votes.
Oklahoma State (5-1) fell to No. 11, Kansas State (5-1) stayed put at No. 17 and Texas jumped up two spots to No. 20 after its Week 7 win over Iowa State.
KU's next opportunity to make a case to jump back into the Top 25 will come Saturday morning when the Jayhawks play at Baylor at 11 a.m. in Waco, Texas.