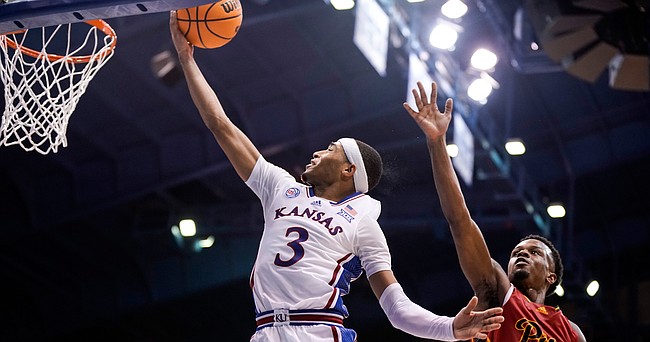 No. 5 Kansas Jayhawks (2-0) vs. No. 7 Duke Blue Devils (2-0)
Time: 8:30 p.m., Tuesday, Nov. 15, 2022
Location: Gainbridge Fieldhouse, Indianapolis, Indiana
TV: ESPN | Radio: Jayhawk Radio Network via Learfield
Keys for Kansas
1. Can speed beat size again?
Last week, in their second game of the regular season, the Jayhawks played a North Dakota State that featured two big men that acting head coach Norm Roberts said were as good as any bigs in the Big 12.
The Jayhawks promptly used their speed at all positions and suffocating defensive intensity — complete with traps in the post on the catch — to spin the Bison in circle, negating the size advantage.
While Duke big men Kyle Filipowski, Ryan Young and Derrick Lively II all have more all-around skill than the NDSU bigs, the idea will be the same for the Jayhawks in this one. If the Duke offense can't get set and run things through its bigs, the Jayhawks stand to frustrate the Blue Devils and create opportunities in transition.
"They're going to run (and) they're big," KU point guard Dajuan Harris Jr. said Sunday while looking ahead to the game. "We just have to use our speed like we did against North Dakota State."
While that almost certainly will be the Jayhawks' plan going in, acting head coach Norm Roberts said his guys should not expect things to come as easily as they did against the Bison.
"Duke is always extremely talented," Roberts said Sunday. "They're so big that they can really pound the ball inside, and their bigs are versatile, too. It'll be different (than against NDSU), but it is similar. I think it could help us a little bit. But their talent level is going to ratchet up pretty high now."
Added KU junior Jalen Wilson, who has led the Jayhawks' offensive attack in both of KU's regular season games.
"It was good to play some size and versatile guys," he said. "I think it'll be a great matchup. They've got three or four projected first-round guys. New coach, new guys, but it's still going to be Duke basketball."
2. Embrace the atmosphere
The two words most commonly used when referring to the Champions Classic are fun and excited. And Roberts thinks this blue blood clash should be both for the Jayhawks.
Veterans like Dajuan Harris Jr. and Jalen Wilson have been in these types of games before. And both have shown that they tend to play some of their best basketball on the biggest stages.
Freshmen Gradey Dick, Ernest Udeh Jr., MJ Rice and Zuby Ejiofor will be experiencing this for the first time — at least at the college level — and will be encouraged to soak it up and enjoy every moment.
Wilson on Sunday was asked to think back to his first Champions Classic appearance to think about what the young Jayhawks might be feeling today. In that one — a 68-66 loss to Duke in New York City — Wilson played just two minutes and missed his only shot while fouling once and recording a turnover.
"I think the main thing when I was young was I was just excited to play," Wilson said Sunday. "Every kid growing up wants to play against the Kentuckys, Dukes and schools like that. Now that you have an opportunity to do it, you just have to prepare for it."
Roberts said the key to keeping one's emotions in check in a game of this magnitude was to understand that it's "big boy ball" and definitely a step up in competition but also that it's being played in November.
"It's a great atmosphere to play in, it's great for our guys to enjoy that and compete at a very, very high level, but it's not a make-or-break game," Roberts said. "Our guys are excited about it, and they should be."
3. Finish at the rim
The Jayhawks have looked so good defensively in the first two games and scored so many easy baskets in transition off of their defense, that their shooting percentage at the rim has gone mostly unnoticed.
But there's little doubt that the Jayhawks would like to shoot a better percentage in tight than they have so far this season.
According to hoop-math.com, 45.4% of the Jayhawks' shots in their first two games came at the rim. And KU made just 65.6% of those shots. Many were contested, but some were not, with the Jayhawks misfiring on near-automatic buckets because they rushed the shots or were off balance when they took them.
Avoiding that could be particularly important against the Blue Devils, who have enough bigs to challenge KU's shots in the paint without having to worry too much about foul trouble.
Beyond that, the rest of the Duke lineup is long and athletic and can also make seemingly open looks in close a little more challenging that they initially appear.
Roberts said Self, who has been with the team in practices but not on game days, has emphasized in recent days doing the little things a little better and cleaning up some of the mistakes.
Harris said there was an easy way for the Jayhawks to do that when it comes to attacking the rim and making sure they finish their shots.
"Really, just keep having confidence and keep being aggressive," he said. "Eventually they're going to start falling."
Marquee Matchup
KU point guard Dajuan Harris Jr. vs. Duke point guard Jeremy Roach
While much of the attention leading up to this one has been on Duke's big men, Harris noted that Blue Devils' point guard Jeremy Roach would have a lot to say about how this game turns out, as well.
"He makes them go," Harris said.
A 6-foot-2, 180-pound junior from Leesburg, Virginia, Roach is one of the few Duke players who has experience in these types of games. Roach started 27 of 39 games for the Blue Devils last season and played 34 minutes in the team's Final Four loss to North Carolina.
This will be his first crack at Kansas, and the Jayhawks are well aware of what he can bring to the floor. In his first two games of the current season, Roach combined for 26 points and 12 assists while shooting 50% from the floor and 46.2% from 3-point range.
Duke is 6-0 in the past three seasons when Roach makes three or more 3-pointers in a game, which he did in the opener, hitting 4 of 7 from behind the arc in a win over Jacksonville.
A preseason all-ACC first-team selection, Roach was voted the lone captain for this year's Duke team.
That kind of leadership role is similar to the one Harris fills for the Jayhawks, both as a team leader and with his play on the court.
Harris said his approach for this game was simple.
"Me and J-Wil and Kevin (McCullar), we've played in big games," he said. "So, really, we just have to come out and play. The first five minutes is always important."
Jayhawk Pulse
Not counting the COVID season of 2020-21, this season marks the first time since 2017 that Kansas has played a game or two before the Champions Classic.
In recent years, the NCAA made that four-team masterpiece to the opening night for college hoops, but this year it was back to the second week of the season.
Harris said that was good news for the Jayhawks, who had time to work out some of the kinks in their two tune-ups to Tuesday's showdown.
"Our defense wouldn't be like (it is) if we hadn't played the first two games," Harris said of the unit that ranks 10th nationally in KenPom.com's efficiency ratings. "I think the first two games helped out a lot."
Whether it's the season opener, the third game in or contested at the Final Four, Kansas versus Duke is always going to be a big deal.
"This is what we came here to do, to play games like this," Wilson said. "This'll be the first time for a lot of the guys here that they had an opportunity to play in a game this big and I think it'll be a lot of fun."
This game will mark the first KU-Duke game in the post-Mike Krzyzewski era. While first-year Duke coach Jon Scheyer has a lot of experience in his own right, he certainly does not carry the same kind of iconic vibe into the game as Coach K always did. In that way, this one will be made even more interesting with Kansas coach Bill Self not in the building either. Self is sitting out his third game of a university-imposed four-game suspension relating to KU's ongoing infractions case.
Despite the different looks in the way of leadership, Roberts said he expects the same high-level basketball that these two teams have always played against one another.
"Just like always, Duke is extremely talented," Roberts said. "They've got a big team and I think they want to play fast. I don't know if you can tell (how much like Coach K's teams they are) so early in the year. But I'm sure when you're following a Hall of Fame coach, you're going to take a lot of things from that person."
With that said, Roberts said the Jayhawks' preparation was based on what they had seen from the Blue Devils so far this season and not so much Krzyzewski's history.
Win or lose, these games are always measuring-stick types of games, and Roberts is looking at this one that way, as well.
"We've had situations when we've played in that Classic and played great and had good years and we've had times when we've played in that Classic and played awful and then (went) to the Final Four," Roberts said. "It'll be exciting for our guys. The bottom line is you've got to come ready to play. Mistakes are a little more magnified. … You make a mistake in this game, they'll take advantage of it."
Duke leads the overall series with Kansas with an 8-5 record. That includes a 1-2 record against KU in the Champions Classic.
Kansas opened as a 2-point favorite over the Blue Devils according to several betting sites.
Probable Starters
No. 5 Kansas
G – Dajuan Harris Jr., 6-1, 175, Jr.
G – Kevin McCullar Jr., 6-6, 210, Sr.
G – Gradey Dick, 6-8, 205, Fr.
F – Jalen Wilson, 6-8, 225, Soph.
F – KJ Adams, 6-7, 225, Soph.
No. 7 Duke Blue Devils
G – Jeremy Roach, 6-2, 180, Jr.
G – Tyrese Proctor, 6-5, 175, Fr.
F – Mark Mitchell, 6-8, 220, Fr.
F – Ryan Young, 6-10, 235, Sr.
C – Kyle Filipowski, 7-0, 230, Fr.