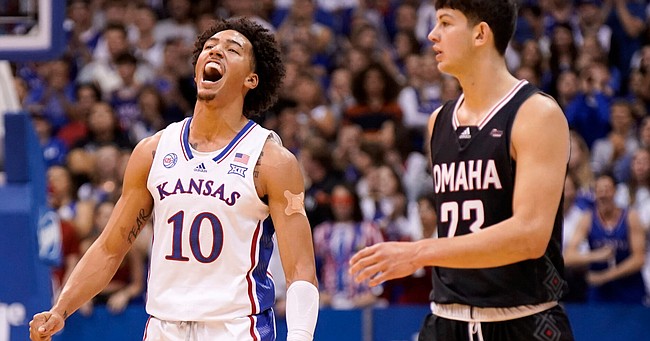 One year after sitting out the season opener because of a suspension, Kansas junior Jalen Wilson got the 2022-23 season off to a roaring start, scoring 19 points, grabbing 11 rebounds and dishing seven assists to help lead No. 5 Kansas past Omaha 89-64 Monday night at Allen Fieldhouse.
It took Wilson weeks last season to find the kind of rhythm and flow that he had on Monday night. And the biggest reason for him hitting his groove so early this time around was simple.
"I was just trying to set the tone for the year," Wilson said after the victory. "Now these games really do count, and it was just so exciting getting everybody involved and feeling the crowd's energy. I'm just so happy to get the season going."
Document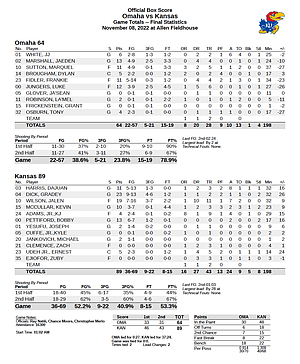 Wilson hit three 3-pointers in seven attempts and made seven of 16 shots overall. He drove hard to the paint and pushed the ball in transition with his signature runaway train style. And he set up others with precision passes that led to easy baskets.
Acting Kansas coach Norm Roberts, who filled in for KU coach Bill Self, who is slated to miss the first four games of the season because of a university-imposed suspension, said Wilson was "terrific," and he pointed to the veteran forward's free mind as the biggest reason for it.
"I think Jalen's in a totally different mindset now," Roberts said. "I mean, totally, as a person. Everything. He's so confident in himself, in what he's doing out there, and he's confident in his teammates. I'm excited for him."
So, too, were Wilson's teammates, who showed they will be happy to follow the returning starter's lead on nights when he brings it like that.
Asked after the win if he thought Wilson was a triple-double threat throughout the game, sophomore guard Bobby Pettiford smiled and said, "Oh yeah. He can do it all."
Added freshman guard Gradey Dick, who led Kansas with 23 points in his first official start as a Jayhawk: "That's just what he does. We see it all the time in practice. It was not a surprise."
Wilson's start, and what it sparked for this Kansas team came in stark contrast to what the Jayhawks (1-0) showed in their exhibition win over Pitt State last week. In that one, KU fell behind 12-0 and 21-6 before waking up and rolling to a 31-point win. On Monday, there was no such wake-up call needed.
Photo Gallery
Kansas basketball v. Omaha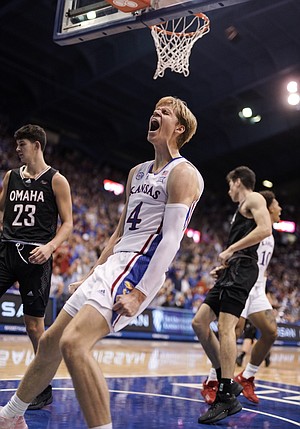 View a gallery of images from Monday night's game between the Kansas Jayhawks and Omaha Mavericks.
"That was a big emphasis for us," Pettiford said of starting fast. "We wanted to make sure we were all locked in and started off hot in the first five minutes."
The Jayhawks pushed the tempo with their defensive intensity from the jump. And when they weren't scoring in transition, they sought paint touches from nearly every spot and after every catch.
Sometimes, that led to tough layups through contract from players like Wilson, Pettiford and Kevin McCullar Jr. Other times, it led to uncontested buckets after those players, and others, drove hard and dished to a teammate at the last second.
After falling behind 7-5 in the early going, Kansas ripped off a 18-5 run to take a 23-12 lead into the under-12 media timeout.
The Jayhawks unveiled a slightly different starting lineup in the season opener than they had against Pitt State, with Dick starting in place of Ernest Udeh Jr., who was the first man off the bench on Monday.
Dick's presence in the lineup allowed KU to play faster and run more often, and the Jayhawks never really stopped. While holding to Omaha to 36.7% shooting in the first half, Kansas scored 16 of their 46 first-half points on fast breaks. Twenty-four of those points came in the paint, with much of that being the result of KU's high-tempo attack.
"I thought we got our hands on loose balls quickly and turned that into offense pretty quickly early on," Roberts said. "There are times that we can look really fast. J-Wil helps with that. Kevin is fast and Gradey is fast. And then when you've got KJ (Adams) at the 5 it's even faster."
KU led by 13 at halftime (46-33) and the Mavericks cut the Kansas lead to seven early in the second. But a 10-0 run by the Jayhawks pushed the lead back to double digits and set the stage for a highlight-filled finish.
It featured lobs to freshmen Dick and Udeh, 3-pointers from five or six different Jayhawks and all kinds of free runs in transition after the Jayhawks (1-0) used their defense to shut down the Mavericks (0-1), who struggled to keep up with KU's speed and athleticism all night.
Dick connected on 4-of-6 from 3-point range, and flushed a transition dunk with one hand that sent the crowd into a frenzy. A couple of plays later, after draining a shot from outside, KU ran a set to get Dick another look from behind the 3-point line and he back cut on the overplay and finished a lob from point guard Dajuan Harris.
Harris led Kansas with eight assists and added 11 points of his own in Monday's win.
"That's just what I try to do is bring a bunch of energy and plays like that just get the crowd going," Dick said.
As for how he felt about making his first start, the Gatorade national player of the year out of Wichita said it filled him with a ton of adrenaline from the start.
"I was growing up dreaming of this night, watching guys before me and wanting to be in their shoes," he said. "The fact that I got the opportunity tonight to do so is a dream come true."