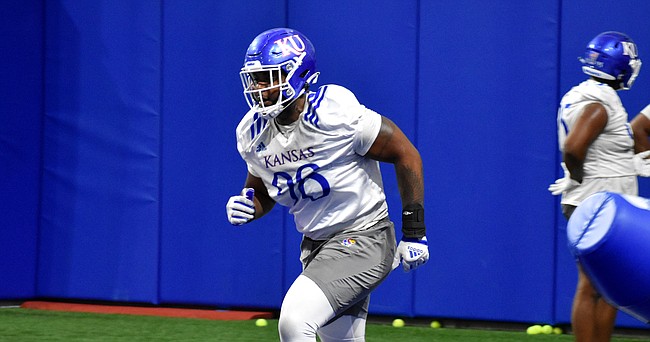 Kansas football coach Lance Leipold said Tuesday that defensive tackle Caleb Sampson, who has an injured right ankle, has been shut down for the rest of spring practice.
Sampson, who will be a fifth-year senior in the fall, started 10 of 12 games for the Jayhawks last season and had 24 tackles, including 3.5 for a loss and one sack. He was standing on the sideline with the aid of crutches during Tuesday's practice and had the ankle wrapped in an ace bandage.
He also started all nine games in 2020, when he had 15 tackles, including two for a loss, and six of 12 games in 2019, when he had a pair of sacks and broke up two passes.
"It was a decision that we had (to make)," Leipold said. "He's had kind of a nagging situation and we decided to get it taken care of. Caleb's played a lot of football, and I tell you what — he's a tough son of a gun and he's done everything we've asked and he's never said really a word about it and finds a way through it.
"We felt for him to have a chance to have a really good summer and make the most of it — we got him as many practices as we could and then we just decided to shut it down and get it taken care of."
It is unclear when Sampson was injured. Tuesday's practice was the 10th of 15 that the NCAA allows to be held, and Kansas has been holding practices on Tuesdays, Thursdays and Saturdays.
Defensive tackles coach Jim Panagos said last week that he's been "really impressed" with how Sampson had been practicing.
"He's going to be a really good football player," Panagos said. "He's got all the characteristics of players that I have had drafted previous in my career, so I'm really excited with Caleb Sampson."
Kansas opened last season with Sam Burt and Eddie Wilson as its starting defensive tackles, but their injuries led to Sampson, Caleb Taylor and Kenean Caldwell filling those roles.
"It's not so much who's going to be out there; it's going to be how many," Leipold said. "I guess in the defensive line, you're going to rotate eight to 10 guys in a game, probably. Where we are right now at defensive tackle, we could play five to six like we did last year, and then we've got to have at least four ends because we're going to rotate there. That will take care of itself."
Running back Sevion Morrison, who transferred to Kansas from Nebraska during the winter, also missed practice Tuesday because he "tweaked something," according to Leipold. He is hoping to have Morrison, a redshirt sophomore, back at practice before the end of the week.
"The players have to understand that sometimes, taking that week off (for spring break), and we've done some things coming back — you can get some minor (injuries) out of it," Leipold said.
Kansas' spring practice window ends next week with the annual spring game, which will be held at David Booth Kansas Memorial Stadium on April 9.