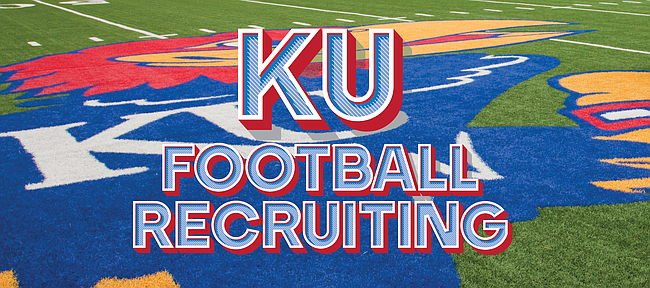 The Kansas football team received a flurry of commitments following its big recruiting weekends earlier this month but nobody has decided to join the Jayhawks lately.
That could change shortly.
Several prospects who made official visits to Kansas are set to share their decisions on or around the Fourth of July weekend, with one player in particular poised to help the Jayhawks as soon as this season.
Lorenzo McCaskill, a linebacker from Detroit who played four seasons at Louisiana, wrote on social media on Tuesday that he "will be committing real soon" and is expected to choose Kansas.
McCaskill, who is 6 feet and 220 pounds, led Louisiana with 84 tackles last season and was named to the Sun Belt's second team.
He decided to transfer in early January and received interest from several Power 5 schools, including USC, Tennessee and Missouri, but said shortly thereafter that he was looking for a place where he can play immediately. Kansas offered him a scholarship on June 14 and he was on campus shortly thereafter as he took an official visit on June 17.
McCaskill, who would be a graduate transfer, has one year of eligibility remaining. He'd be the fourth linebacker to transfer to Kansas in recent months as UCF's Eriq Gilyard, Ohio State's Craig Young and Trinity Valley's Tristian Fletcher did so as well.
Rich Miller, Gavin Potter and Taiwan Berryhill also started games for the Jayhawks last season and will compete for starting roles.
Another linebacker, Logan Brantley, is in line to make his college decision, but his timeline is more firm. A three-star prospect from Englewood, Colorado, which is where the Denver Broncos are headquartered, Brantley, who is 6-foot-1 and 205 pounds, has said he plans to share his choice on July 1.
Brantley made an official visit to Kansas beginning July 10 and has narrowed his choices to Colorado and Washington State, which he also visited officially. He's considered the ninth-best player in the state, according to 247Sports, and has scholarship offers from nearly a dozen other schools, including Arizona and Minnesota.
Kansas hosted six other high school players for visits alongside Brantley, and four of them — wide receivers Surahz Buncom, Jarred Sample and Keaton Kubecka, and defensive end Tony Terry Jr. — committed on or shortly after the trip.
Seven high school players were on campus with McCaskill the following weekend, and though none of them committed to play for Kansas, one may be about to do so. Jarra "Bear" Anderson, a 6-foot-2, 260-pound defensive end from Katy, Texas, has said he will share his commitment on July 4.
Anderson, like Brantley, is expected to choose Kansas, Colorado or Washington State, though his first official visit was to Lawrence and he canceled the other two.
And Free State High offensive tackle Calvin Clements is also set to make his decision shortly, coach Kevin Stewart said, though his timetable is less certain. Clements has narrowed his decision to Kansas, Kansas State and Baylor — the three schools he visited this month — and has said that he at least plans to share his choice by the start of his senior year.
"High school football has a mandatory off week next week, so I wouldn't be surprised if we heard something around then," Stewart said. "I don't know exactly what his timeline is, but that would be a nice, natural break in time for everybody."
Kansas, which is scheduled to begin practicing in early August, has not finished recruiting for this season and could still add a player or two via transfers before it begins.