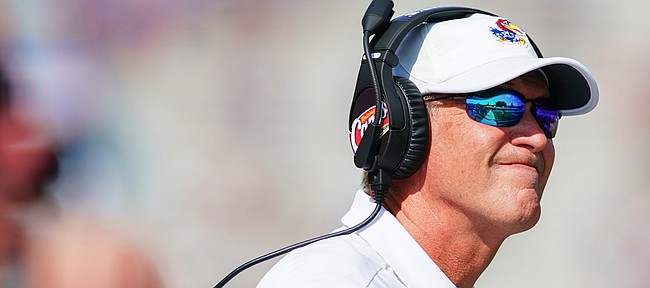 Even though the NCAA's Division I Council voted last month to remove the annual signing limits that have prevented many schools from having the maximum of 85 players on scholarship in recent seasons, coach Lance Leipold believes it will likely take some time before Kansas will be able to recognize the effects of that decision.
That ruling, which went into effect on June 1 and will initially last two years, should significantly help the Jayhawks as they have not been adequately able to replace the players who have left amid the coaching turmoil that led from David Beaty to Les Miles to Leipold.
"We've been able to do a few more things than we thought we were going to be able to do here even late this summer, but as we move forward, we have to continue to look at how are we going to address the next set of evaluating needs," Leipold told the Journal-World on Thursday.
Kansas lost a combined 12 scholarship players and walk-ons to transfers in the week following the spring game on April 9 — none of whom played a significant role last season — but has since added eight scholarship players from Division I schools or junior colleges.
Among them are two players who may make an immediate impact for the Jayhawks in wide receiver Doug Emilien, who transferred from Minnesota, and safety Marvin Grant, who left Purdue.
Those eight players will join the eight who transferred to Kansas prior to the start of the spring semester in January in rounding out a team that will look significantly different in Leipold's second season.
The NCAA, for the last decade, allowed Division I schools to offer up to 25 scholarships per recruiting class to recent high school graduates or players who have chosen to transfer. But if more than 25 players left a team in a given year, that team was still beholden to the 25-scholarship limit — one that was temporarily increased to 32 players amid the COVID-19 pandemic.
Beaty said in July 2018 that Kansas had only 39 players on scholarship when he was hired in December 2014. By the start of the 2019 season, Miles' first as coach, that number was still only at 68 — and it wouldn't have hit 85 until the start of this season, assuming nobody but graduates had left the team in the past three years.
Leipold did not want to disclose how many players will be on scholarship once the Jayhawks begin training camp in August but said he wants to ensure the roster is not so heavily reliant upon underclassmen, as it was last season, or unbalanced by position.
"It will also be important to look at the whole conference or Power 5 football or the upper part of the Big 12," Leipold said. "Is everybody playing with older players across the board now because of the availability to go that route? We continue to research all that now in Year 2."
Nearly everyone Kansas added via transfer in the past seven months has at least two years of eligibility remaining, meaning the Jayhawks have added players who have time to grow while on the team but are still older and experienced.
Recruiting players at specific positions can still be tricky. Kansas did not add a high school wide receiver during the last recruiting cycle because it had a glut of players at the position, but three decided to transfer in April and only Emilien joined the team. As a result, it has prioritized the position in the class of 2023 and has already picked up commitments from three wide receivers.
Last week, the NCAA's transformation committee recommended changes to the protocols surrounding the online transfer portal, which was established in October 2018 to aid players' ability to change schools. Record numbers of players across all sports have decided to transfer in the past three-plus years, creating mass player movement, and the committee suggested players be allowed to transfer only during designated windows, meaning teams would know when to prepare for departures.
Those recommendations could be approved by the NCAA Division I Board of Directors as soon as Aug. 3, though what those windows would look like or when they would be instituted is unclear.
"College sports continues to face many challenges, and we need to move quickly to update our rules and make infractions more efficient so we can focus our attention on Division I membership expectations and, most importantly, benefits for student-athletes," Georgia president Jere Morehead, the board's chairman, said in a statement.
Leipold said that between pending and proposed regulations, everyone is still trying to find "the sweet spot" between allowing players the ability to leave while keeping teams together.
"We've still got to balance, in this sport as much as any, team camaraderie and working together and your investment and all that," Leipold said. "I'm hoping we find those windows of what the portal is."