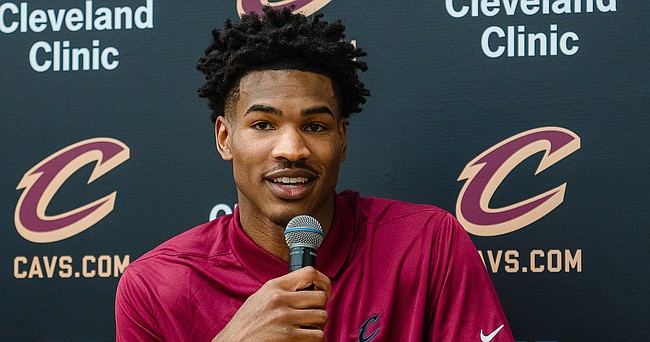 As Ochai Agbaji worked his way through the pre-draft process in the last two months, one of the biggest criticisms of his ability as a basketball player was something he will never be able to control.
His age.
And Agbaji, 22, isn't concerned by that one bit.
"I mean, everyone finds their own place and way into the league, no matter what age," Agbaji said Friday, a day after he was chosen by the Cleveland Cavaliers out of Kansas with the 14th pick in the NBA Draft. "If I am older than some guys here, it doesn't matter. Basketball is basketball and I'm just excited to be with this team."
Modern thinking among NBA scouts — and, for that matter, their counterparts across professional sports — is that the younger a player is, the more room he has to develop his skills. Teams covet youth because they want him to fit into their playing style and aim to benefit from a longer career.
Agbaji, who was born on April 20, 2000, runs counter to that principle. He was the oldest player chosen in the first round and he was the fourth oldest of the 58 players selected. The player selected before him, Jalen Duren, was born on Nov. 18, 2003, making him more than three and a half years younger than Agbaji.
Players must turn 19 in the year of the draft, meaning many are first eligible when they are college freshmen. Agbaji was, too. Instead, he'll be a rookie in the fall on a team that is led by All-Star point guard Darius Garland, who is four months older yet entering his fourth season.
Garland is viewed as one of the NBA's emerging young players, one who is just about to enter his prime. The chatter surrounding Agbaji, meanwhile, is that he's almost past his.
"That's just more motivation to get better," Agbaji said. "I think as my progression and my years have gone by, I feel like I'm only getting better, and with that last summer, what I have learned, applying that to my career moving forward is just even more motivating to me."
Agbaji considered entering the draft a year ago, when a breakout junior season led him to believe he was ready to take on better competition. After tepid feedback, he devoted himself to making a statement as a senior — which he did by becoming the unanimous Big 12 Player of the Year and the Most Outstanding Player of the Final Four and by helping the Jayhawks win the national championship.
"You've seen him get better each year," Cavaliers president of basketball operations Koby Altman told reporters Friday night. "I don't want to put a ceiling on him because he has (exceeded it) at every pass, from high school to his senior year of high school, being under-recruited, goes to Kansas, they redshirt him his freshman year, they lift the redshirt because he's doing so well in practice because he can compete and play, grows his way to becoming first-team All-American, Big 12 Player of the Year.
"So, does he figure out the NBA and have some upside? I think he does. But I think immediately, we know what he's going to be able to do. He's going to defend, he's going to compete, and I know (coach J.B Bickerstaff) wants to run him off a lot of stuff and get him some shots. Certainly more of a finished product than what we've drafted in the past."
Kansas coach Bill Self said he did not speak much with the Cavaliers' decision-makers in the run-up to the draft and instead left the conversations about Agbaji mainly to his assistants.
He did, however, hear the criticism that Agbaji and teammate Christian Braun, a 21-year-old junior who was drafted by the Denver Nuggets, are perhaps too old to make a difference in the NBA.
"That's a bunch of crap," Self said. "They can both get better. They're both late bloomers. I think that Ochai, his intangibles have improved so much from a competitiveness (standpoint), even though he always was, but he's learned there's a different gear you've got to get to (in order) to compete at the highest level.
"When you work as hard as he does, hitting that fifth gear every single possession, every single drill, every single shot, you're going to get better, so he's a good shooter now. Great shooter. He's going to become exceptional."
Bickerstaff, Agbaji's new coach, spoke Friday about wanting to add through the draft someone who is a proven scorer, a quality shooter and reliable on defense. That profile fits Agbaji, even though he's the first player the Cavaliers have drafted with their top pick who isn't a freshman since 2012.
Again, little of that matters to Agbaji. He said that he didn't fully realize that he was beginning his professional career until after he woke up Friday morning in New York and flew to Cleveland, where he was welcomed at the airport by Cavaliers fans.
"I'm really anxious to play," Agbaji said. "These past few months, I've obviously been blessed. Winning a national championship and then getting drafted in the first round is a dream come true for anybody, so I'm so blessed to be here and to be in this position."