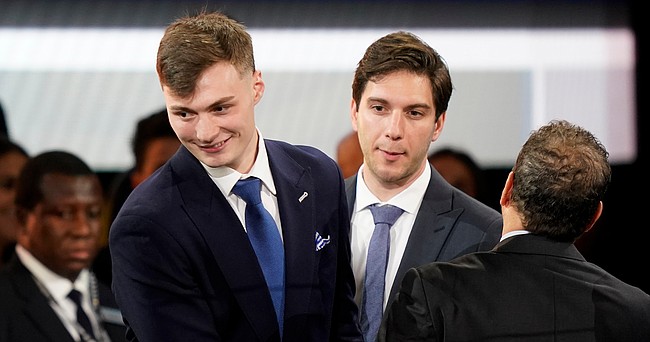 Kansas basketball coach Bill Self has always been big on how players fit with teams, styles, personnel and philosophies.
That's what made his review of the landing spots for first-round NBA draft picks Ochai Agbaji and Christian Braun stand out a little more than normal on Thursday night.
"I think it's a great fit for both of them," Self said during a Zoom call from Barclays Center in Brooklyn, New York, where Agbaji went No. 14 to Cleveland and Braun No. 21 to Denver during Thursday's draft.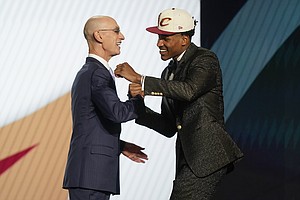 The reason behind Self's assessment was different for each player, and both had a lot to do with the particular needs of their new teams.
Self was ecstatic about Braun's fit with the Nuggets, in large part because of the presence of two-time NBA MVP Nikola Jokic and his elite skills as a passer and play-maker for others.
"I don't know if CB could play with a better big man than that dude, because he's such a good cutter and mover without the ball and (Jokic is) such a great passer," Self said Thursday night.
In each of the past two seasons, Jokic beat out former Jayhawk Joel Embiid in the MVP voting, and his passing played a big role in that. He became the first player in NBA history to score 2,000 points, grab 1,000 rebounds and dish 500 assists in a single season, and he averaged 7.9 assists per game to go along with his 27.1 points and 13.8 rebounds per night.
His style is unique, too. He often operates as the Nuggets' de facto point guard and also has a wide range of no-look and precision passes in his arsenal.
All of that should benefit Braun immediately, and the Nuggets seem to view him as a player who can help their push for an NBA title right away.
"NBA-ready guy. Winner. Checks many, many boxes," said Nuggets VP of Scouting, Jim Clibanoff, in a team video interview after Braun was drafted. "We search for guys like this. He can play the 2 spot. He can play the 3 spot. But he can really join our rotation now. It's not one of these wait-and-see projects."
According to the rookie pay scale posted at RealGM.com, Braun will make $2.3 million in Year 1, $2.4 million in Year 2 and $2.54 million in Year 3 of his four-year rookie contract with the Nuggets. The last two years of all rookie contracts are team options.
Agbaji, as the last pick in this year's lottery, is slated to make $3.2 million in Year 1, $3.38 million in Year 2 and $3.54 million in Year 3.
The Cavaliers entered Thursday's draft looking for outside shooting. Self believes they found it in spades.
"Nobody's going to shoot it any better in the draft, for the most part, than what Och does," Self said of the career 37.3% 3-point shooter who made 250 triples during his four-year Kansas career, including 103 as a senior on 40.7% shooting from distance.
The Cavs, as a team, shot 35.5% from behind the 3-point line last season, which ranked 15th in the league. Cleveland's average attempts and makes per game ranked even lower, with the Cavaliers making 11.6 per game from 3-point range, good for 20th overall, and attempting just 32.8 3-point shots per game, which ranked 22nd in the 30-team league.
Cleveland coach J.B. Bickerstaff said the Cavs believed Agbaji's shot-making ability could be a bona fide weapon in their lineup.
"At this level, shot-makers are at a premium," Bickerstaff said during Agbaji's introduction in Cleveland on Friday. "He has the ability to put the ball in the basket and it's not the ability to just stand in a spot and make a shot. When we watched him play, it was his ability to move and catch and shoot off of screens, off of handoffs, where he knew how to make himself difficult to guard."
Bickerstaff said Agbaji's skills already seem like a perfect complement to Evan Mobley, Darius Garland the Cavs' other top players. And he added that they would not limit where Agbaji can play on the floor. The only objective is that he's comfortable and in a position to succeed.
Agbaji said Friday that he was not worried about what position the Cavs wanted him to play because his plan would be the same regardless. He wants to continue the work that got him to this point, and he said Friday that Cleveland already felt like "home."
"I was just hoping for someone to pick me and believe in me and I'm glad it was Cleveland," he said Friday.
There was more to the concept of fit than just whether Agbaji and Braun filled their new teams' needs, however.
It was also about how their particular journeys that got them to this point fit each player and what he needed.
"This is going to sound cliché, but everyone runs their own race," Agbaji said during the television broadcast on Thursday night. "Guys will leave college early, first year, second year. But I stayed four all four years. Sometimes that's looked down upon but, in a way, I saw it as a benefit."
That time — four years for Agbaji and three years for Braun — allowed both to grow and develop at their own pace. It also turned them into legitimate draft assets and future NBA players that Self believes will have the same type of impact on their pro franchises that they had on Kansas.
"What they both bring is winning culture as much as anything," Self said. "They're winners. And they'll add to whatever culture's already in place and they'll make it better from a talent standpoint."