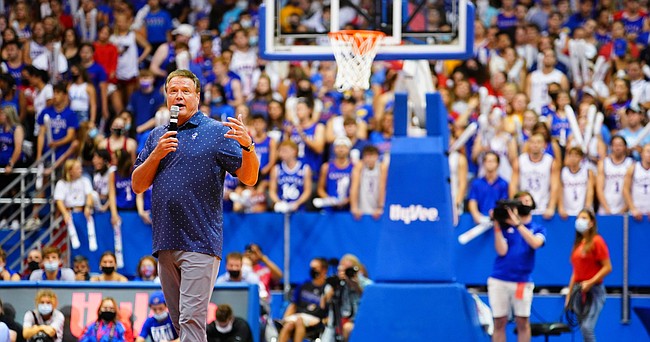 The Kansas men's basketball program will officially usher in the 2022-23 season for its adoring fans with the 38th annual Late Night in the Phog on Oct. 14.
KU announced the date of its unofficial season tipoff event on its social media platforms Thursday evening. The announcement did not include a start time or any other details, but, once again, for the 33rd time starting with the 1988-89 season, the KU's women's basketball team will share top billing with Bill Self's squad.
Both teams will scrimmage and host various skits and videos to entertain the Allen Fieldhouse crowd.
"Oh, very excited," junior forward Ioanna Chatzileonti said of the vibe around the women's team about this year's season tipoff. "Late Night is a fun event. Everybody's coming. I mean, we get to like play in front of a packed Allen Fieldhouse, and that's crazy. Last year, when we played, I was nervous. I couldn't even do anything. I was so excited there were that many people in the stands, but it's so fun because I have fun with my teammates playing and making jokes and stuff, so we kind of get loose and just perform. But it's fun, and then official practices are starting, so we're really looking forward to both things."
This year's event, which is scheduled for two weeks later than the 2021 Late Night, will mark the second consecutive year of an in-person Late Night after the event turned virtual in 2020 because of the pandemic.
It promises to be a memorable night for all in attendance and could be highlighted by KU unveiling its latest national championship banner to celebrate the 2022 national title the men's team won in New Orleans in April.
Roughly two hours after the date of this year's event was revealed, KU's men's basketball Twitter account featured a retweet of the announcement that included the words, "all we'll say is be here."
According to a KU news release announcing the 2021 version, Late Night in the Phog has unfolded in front of capacity crowds since 1991.
What began with 6,000 fans on a Tuesday in October in 1985 as "Late Night with Larry Brown," has only grown in the nearly 40 years since, with former KU coach Roy Williams and Self bringing more and more excitement and anticipation to the event each year.
In recent years, Late Night in the Phog has turned into an all-day affair, with activities taking place outside of Allen Fieldhouse throughout the day and doors opening sometime in the mid-afternoon or early evening.
In recent years, KU's signature season-opening event has attracted bigger and bigger musical acts, with hip hop artists and rap stars Tech N9ne, 2Chainz, Lil Yachty and Snoop Dogg performing as the non-basketball headliners in recent years.
Last year, legendary hip hop group Run DMC entertained the Allen Fieldhouse fans. There has not been any official announcement yet about which performer or group will be the musical guest at this year's event.