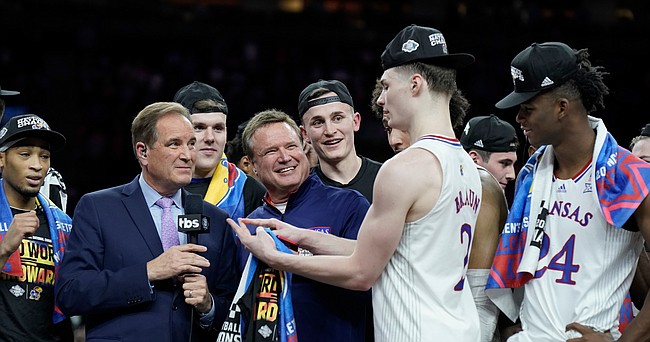 Friday's Kansas basketball barnstorming stop at Washburn University in Topeka has been canceled because of the threat of severe weather, according to an email from 6th Man Strategies.
While the majority of the event takes place indoors, past events have shown that KU fans are lined up outside for as long as a couple of hours while waiting to get into the venue or for autographs from the players.
Because of that, 6th Man Strategies co-founder Matt Baty said he and WU coach Brett Ballard made the joint decision to call off the event early rather than risking it.
Baty said full refunds will be provided and added that they hoped to bring the tour back to Topeka sometime this summer.
As of today, there is no reschedule date in place for the Topeka stop.
Baty said an email had been sent out to all who purchased tickets for the event and that ticket refund or transfer requests need to be sent, via email, to chrissy@6thmanstrategies.com.
The transfer option allows for those who purchased tickets to the Topeka event to have it moved to upcoming events at Hays High (Saturday), Blue Valley Northwest High (Sunday), Rockhurst High (May 6), Dodge City (May 7) and Pembroke Hill (May 8).
Baty said all refunds and transfers would be processed quickly.
For more information on KU's national championship barnstorming tour or to purchase tickets, visit barnstormingtour.com.