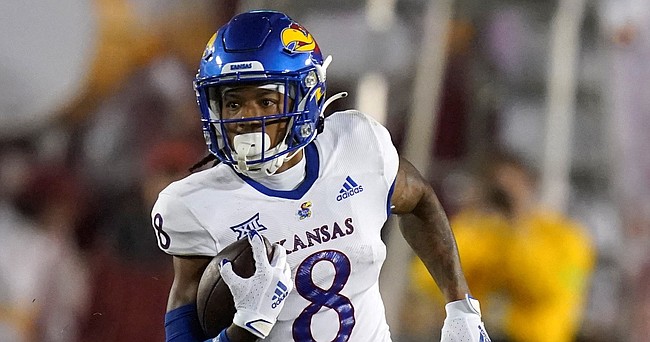 Kwamie Lassiter II didn't recognize his hunger until the start of his fifth season at Kansas.
Lassiter, a wide receiver who began his college days as a walk-on, weighed less than 175 pounds during his first four years. He had already played in 27 games, during which he realized he was just too small to adequately play the position.
"I was like, 'Man, you can't play receiver in the Big 12 at 160, so I know you can't play it in the NFL,'" Lassiter said.
Lassiter had always wanted to play football professionally, but the drive to do so didn't take over until late in his college years. Revamped weightlifting, conditioning and diet programs steadily raised his weight to the low 180s by the start of the 2020 season, his fifth. That was a comfortable range for him again last season, when he led the Jayhawks with 59 receptions, 653 receiving yards and three touchdown catches.
Yet as his goals have gotten larger, so has he. Following his pro day workouts in early March, when he measured 5-foot-10 7/8 and 185 pounds, Lassiter vowed to pack on a bit more weight. Late last week, he was up to nearly 190 — a size that he believes can better prepare him for the greater physicality of the NFL, a dream that could become reality as soon as the draft concludes later this week.
Lassiter could be selected in the late rounds of the annual event, which begins Thursday and lasts through Saturday. If his name isn't one of the 262 called over seven rounds, he's hoping to latch on with a team as an undrafted free agent — the route his father, Kwamie Lassiter, took when he left Kansas in 1995 and parlayed into a 10-year career.
"All I've got to do is get my foot in the door, get into a camp and I'm good," Lassiter said. "I'm not going to stress too much about the draft because then I'll drive myself crazy, so I'm just living life."
The Jayhawks have had just two players drafted since the end of the 2014 season — defensive end Dorance Armstrong by the Dallas Cowboys in 2018 and left tackle Hakeem Adeniji by the Cincinnati Bengals in 2020. Kerry Meier and Dezmon Briscoe were the last two Kansas wide receivers drafted, and they were selected in 2010.
Defensive end Kyron Johnson, who is expected to be a late-round pick, should be the next to join the NFL ranks from the Jayhawks. Lassiter and left guard Malik Clark also could find themselves in a team's rookie camp early next month.
Hardly recruited by major college programs out of Hamilton High in Chandler, Arizona, Lassiter was able to earn a football scholarship from Kansas within three years. That's why he has said he's not afraid of the persistence that's required of taking the long way to the NFL.
"He's just a guy that does what's asked of him," said Preston Hale, one of Lassiter's trainers during the lead-up to the draft. "That's it. He gets the job done. He's going to get open. He's going to find ways to get open. I feel like he's really adaptable. That's a huge thing.
"Some people just, they don't adapt well, and that's why they get weeded out. I feel like KJ's smart enough. He's been around the game long enough to know, 'If this person keeps doing this, I'm gonna do this.' He has situational awareness, and I just think he can adapt at that level."
Lassiter grew up in Chandler, a suburb of Phoenix, because his father spent much of his career playing for the Arizona Cardinals. He started to believe he could have a career playing football once he started playing regularly and achieving success at Kansas.
His draft preparation included local pro days for the Cardinals and Kansas City Chiefs, which he said went well, and he spent time working out in Austin, Texas, before returning home to Arizona last week to work out with Hale at his private gym, Ignite Performance.
In recent workouts, Lassiter has been training against defensive backs who are also draft hopefuls in an attempt to "be more explosive" and perfect his route-running.
An assistant coach at Hamilton High when Lassiter was an upperclassman, Hale was a friend of Lassiter's father, who died of a heart attack in January 2019 at 49. He said working with Lassiter through the pre-draft process has been "kind of personal to me."
"Just seeing him take the same path that his dad did, it's in his honor," Hale said. "He didn't have anything given to him (either), you know what I'm saying? He's been taking every opportunity that he had. I think that just seeing him fulfill this whole journey means everything to them."
Lassiter said he plans to watch the third day of the draft with his mother, Ericka, as well as his siblings and his girlfriend. Then, shall everything unfold as he hopes, he'll begin preparing to join his new team as soon as next week.
"It's the draft, so you never know," Lassiter said. "Things always turn out one way different (than expected, but) I'm going to enjoy it. I know what I'm capable of, and whoever wants to take the chance on me, they're going to get a ballplayer."