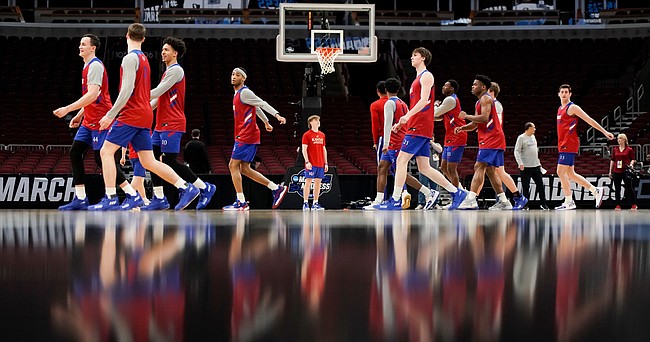 The Kansas men's basketball program's national championship barnstorming tour will continue Friday night at Washburn University in Topeka.
The event begins at 5 p.m., and it looks like there could be even more dates coming in the months ahead.
The tour, which began last weekend with a huge crowd at Wichita East High School, has six more stops scheduled between Friday and May 8.
According to 6th Man Strategies co-founder Matt Baty, they're looking to add more tour stops this summer, too.

"There has been a significant amount of interest from schools and communities to bring the national champions
to town," Baty said. "We are in discussions with how we can expand this tour once summer school starts in June and July so fans can get a first look at some of the new freshmen and possible transfers, while (taking) our celebration to new locations. The guys are asking for more and having fun so we
want to get out as much as possible."
As of today, the tour's next stops after Friday's fun at Washburn includes a trip to Hays High School on Saturday, an event at Blue Valley Northwest High School on Sunday and two stops in Kansas City, Missouri the following week — May 6 at Rockhurst High School and May 8 at Pembroke High School.
The Jayhawks also will visit the Dodge City Convention Center on May 7.
The event is essentially a big celebration of all things Kansas basketball. Fans who purchase tickets to attend will get to meet the players, line up for autographs and watch the team play a pick-up game. An interactive skills camp, games, a Q&A; and live and silent auctions are also part of the fun.
Tickets can be purchased online at barnstormingtour.com. A ticket for admission sells for $30 but that does not guarantee autographs. The only way to guarantee a trip through the autograph line is to purchase a VIP reserved ticket for $75.
Visit the website for specific details about each site, including options for dinner and other VIP events.
Seventy percent of the proceeds from the Barnstorming Tour goes directly to the players through name, image and likeness initiatives. The remaining 30% goes to the school or venue hosting the event to cover facility rental.
Players will receive 100% of the proceeds they generate from the sale of individual silent and live auction items, and players who have exhausted their eligibility can auction off game worn jerseys, shoes and gear.
Not every player from the 2021-22 national championship team will attend every event.