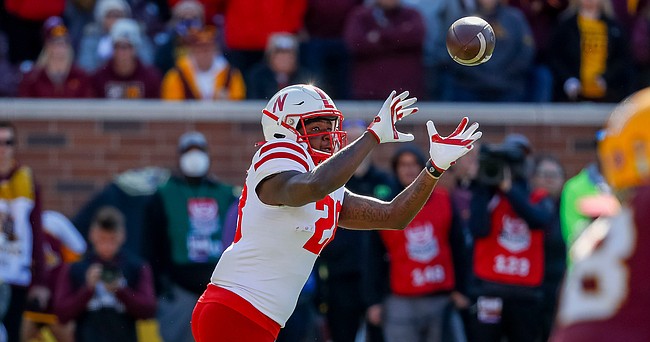 Sevion Morrison was never overwhelmed during his first few weeks at Kansas.
Morrison, a running back who will be a redshirt sophomore in the fall, decided to transfer from Nebraska in November. He chose Kansas a month later, and once he began taking classes in mid-January, he felt welcomed by his new teammates and community.
"I'm really enjoying it," Morrison said. "I can say that like, ever since we got here, it was like we were already treated like family. ... We were kind of settled in from the first week. It's real good."
A 6-foot, 212-pound running back who grew up in Tulsa, Oklahoma, Morrison arrived in Lawrence with a bit more familiarity with the school than most players who decide to transfer to Kansas. He was recruited and offered a scholarship by former coach Les Miles, but he chose to play for the Cornhuskers in August 2019, prior to his high school senior season.
The four-star recruit was among the top 15 running backs in his class and the top 250 high school players in the country, according to Rivals.com. He ran for more than 5,000 yards while at Edison High, including 2,728 yards as a junior and 1,798 yards as a senior, and had more than 20 scholarship offers, with Wisconsin, Minnesota, Mississippi State and Washington among the schools that also recruited him.
He redshirted his first season at Nebraska but was just part of a rotation last season, when he ran for 116 yards and three touchdowns on 30 carries across six games. His last appearance was on Oct. 16 in a game against Minnesota; four weeks later, and with two games remaining, he decided to transfer.
Now, he'll be part of a crowded backfield rotation that includes fellow transfer Ky Thomas, who joined from Minnesota; last year's top running back, Devin Neal; and the returning Daniel Hishaw Jr., who missed last season with an injury.
Thomas didn't choose to transfer to Kansas until mid-January, nearly a month after Morrison made his decision to do so. But Morrison said he is happy Thomas has joined the team, and the two have bonded over their Big Ten roots.
"It was more like a love thing, because he's coming from the Big Ten and he's a running back, so we're both familiar with a lot of things," Morrison said. "As soon as I met him, we clicked. We're just talking scheme and sometimes, we'd talk about some Big Ten stuff, and when we dissect our plays ... just being in the Ten, we'd kind of dissect them the same."
That Kansas added a pair of running backs may be auspicious given the attrition it has endured among its wide receivers. Kwamie Lassiter II, who was a sixth-year senior last season, is out of eligibility, and only three wide receivers who played meaningful roles — Trevor Wilson, Luke Grimm and Steven McBride — are set to return.
Offensive coordinator Andy Kotelnicki said last month that with so many running backs, Kansas will "try to put a couple of them on the field at the same time." Morrison and Thomas each said they lined up in the slot or moved in motion out of the backfield during spring practice.
For Morrison, who compared himself to one of his favorite players, former Kansas City Chiefs wide receiver De'Anthony Thomas, that may be a good thing.
"Just being able to cut on a dime, make defenders miss and then have that burst to pull away," Morrison said. "But sometimes, I can (play) different, because you know, I'm over 200 pounds and De'Anthony Thomas is only about 175, 180, so it's a (tough) comparison. But just his cuts on a dime like that and making people look silly, pulling away like that — I just love that."
When asked if he has any goals for this season, Morrison shied away from any performance-related milestones. Instead, he said, what he wants to do is continue to reciprocate that inclusivity and unity he has already felt on campus and find a way to have it lead to success for the Jayhawks, who finished 2-10 last season.
"The main goal is just building that culture, building that foundation," Morrison said. "The plan is to turn Kansas football around. I feel like we have the tools, so just win. That's just the main goal. Preparation for winning — that's what we always do."