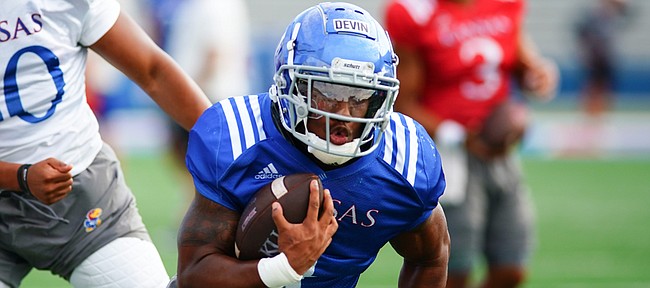 Though the abrupt departure of Velton Gardner caught the Kansas football staff by surprise this week, head coach Lance Leipold explained Tuesday how the Jayhawks plan to quickly move forward and ask more of true freshman Devin Neal at running back.
Leipold said Gardner, KU's starting running back the first three games of the season, had officially left the program.
"I guess the best way to say it is he didn't show (Monday)," Leipold said of the junior back, who entered his name into the NCAA's transfer portal two days after he had two carries for 4 yards in the Jayhawks' blowout loss to Baylor.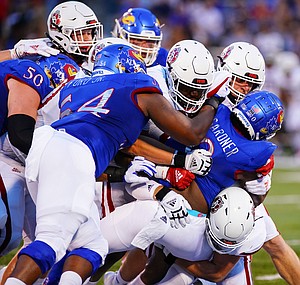 "We're focused on the guys in the program. Wish him the best with this future," Leipold said, adding the KU coaches want to "create a culture of competition within the program each and every day, and that's where our focus will be moving forward."
Gardner entered the season as KU's leading returning rusher (4.5 yards per carry in 2020, two TDs in six appearances), and No. 1 running back. However, the 5-foot-9, 195-pound junior from Dallas didn't produce much during the team's 1-2 start, rushing 29 times for 56 yards (1.9 yards per carry) with no touchdowns.
"It's one less body in the program. I guess we're going to keep working," Leipold replied, when asked how Gardner's departure impacted the Jayhawks and what they're trying to accomplish this season.
"I think everyone who has watched us, obviously we're not where we want to be offensively. But I think everyone could say that the progress of Devin Neal continues to show itself in a very positive direction," Leipold added.
A true freshman from Lawrence High, Neal led KU's running backs in carries and yards each of the past two weeks, even though Gardner started. Neal rushed 11 times for 40 yards and a TD at Coastal Carolina in Week 2, then ran the ball 10 times for 33 yards versus Baylor.
Junior quarterback Jason Bean is currently KU's leading rusher (40 carries, 216 yards, two TDs). But Neal, who only got one carry for one yard in his college debut against South Dakota, has been the most productive running back through three games, with 22 carries for 74 yards and a TD.
Even before Gardner left the program, it appeared KU was moving toward using Neal more. Asked if that was the case, Leipold replied, "I think he continues to show his value in this offense and that he has a very bright future. I continue to see his role increasing."
KU's head coach said the offense's lack of sustained drives earlier in the season led him to not give Neal as many opportunities as he could have, and that probably stymied Neal's growth.
"We've made sure that we're going to do a better job with that," Leipold said.
The coach brought up the names of two other running backs while discussing the position Tuesday during his weekly press conference. Leipold said redshirt freshman Amauri Pesek-Hickson is "getting healthy." Pesek-Hickson, who missed Week 1 and only had one carry at CCU, ran four times for 12 yards vs. Baylor but lost a fumble.
Sophomore Torry Locklin, Leipold added, "continues to be a versatile player for us." A former backup receiver and QB for the Jayhawks, Locklin has 10 carries for 19 yards.
KU's second-leading rushier in 2020, Daniel Hishaw (52 carries, 229 yards, 4.4 yards per carry, two TDs in eight games as a true freshman) suffered a season-ending injury during the preseason.
The Jayhawks' first game with Neal as their No. 1 running back comes on Saturday at Duke (3 p.m., ACC Network).