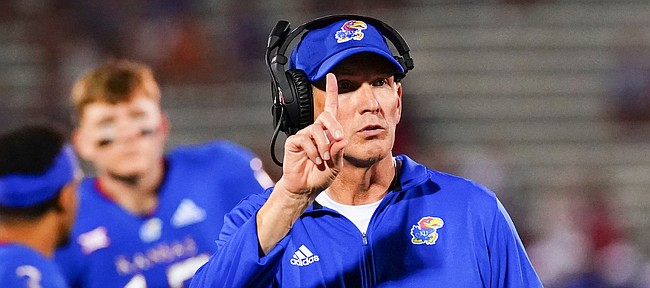 Lance Leipold won't have to worry about his Kansas football team taking on BYU, Cincinnati, UCF or Houston any time soon, but Leipold expects the four future Big 12 programs will be "fine additions" to the conference.
Asked during Monday's Big 12 media teleconference to share his thoughts on the league expanding, Leipold noted the four schools "from a football perspective have all been highly successful" and have played in "big ball games nationally in the last few years."
BYU entered this fall coming off three consecutive winning seasons, and the Cougars' 4-9 mark in 2017 was the program's only losing campaign since 2004.
Cincinnati has won nine or more games each of the past three seasons. Head coach Luke Fickell, now in his fifth year leading the program, had the Bearcats in the Peach Bowl last year.
UCF has gone to five consecutive bowl games and went a perfect 13-0 in 2017. In the past nine years, the Knights have appeared in eight bowl games.
Houston went 3-5 in 2020 after finishing 4-8 in 2019, but the Cougars have gone to eight bowls in the past decade.

During Leipold's six-year run as the head coach at Buffalo, Leipold and his staff ended up being around Fickle and some Cincinnati assistants while working on the summer camp circuits.
"Coach Fickle is an outstanding coach," Leipold said. "I have great respect for them."
KU's head coach said he hasn't yet gotten a chance to know BYU head coach Kalani Sitake and his staff, but said "their name and their brand speaks for itself."
The three current AAC schools — Cincinnati, UCF and Houston — play in areas where coaches in the Big 12 will want to recruit, Leipold added.
"I think they're going to be fine additions," Leipold said of the future Big 12 teams.
Although Texas and Oklahoma making exit plans for the SEC and the Big 12 expanding as a result have been big stories in the college football world the past couple of months, Leipold said with everything he and the KU staff had going on in trying to prepare for their first season in Lawrence, he didn't spend much time worrying about those developments.
"But at the same time, I think with the departure of two schools, I think the uncertainty of our league was definitely at the forefront of a lot of people's thoughts," Leipold said, "and to see us act this quickly for the future I think gives everybody a chance to know that there will be stability. And we can get back to focusing on this season."
No worries with Bean
As KU quarterback Jason Bean indicated after the Jayhawks' loss at Coastal Carolina on Friday, the hit he took in the fourth quarter that hurt his wrist isn't expected to keep the QB off the field for KU's Big 12 opener this week versus Baylor (2:30 p.m. Saturday, ESPN+).
Bean said on Friday he was just experiencing "a little soreness." Leipold said Monday he thinks the starting QB is "feeling all right," noting KU practiced Sunday and Bean "was out there."
"I think he's bouncing back. I don't feel any reason why he won't be able to go this week," Leipold said.
KU at Duke set
After dipping into Big 12 action this week, the Jayhawks will play one more nonconference game on Sept. 25 at Duke.
The ACC and Big 12 announced Monday the game in Durham, N.C., will kick off at 3 p.m. (central) and air on the ACC Network.
KU is 1-1 versus the Blue Devils all-time, and the programs haven't met since 2014. The last matchup also came at Duke, where KU lost, 41-3, under head coach Charlie Weis. The Jayhawks won the first meeting the series, 44-16, in 2009, when Mark Mangino was still the head coach.