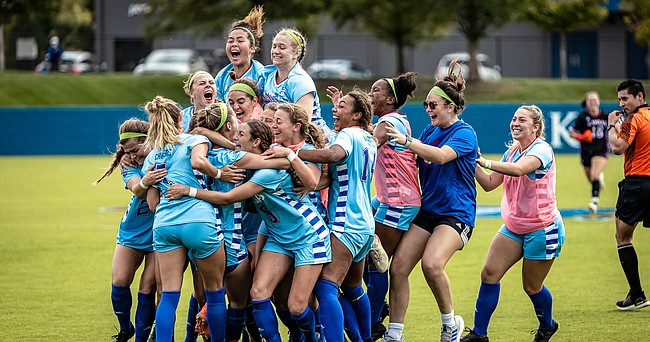 The Kansas women's soccer team picked up its second consecutive victory over a ranked opponent on Sunday at Rock Chalk Park, topping No. 9 West Virginia 2-1 in double-overtime.
With the two teams tied at 1 in OT, freshman Raena Childers picked the pocket of a WVU forward near midfield and immediately turned the transition chance into a scoring opportunity.
After carrying the ball into the West Virginia zone, Childers crossed it to Brie Severns, who took just a couple of touches before launching a rocket that beat the keeper and gave KU the victory in the 110th minute.
"I'm just so proud of the group," KU coach Mark Francis said after the match. "We used seven subs today and the level of intensity didn't drop."
Kansas is now 7-8-1 overall and 2-4 in Big 12 play. The Jayhawks topped No. 23 Baylor on Thursday night for their first conference victory of the season. The back-to-back wins mark the first time in school history that KU has defeated two ranked teams in the same week.
"It's interesting what a difference a weekend makes," Francis said. "Last weekend, we had two disappointing losses. This weekend, we beat a top-25 team and then a top-10 team. Now, I think the group believes we can beat and compete with anybody."
WVU (8-3-2, 2-1-1) jumped out to a 1-0 lead on Sunday, scoring the game's first goal in the seventh minute. Just six minutes later, it was Severns who sent a cross into the box that Childers finished off to tie the game.
Severns also scored the game-winner against Baylor and she leads KU with five goals and 14 points this season. The Jayhawks are now 2-1-1 in overtime games.
Next up, the Jayhawks will travel to Oklahoma for a 7 p.m. kickoff Thursday against the Sooners. The match will be broadcast on Big 12 Now on ESPN+.