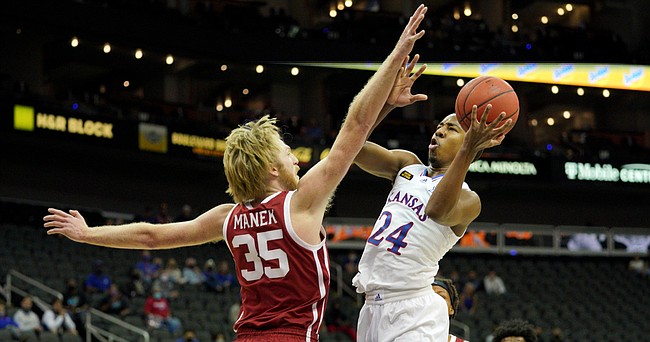 Kansas City, Mo. — Kansas basketball coach Bill Self had a simple plan for how he would fill the fifth spot in KU's starting lineup for Thursday's 69-62 victory over No. 25 Oklahoma at T-Mobile Center.
If Oklahoma started two big men, he was going with senior forward Mitch Lightfoot in place of junior David McCormack, who is out for the weekend because of COVID-19 protocols.
If Oklahoma started with four guards around stretch big man Brady Manek, KU would match them by going small with Jalen Wilson as the 5 and freshman Bryce Thompson in the backcourt.
OU went small. Thompson got the start — the second of his career — and he and Lightfoot combined to play 39 minutes.
"That was the strictly the only reason," Self said of matching Oklahoma's lineup. "And you know, there's a good chance tomorrow we'll go big because, if we play Texas, they start big, and if we play (Texas) Tech, they start a true 5."
Thompson finished with just two points and two rebounds in his 19 minutes, but was an effective part of the Kansas defense that suffocated the Sooners in the first half that ended with KU leading 35-15 at the break.
"We switched everything the first half and it was very effective," Self said. "And then when we went big, Mitch did such a good job on Brady he didn't hurt us like he did the second half."
In the end, Self said the strategy did not really matter because he saw good and bad things from both lineup styles.
"I think there were stretches in the game where we were better with five guards and it didn't matter who else was out there, and there were there stretches in the game where we were better with Mitch in the game and it didn't matter who else was out there," Self said. "I don't think I had a favorite, I just thought it all did pretty well."
Unusual atmosphere
Because of the pandemic, the Big 12 Conference limited capacity at T-Mobile Center to 20%, meaning around 3,800 fans were allowed to attend Thursday's game.
Not nearly that many showed up, but Self said there were enough there that he could feel the "pro-Kansas crowd."
"So it was 1,500 to 300," guessed Self about the number of KU fans to OU fans. "I mean, it wasn't like it was a true home game. I don't think the crowd had anything to do with who won the game, but I do think the crowd makes it more fun to play because you can tell they were enjoying watching our guys play."
Watching from home
Self said roommates McCormack and Tristan Enaruna, who also is out for the weekend after entering into COVID-19 protocol, were back in Lawrence on Thursday night and he expected that they watched KU's win from their room at McCarthy Hall.
"I'll be honest, 30 minutes before tipoff I didn't call and ask them where they were actually watching it," Self joked. "I think that they were in their room. And to be real candid, they're supposed to be in their room, because they're supposed to be isolated. So I'm sure they were."
KU at T-Mobile Center
Thursday's game marked the 53rd game played by Kansas inside T-Mobile Center, known until this year as Sprint Center.
The Jayhawks are now 43-10 all-time in the venue, not counting three exhibition victories, two over Canada while preparing for the 2015 World University Games and one over Missouri in 2017.
This and that…
KU's win on Thursday night improved the Jayhawks to 3-1 in neutral-site games this season… Kansas is now 21-3 all-time in Big 12 quarterfinal games and advanced to the semifinals for the 21st time in Big 12 history and the 39th time overall… KU is now 77-28 all-time in league tournament play and 47-12 all-time in the Big 12 tourney… OU became the 23rd KU opponent this season to be forced into shot clock violation by the Kansas defense. On the flip side, KU's offense has only committed six shot clock violations all season… KU now leads the all-time series with Oklahoma 152-69. The Jayhawks have won 10 of the last 13 meetings with the Sooners.