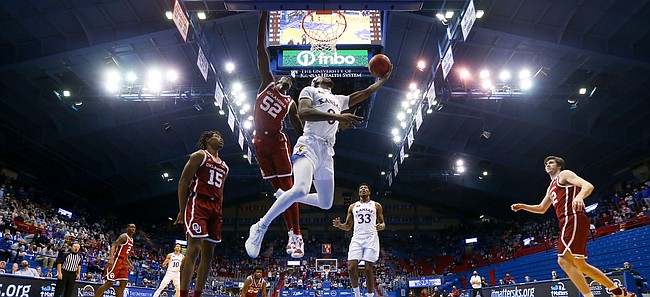 Kansas senior Marcus Garrett returned to action and delivered his typical stat-sheet-filling effort during Saturday's 63-59 win over by the sixth-ranked Jayhawks over Oklahoma at Allen Fieldhouse.
Garrett, who missed Tuesday's victory at TCU while nursing a head injury suffered in a Jan. 2 home loss to Texas, reclaimed his spot in the starting lineup and scored seven points on 3-of-6 shooting while dishing four assists and grabbing five rebounds.
"It was good having him back, seeing that he was well and healthy," KU junior Ochai Agbaji said of Garrett's return. "You know, just getting our point guard back, getting everything in our offense and our defense kind of back to where we're (used to having it) was good."
Agbaji said the team got its first indication that Garrett would be back during Friday's practice.
"He went up and down and had a full practice," Agbaji said.
Said junior forward David McCormack of the lift Garrett's return gave the Jayhawks: "It was definitely big. Marcus is our point guard, (our) leader. It was great to have him back on a court. He helped us out tremendously."
Garrett's play on Saturday resembled what he has done throughout his career. He scored close to the rim, set up others for easy baskets and ran the show on both ends. His hard-driving reverse layup with 3:13 to play put Kansas up one. And he also swiped two steals and altered two OU shots in 33 minutes.
"I didn't sense any problems," Self said when asked how his point guard held up. "I don't think that he had any type of hangover from some of the issues that he'd been laboring with the last few days."
Photo Gallery
Kansas basketball v. Oklahoma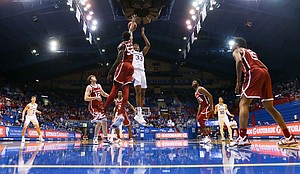 View a gallery from Saturday's game between the Jayhawks and Sooners at Allen Fieldhouse.
Two Sooners sit
OU starter Brady Manek and reserve forward Jalen Hill missed Saturday's game after being announced by OU as unavailable "due to COVID-19 protocol."
Neither player was in Allen Fieldhouse for Saturday's game, which kept 17 points, eight rebounds and nearly four assists per game out of OU's attack.
Manek entered the weekend as the Sooners' second leading scorer (13.2 points per game) and a 41.2% 3-point shooter.
A couple of Jayhawks said they found out that Manek would not play before Saturday's tipoff, but added that it did not inspire any kind of pregame tweaks.
"I don't think we really changed our game plan going into it," Agbaji said. "That's a part of what's going on this year, guys having to miss games, teams having to miss games games and stuff like that. We just know it's going to be a part of it."
Added McCormack: "We just said don't let it affect us, don't let it change our energy or our game plan, and we didn't. We just played as if he was still there."
McCormack FT streak ends
Despite leading the Jayhawks in scoring with 17 points on 8-of-14 shooting, Saturday's outing wasn't all positive for McCormack.
After connecting on 21 consecutive free throws over a span of five games, dating back to KU's home win over Omaha on Dec. 11, 2020, McCormack missed his first two free throws on Saturday and finished the day 1-for-3 at the free throw line.
The KU record for consecutive free throws made belongs to Sherron Collins, who hit 36 in a row in 2009. Wayne Simien also delivered a memorable streak, making 34 in a row in 2005.
Moment of silence
Kansas Athletics paid tribute to a pair of longtime Jayhawks with a moment of silence before Saturday's game.
Former KU assistant coach Lafayette Norwood and longtime Lawrence educator and KU timekeeper Nancy Hopkins both died in the past week.
Norwood, a Wichita native, was an assistant coach under former KU coach Ted Owens from 1978-81.
In that span, Kansas won the 1978 Big Eight regular season championship, two Big Eight Holiday Tournament titles, in 1978 and 1979, and one conference postseason tourney in 1981. He died Jan. 2 at age 86.
Hopkins, who was 69, went into cardiac arrest early on Jan. 3 and spent the week in intensive care before passing late Friday night.
In addition to coaching volleyball and teaching physical education classes in Lawrence for decades, Hopkins worked courtside for what was estimated to be several hundred KU men's basketball games, running the game clock and shot clock throughout the action.
Several of her close friends, colleagues and former players put together a GoFundMe account for her medical bills that raised more than $10,000 in 36 hours. As of Saturday night, the total amount raised had climbed to nearly $14,000.
In addition to putting pictures of the two longtime Jayhawks on the video board during the moment of silence, KU put together a small memorial that included a framed photograph of Hopkins and the shot clock remote at her usual seat.
This and that...
Saturday's victory improved Kansas to 10-2 or better for the seventh consecutive season... KU has now won three in a row over the Sooners and leads the all-time series with OU, 151-68. Included in that total is a stretch of 20 consecutive victories over Oklahoma at Allen Fieldhouse, a streak which began back in 1994... Kansas is now 6-1 at Allen Fieldhouse this season and 808-115 all-time in the venue.