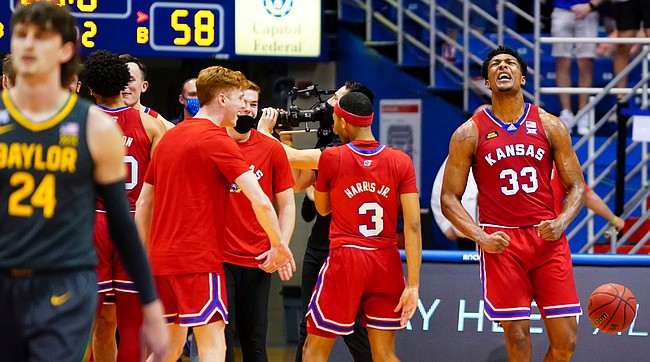 When the 2020-21 men's basketball schedule was finalized, Saturday's home showdown with Baylor was a game that every Kansas fan circled immediately.
At the time, most thought the game could determine the Big 12 champion and be in the running for game of the year in college basketball.
It wasn't quite that, but for No. 17 Kansas, the 71-58 win over the second-ranked and previously unbeaten Bears might have been even more meaningful. Because it came as the result of elite defense and all-out effort.
"That was a connected team out there tonight," Kansas coach Bill Self said after the victory. "We weren't good tonight defensively; we were terrific."
Energy had a lot to do with that. And it came from a number of places.
Self said that senior guard Marcus Garrett could have played all 40 minutes without even thinking about it because of how locked in he was on getting another crack at Baylor. And Garrett himself, who was the only Jayhawk to deliver a senior speech after KU's 38th consecutive win on senior night, said he and his teammates talked about the energy in the building as they warmed up and dressed in the locker room.
"They were ready for today's game," Garrett said of the 2,500 fans who Self said made it feel like the place had reached its capacity of 16,300.
The Jayhawks were ready, too. And Self knew it from the jump.
"I think we were going to be turned up tonight if there were no fans there," Self said. "We were excited to play Baylor."
Photo Gallery
Kansas basketball v. Baylor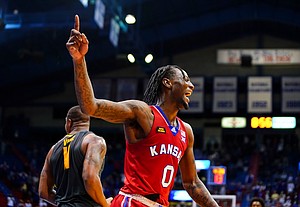 View a gallery of images from Saturday's game between the Jayhawks and Bears at Allen Fieldhouse.
That showed during a blazing start that featured the Jayhawks (18-8 overall, 12-6 Big 12) jumping out to a 13-6 lead in the game's first five or so minutes.
KU dictated play on both ends and set the tone for what would turn out to be a pretty miserable shooting night for the visitors. Baylor finished 23-of-66 overall (34.8%) and made just six of 26 3-pointers.
Had the Jayhawks made more, this one might have been a double-digit runaway much earlier. Instead, Kansas hit just three of 16 3-point shots of its own, which ensured that the game would be the grind-it-out battle that many expected most of the way.
"To think we can shoot the ball that poorly and still beat a team of that caliber by 13 speaks volumes about how we guarded and rebounded," Self said.
Jalen Wilson finished with 14 rebounds. Garrett added seven. And the Jayhawks out-rebounded Baylor 48-28 as a team.
That led to fewer second-chance points for the Bears (18-1, 10-1), who, with the exception of a couple of mini-runs in both halves, never really found any kind of rhythm against the Jayhawks.
BU leading scorer Jared Butler fouled out and finished with just five points on 2-of-9 shooting, most of that the result of the way Garrett hounded him all night.
Stepping into Butler's place as the game's marquee scorer was Kansas junior David McCormack, who finished with 20 points on 8-of-10 shooting and showed from the opening possession that he was ready and willing to be a steadying influence for the Kansas offense in its biggest game of the season.
"He gave us an option when nothing was there offensively," Garrett said of McCormack inside. "We could just throw it to him and he got us a bucket."
Asked how he was able to find such success against one of the nation's top defensive teams, McCormack again pointed to his mental approach.
"When you catch the ball, take a breath, see what's going on around you and then proceed to do what you need to do," he said. "Everything becomes easier when you just kind of relax and let the game come to you."
McCormack did plenty of that. And so did senior reserve Mitch Lightfoot when the KU starter sat because of foul trouble. Self said after the game that the Jayhawks all "played their tails off" and that everybody contributed to the massive win.
Lightfoot's contributions came during a crucial stretch when McCormack went to the bench with four fouls and 6:33 to play. He scored twice in the post, blocked a shot and fought for rebounds with anyone who wanted to tangle.
Reserve guards Dajuan Harris and Bryce Thompson also came up big in big moments. Thompson hit KU's lone 3-pointer of the first half to help the Jayhawks establish an early lead. And Harris' 3-pointer from the wing put Kansas ahead 50-42 after Baylor had trimmed a 10-point Kansas lead to just three in around two minutes.
The punctuation mark to Saturday's signature victory came on one of Baylor's final possessions. After watching the Bears misfire from all over the floor all night long, McCormack made sure to leave no doubts about a hard driving floater shot by BU's MaCio Teague in the final 90 seconds.
As Teague got to the paint, McCormack came from the weakside and volleyball-spiked the shot into the third row behind Teague. The block set off a celebration in the Allen Fieldhouse stands and inspired McCormack to flex and roar in the paint before slapping the hands of his teammates as hard as he slapped the ball.
"I was like, 'This is the moment that I need to send it to the third row," McCormack recalled. "The exclamation point was the stare down to tell him to get out of here. I mean, nothing was coming easy even at the end of the game."
Saturday's win continues a late-season resurgence for the Jayhawks, who now have won six of seven, including three over ranked teams.
"There was a lot of doubts, a lot of naysayers saying whatever they would like and we had our ebbs and flows," McCormack said. "But now we're on the rise and we're going to continue to rise going into March."
The victory likely locks up a spot in the top three of the Big 12 standings and may even put Kansas in the conversation for a top three seed in the NCAA Tournament.
All of that will be determined in due time, though. On Saturday, the only thing that mattered was that the Jayhawks played the way they wanted to play and got the type of outcome they've been looking for all season long as a result.
"I think it's a huge win for us," Self said. "It's not going to get you a ring on your finger or anything like that, but it's a big win."
KU will close out the regular season at 7 p.m. Thursday against UTEP at Allen Fieldhouse.