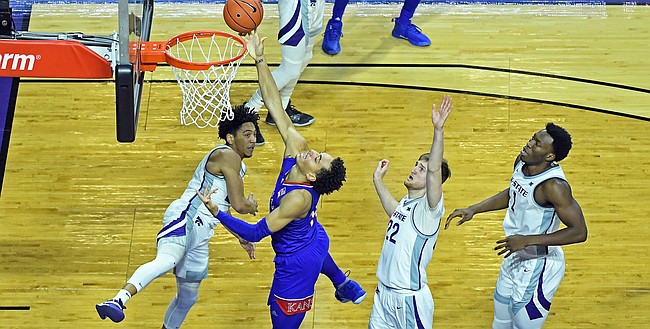 It's been a rough few years for some of the more popular streaks associated with the Kansas men's basketball team.
The Jayhawks' NCAA-record streak of consecutive Big 12 regular season titles ended at 14 in 2019. And, just over a week ago, KU's streak of consecutive weeks ranked in the Associated Press poll ended at 231 weeks, another NCAA record.
Wednesday's 59-41 victory over K-State, however, preserved a streak of 27 consecutive seasons of 10 wins or more in conference play.
That streak, which dates back to the 1994-95 season and the Jayhawks' days in the Big Eight, is the longest active streak in Division I basketball, three seasons better than Gonzaga, which sits in second at 24 consecutive seasons.
The Zags, who are unbeaten and ranked No. 1 in the national polls, pushed their streak to 24 in a row with a win over BYU on Feb. 9.
BYU ranks fourth on the active list, with 15 consecutive 10+ win conference seasons, but the Cougars are 6-3 in the West Coast Conference with three games remaining and five others that were postponed because of the pandemic and may or may not be made up.
Belmont, at 19 in a row, already extended its streak this season. And Duke and Saint Mary's sit tied for fifth at 13 in a row.
The Blue Devils are currently 6-6 in ACC play with six games remaining and two others that were postponed. Saint Mary's, meanwhile, is 2-4 in the WCC and next faces Gonzaga tonight.
Honoring a legend
As part of a nationwide gesture sponsored by the National Association of Basketball Coaches, the Jayhawks used towels depicting the late John Thompson during Wednesday's game.
Thompson, who died last summer, was known for coaching at Georgetown with a big towel tossed over his giant shoulder.
Many coaches have recreated that style during their tributes to Thompson, including Self, who coached with the towel over his left shoulder on Wednesday. KU also sent out a picture of Self posing with the towel prior to the game.
"Of all the shadows that have been cast on the sport in my lifetime, no one's is bigger than John Thompson," Self said in a statement shortly after Thompson's passing. "He was respected and an integral pillar in growing our game, and he will be truly missed."
Mason waived
Just a couple of weeks after signing him to a two-way contract, the Orlando Magic have released former KU All-American Frank Mason III.
During his short stint with the franchise, Mason played in four games and made one start, averaging 6.3 points, three rebounds and three assists in just under 20 minutes per game.
Late last week, Mason hurt his groin during a game and he missed a couple of days because of the injury. That, along with the Magic's already severely depleted backcourt, paved the way for the roster move.
The former second round pick in the 2017 NBA draft now has played for three teams in four NBA seasons.
Baylor to resume Feb. 23
According to a recent news release, the Baylor men's basketball program is slated to resume competition on Feb. 23, just four days before its matchup with Kansas in Lawrence.
The Bears, who are ranked No. 2 in the polls and sit at 17-0 overall and 9-0 in Big 12 play, have not played a game since topping Texas on Feb. 2. The program has missed six consecutive postponed games because of the Big 12's interruption guidelines associated with the pandemic, and is facing the real possibility of not playing its entire, 18-game Big 12 schedule.
The Big 12 Conference has said it will go by winning percentage to determine this year's regular season champion, and the Bears, provided they can play at least five or six games in the season's final couple of weeks, remain the favorite to win the title and earn the No. 1 seed at the Big 12 tournament in Kansas City, Mo., March 10-13.
BU entered Wednesday four games clear of three teams in the loss column at the top of the standings.
This and that...
Wednesday's victory continued the Jayhawks' recent dominance at Bramlage Coliseum, pushing KU to 28-5 in the Wildcats' home venue... Kansas now leads the all-time series with K-State, 201-94, including a mark of 80-47 in games played in Manhattan and victories in 13 of the last 14 head-to-head meetings, including five straight... KU is now 54-6 against K-State since the inception of the Big 12 Conference, and the Jayhawks have won 62 of the last 68 games against their in-state rivals... Bill Self is now 37-6 all-time against the Wildcats (all at KU) and 517-116 all-time at Kansas.