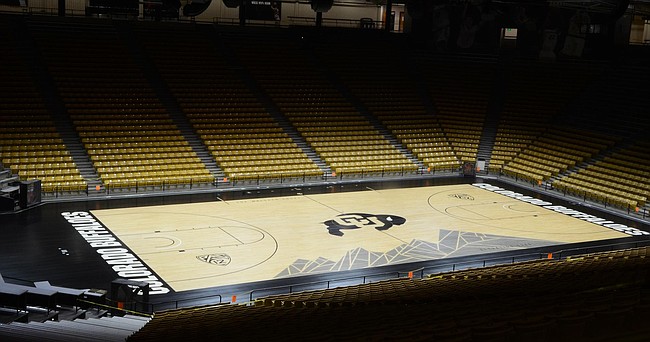 Boulder, Colo. — Tuesday's Kansas men's basketball game against Colorado at CU Events Center was canceled less than two hours before tipoff because of positive COVID-19 tests within the Colorado program.
Fans were turned away from the arena before being let in at about the same time that Colorado announced on its social media platforms that the game had been called off. A statement from Kansas Athletics indicated that the two programs "mutually agreed" to cancel the game."
"Our top priority since the start of the pandemic has been the health and safety of our student-athletes, staff and the community," CU Athletic Director Rick George said in a statement Tuesday night. "While we're disappointed for our student-athletes and fans to have to cancel the game, both schools agreed this is the best decision."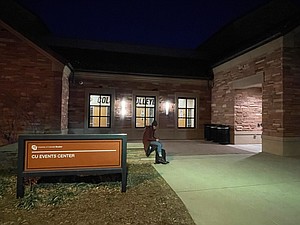 Kansas coach Bill Self told reporters at KU's team hotel in Boulder that none of the Jayhawks were positive as of Tuesday and that he was disappointed but not devastated that the game had been canceled. So, too, Self said, was Colorado coach Tad Boyle, who told Self throughout the day Tuesday that he was still hoping to play.
"Tad said, 'Bill, if we have seven and they say we can play, we want to play,'" Self said Tuesday evening. "But this is not an important game in the big scheme of things. I actually agree totally with the decision that was made. It was their doctors, our doctors, everybody."
Initially, it was just one positive test within the CU program. But after the rest of the CU team was tested, more positive test results surfaced, prompting the cancellation.
Self said the two programs decided earlier Tuesday that they planned "to go as long as possible," to try to see if the game could still be played. That meant a drop-dead time of 5:45 p.m. before a final call was required. CU's additional positive test results were in before that time and the game was canceled just after 5 p.m. mountain time, before KU had left the hotel for the arena.
Self said he first heard the official word from Associate Athletic Director Sean Lester and he noted that Boyle was trying to call through while Lester and Self were talking.
According to a statement released by Kansas Athletics, there is no plan to reschedule the game. But Self did not rule out the possibility of KU adding another game to its schedule somewhere down the road to make up for the lost opportunity on Tuesday night.
Self also noted that this was not the first time a college sporting event had been canceled this season and he predicted that it also would not be the last time.
"It's going to screw up your conference season," he said. "I just hope it doesn't screw it up where it takes away the fans and what makes college basketball so great. Everybody can deal with a week's pause. I just don't know how it'll be (with) reduced capacities and if we start doing all the things we did last year because of what's transpiring."
According to Self, the Jayhawks were not able to get out of town on Tuesday night and were scheduled to stay in Boulder through the night and return home to Kansas on Wednesday. Everyone but senior forward Mitch Lightfoot was scheduled to return to Lawrence with the team and then they would all go their separate ways for the holiday break from there before returning to campus on Dec. 26. Lightfoot road home with his family from Colorado to Phoenix.
Based on Tuesday's practice and what he had seen from his team since last Saturday's close-call victory over Stephen F. Austin, Self said the seventh-ranked Jayhawks (9-1) were looking forward to getting back onto the court.
"We were prepared to play today," he said. "As poorly as we played Saturday, and as telling as the film was for all the guys, you could tell they were anxious to go play."
The Jayhawks are now scheduled to be off until Dec. 29, when they are scheduled to play host to Harvard in the final game before the start of Big 12 Conference play on Jan. 1.
Self said the Jayhawks would continue to take every precaution possible in the meantime, and he touted the positive impact of vaccines in helping keep the COVID-19 virus under control.
"Even though the illness is serious, I think statistics show that those that have been vaccinated carry far less risks than those who have not," Self said. "We're going to try to be as precautionary as we can and probably put in some protocols that look similar to last year, but I hope it doesn't feel similar to last year.
"The (omicron) variant is going to spread like wildfire. We're all going to get it. The good news is if you are vaccinated and boosted, the symptoms of getting it are very mild compared to those who aren't. At least our team is vaccinated and for the most part boosted. I don't know what to do. One positive shouldn't shut you down. But in this situation, multiple positives and there's symptoms … more importantly (players) are going home (for the holidays) and there are some individuals who may be a little bit compromised from an immune system standpoint; this was not that important to play this game."
Self also said KU recently decided to cancel its annual holiday clinic, scheduled for next Monday, "for this exact reason."
"We had 500 (kids) sign up," he said. "And if you put athletes around 500 kids there's probably a chance somebody in the group's got COVID. And then one of our guys gets it and you could have to potentially miss guys or miss games."