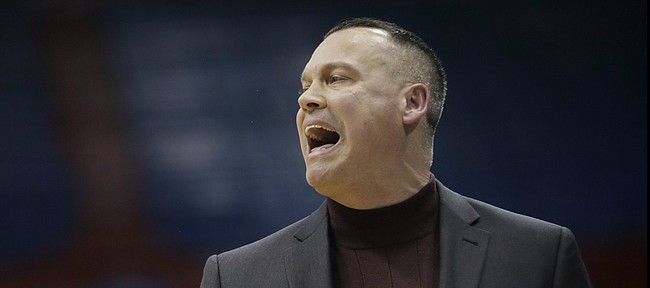 Kansas women's basketball coach Brandon Schneider announced three staffing changes on Monday, including the promotion of Terry Nooner to associate head coach.
Schneider also announced the hiring of assistant coaches Karyla Middlebrook and Morgan Paige, who were brought in to replace former KU assistants Jhasmin Player and Damitria Buchanan.
"As we knew he would, Terry has quickly made a positive impact in every phase of our program," Schneider said in a news release. "He instantly connected with our players, they all respect him tremendously and soak up all that he has to teach them. He truly loves Kansas and is so proud to be a Jayhawk. I'm excited to announce his promotion."
A former KU walk-on under Roy Williams, Nooner is entering his second year on Schneider's staff. He returned to KU prior to last season after a stint at Texas.
He worked primarily with KU's bigs and helped lead Katrine Jessen and Ioanna Chatzileonti to solid seasons.
"I am truly honored and humbled that coach Brandon has entrusted me with this position," Nooner said in the release. "I am eager to continue working on the vision that he has for making KU women's basketball a championship program."
Buchanan moved on to Auburn after six years with the KU program. Player was hired as an assistant coach at SMU, where she can be closer to family after the recent passing of her mother.
Both outgoing assistants left KU with positive words about their time with the program and Schneider's vision for Kansas women's basketball.
"I am very grateful for the time I was able to spend at Kansas," Player said in a news release announcing the departures. "I had a great time with Coach Schneider and learned a great deal from him these past two years. We were not just coworkers, we are now family. I feel like the way he handled the women's basketball program through COVID and social injustices was miraculous. I can never thank him enough for the opportunity he gave me to coach and recruit on the biggest, brightest stage."
Added Buchanan: "These past six years have been a huge blessing in my life. The University of Kansas has made me who I am today and I am thankful for the opportunity to coach in the mecca of college basketball."
Their replacements both have coached at other programs prior to Kansas.
Middlebrook comes to KU from Grand Canyon University, where she served as an assistant coach for the 2020-21 season. Prior to GCU, she was an assistant at Evansville.
"Karyla is from a basketball family and was a really good player competing in both the SEC and Big 12 conferences," Schneider said. "She loves to help players develop and improve their games (and) has very strong recruiting ties locally and throughout the Midwest."
Paige joins the staff as an assistant and recruiting coordinator. She previously held the same role at North Dakota State, where she began in 2016-17 after serving as a graduate assistant at Iowa State.
"Morgan is a coach's kid, grew up in the gym, was an All-Big Ten player at Wisconsin, and spent time in Europe playing professionally," Schneider said. "She is terrific on the court and has strong Midwest recruiting contacts and connections.
"Morgan and Karyla will make a big impact on the environment of our program," he added. "Their positive energy and enthusiasm are infectious and our players are really going to enjoy working with and learning from them both. They will be outstanding mentors for our young women."
The 2021-22 season will be Schneider's seventh season in charge of the KU program. He was hired from Stephen F. Austin prior to the 2015-16 season and has led the Jayhawks to a record of 57-98 (14-94 in Big 12 play) during his first six seasons in charge.
During the pandemic-shortened 2020-21 season, Schneider led the Jayhawks to a record of 7-18 (3-15 in Big 12 play) while working through postponements and rescheduled games related to the COVID-19 pandemic.
Schneider owns a career record of 458-236, which includes a 306-72 record in 12 seasons at Emporia State and a 95-66 mark at Stephen F. Austin.