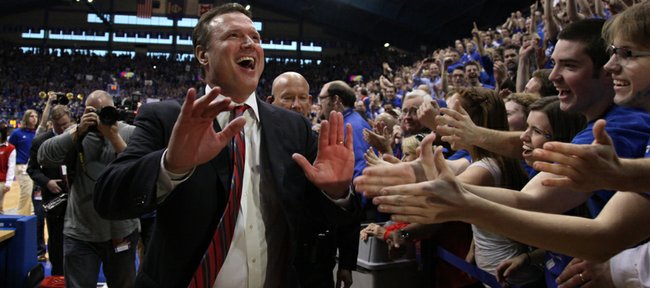 Kansas men's basketball coach Bill Self has signed what was described by KU as "a lifetime contract" to remain the head coach of the Jayhawks, the school announced Friday morning.
According to a news release put out by Kansas Athletics at 10 a.m. Friday, Self's current contract, which was to expire after the end of the 2021-22 season, has been replaced by a rolling five-year contract worth $5.41 million per year that automatically adds a year to the end after the conclusion of each season for the remainder of his career.
The new contract features several references to Big 12 and NCAA violations, including a clause that specifically outlines that KU "will not terminate Head Coach for cause due to any current infractions matter that involves conduct that occurred on or prior to the date of full execution of this Agreement."
The contract was signed by Self and Girod on March 31 and by Watson on April 1.
In the same section, labeled "Current Infractions Case," the contract language spells out that if Self is suspended by the NCAA or Big 12 "as a result of the pending NCAA infractions matter," Self would forfeit 50% of his salary during the time of the suspension.
In addition, the contract states that Self has agreed to "indemnify" KU, Athletics and the Kansas Board of Regents for 50% of the costs and expenses, including attorneys' fees, brought about by the infractions case up to 20% of his annual compensation.
There also is a section in the contract labeled "NCAA and/or Big 12 violations" that outlines the following:
• If KU, Athletics, the Big 12 Conference or the NCAA determines that Self has violated NCAA or Big 12 regulations, or willfully and knowingly permitted any other person under his direct control or supervision to commit an NCAA or Big 12 violation, Self agrees that he shall be subject to disciplinary or corrective action.
• Self agrees that if he is found by KU, Athletics, the Big 12 or NCAA to be involved in significant or repetitive or intentional violations of NCAA regulations, whether while employed at KU or during prior employment, he may be suspended without pay for a period of time and/or his employment may be terminated for cause.
• Self further agrees that he shall report promptly to the AD and KU's compliance department any known KU, Big 12 or NCAA rules violations.
The announcement of the extension by KU Chancellor Douglas Girod was accompanied by a photo of Self, pen in hand, sitting with interim athletic director Kurt Watson with the contract on the table in front of them.
"I want to extend my sincere appreciation to Chancellor Girod, Kurt Watson and the rest of the leadership at KU for their belief and faith in me to provide this lifetime contract," Self, 58, said in the release. "Every day, I am reminded just how fortunate I am to lead this storied program and there truly is no place else I would rather be."
The new contract for Self comes as the newly formed Independent Accountability Resolution Process (IARP) continues to review the NCAA's infractions case against Self and the KU men's basketball program stemming from the recent FBI investigation into corruption in college basketball recruiting.
There is no timeline for a resolution, but Self has said in recent weeks that he's hopeful the outcome will be known by late summer or early fall. KU has supported and stood strongly behind Self throughout the process that included KU receiving a notice of allegations for five Level 1 violations, including the tag of lack of institutional control and a charge of head coach responsibility.
"As we continue to work through the challenges facing our program, we look forward to moving ahead and focusing on our bright future," Self said in the release announcing the contract extension. "I would also like to express my gratitude to our alumni and donors, as well as the best fans and students in the nation, that have supported my family and me for the past 18 seasons. I'm excited to remain your basketball coach and compete for many championships in the future."
Added Girod in the release: "For almost 20 years, Coach Self has embodied the spirit and tradition of the University of Kansas, leading our men's basketball program to a national championship, 15 Big 12 titles and 17 NCAA Tournament appearances. We believe in Coach Self and we believe in the future of our program under his leadership, and we are thrilled that he will continue to be a Jayhawk for the rest of his coaching career."
Other noteworthy entries in Self's lifetime contract include:
• Self's buyout, if terminated without cause, would be one year's salary ($5.41 million) plus a prorated amount of the annual $2.435 million retention bonus payable each year on the anniversary of the new contract.
• If terminated for cause, Kansas Athletics would owe Self his annual salary up to the time of termination plus a prorated share of the retention bonus he would have earned.
• Cause, as outlined by the contract, includes, among other things, misconduct in the areas of serious criminal conduct, conduct that is inconsistent with the professional standards expected of a head coach, major violations of NCAA or Big 12 rules, failure to promptly report any known violations and violation of Kansas Athletics' and/or KU's policies on discrimination, harassment or retaliation.
• If Self elects to leave KU for the NBA, he would owe Kansas Athletics a $2 million buyout, payable within 60 days of his acceptance of an NBA job.
• Self's contract also includes several incentive bonuses, including: $50,000 for a Big 12 regular season title, $25,000 for a Big 12 tournament title, $100,000 for Associated Press Coach of the Year honors, $50,000 for a postseason appearance, $100,000 for a Sweet 16 appearance, $150,000 for a Final Four appearance and $200,000 for an NCAA title.
• In light of the financial strain brought about by COVID-19, Self has agreed to delay payment of $7.2 million worth of past retention payments. That amount will now be paid in monthly installments of $100,000 over a seven-year period begin April 30, 2021.
In his 18 seasons leading the Jayhawks, Self has recorded a record of 522-118 for an .816 winning percentage.
That run includes one national championship (2008), three trips to the Final Four (2008, 2012, 2018), an NCAA-record 14 consecutive Big 12 regular season titles and a record inside Allen Fieldhouse of 277-15.
He was won multiple coach of the year honors and, in 2017, was inducted into the Naismith Memorial Basketball Hall of Fame in Springfield, Mass.
His overall coaching record, which includes stints at Oral Roberts, Tulsa and Illinois, is 729-223.
He has coached dozens of all-conference and All-American players at Kansas, put several lottery picks into the NBA draft and served as the president of the National Association of Basketball Coaches.
The announcement of Self's extension comes as KU continues to work through its search to find a new full-time athletic director.
Sources have indicated to the Journal-World that the interviews with finalists are being conducted and that the search could reach its end as soon as next week.
In the meantime, Watson has continued to handle the day-to-day business of running the department and after the 2020-21 season reached its end, he made Self's extension one of his top priorities.
"I have known Bill for many years, but working closely with him over the past few weeks in my current role has shown me even more so on a daily basis how deeply he cares about this program," Watson said in the release. "We are certainly proud that he began his coaching career as a graduate assistant at KU in 1985 and that this new contract will ensure he finishes his coaching career here as well."