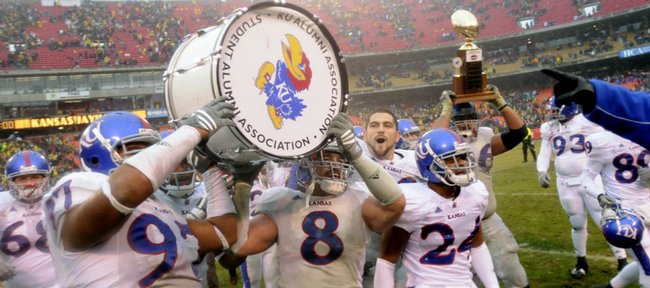 The dates are set for the renewal of the football series between longtime border rivals Kansas and Missouri.
The four-game series, which was rumored to be in the works early last month, will begin in five years, with KU making a trip to Columbia on Sept. 6, 2025, for the first of four on-campus clashes between KU and Mizzou.
The Tigers will play in Lawrence on Sept. 12, 2026, and the series will take a five-year break from there before starting up again in 2031.
Kansas will travel to Missouri on Sept. 6, 2031, for the third game in the series, and MU will come to Lawrence on Sept. 12, 2032, to complete the current plans.
Because the nonconference portion of most college football schedules is often made years in advance, it took some planning and projecting on both sides to come up with these four dates.
"This agreement renews one of college football's most historic rivalries and we believe Jayhawk fans will enjoy the competition," KU Athletic Director Jeff Long said in a news release.
According to KU, the series was the second-most played rivalry in Division I history, with 120 games being played over the span of 122 years dating back to 1891.
That stretch came to an end following the 2011 meeting — won by Missouri at Arrowhead Stadium in Kansas City, Mo. — when the Tigers left the Big 12 Conference for the SEC in 2012.
Current KU coach Les Miles, who coached in the SEC at LSU from 2005-16, said in the release that he was looking forward to putting the Tigers back on KU's schedule.
"This is a tremendous opportunity to reignite one of college football's oldest rivalries," Miles said. "Anytime you bring two football teams on the field with that history, I think it will excite our student-athletes and fans and will certainly be a great battle on the field."
According to KU's release, KU owns a 26-16-3 advantage in games played in Lawrence and a 13-10-3 edge at Arrowhead, while Missouri leads 30-15-3 in games played in Columbia.
Despite not scheduling one another for regular-season games after the Tigers' departure from the Big 12, KU and MU have met in postseason play in volleyball and softball during the past eight years.
The Kansas and Missouri men's basketball programs also will renew their portion of the rivalry starting next season.
Last October, the two schools announced the creation of a six-game hoops series between the Jayhawks and Tigers that will feature two games in Lawrence (2021-22 and 2023-24), two games in Columbia (2022-23 and 2024-25) and two at Sprint Center (2020-21 and 2025-26).