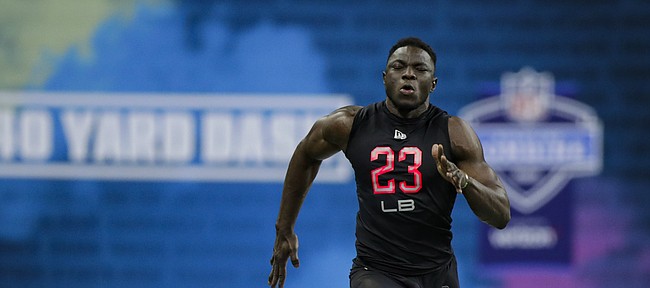 Neither a star on the Kansas football team nor a player who garnered the types of accolades usually associated with future pro football players, Azur Kamara got his chance to prove himself this weekend at the NFL Scouting Combine.
Putting in much of his work on Saturday in Indianapolis, Kamara, a 6-foot-3, 245-pound prospect from Glendale, Ariz., showed some of the potential that snagged him a coveted invite to the pre-draft showcase. And it included more than possessing the longest arms (35 and 1/4 inches) out of all the linebackers in attendance.
Sprinting to a finish of 4.59 seconds in the 40-yard dash, Kamara turned in the 10th-fastest time among linebackers at Lucas Oil Stadium.
He tied for 15th in his position group with a broad jump of 121 inches, and placed 14th among linebackers with his time of 7.2 seconds in the three-cone drill.
Where Kamara didn't fare as well were the bench press and vertical leap portions of the combine. His 13 reps at 225 pounds were the lowest bench total among the 27 linebackers who lifted, while his 28-inch vertical also placed him last among linebackers — and 31 of them participated in that drill.
Meanwhile, in the 20-yard shuttle, his 4.46 seconds ranked 18th out of 19 participating linebackers.
Nonetheless, many still considered Kamara's overall showing at the combine a success. Josh Edwards of CBS Sports grouped Kamara among his "linebacker winners" from the weekend.
"Kamara is a long looking player that ran a fast 40-yard dash time and then looked fluid in the movement drills," Edwards wrote. "He is a bit raw as a player but there are some qualities that teams could build upon."
CBS Sports' composite rankings have Kamara as the No. 335 player in the 2020 draft class, and ranked 36th among available linebackers. There are only 255 picks in this year's draft, set for April 23-25, in Las Vegas.
During his senior season at KU in 2019, Kamara played the position defensive coordinator D.J. Eliot calls a "Jack," and his responsibilities involved getting to the edge and rushing the passer. A starter in all 12 games, Kamara finished sixth on the team in total tackles, with 51, and led the Jayhawks with 3.5 sacks. He was credited with six tackles for loss and four quarterback hurries.
KU's annual pro day is set for Thursday at the Jayhawks' indoor practice facility.