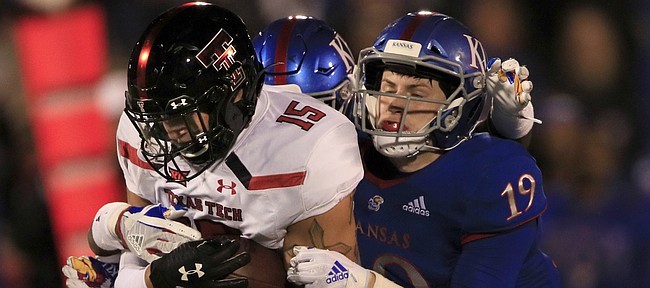 Kansas football coaches never planned on Gavin Potter playing so much as a freshman.
Head coach Les Miles and defensive coordinator D.J. Eliot spoke highly of the young linebacker, even before Potter left Broken Arrow, Okla., to officially join the Jayhawks in Lawrence. Still, those flattering remarks usually came regarding his long-term potential.
Potter entered the 2019 season as a backup inside linebacker. In KU's first couple of games, he barely played. However, what proved to be a season-ending injury to Dru Prox during the Jayhawks' Big 12 opener against West Virginia thrust Potter into the spotlight ahead of schedule.
With KU's linebacking corps rather thin, Potter wasn't afforded the chance to develop behind the scenes and play a little as a backup. He suddenly became someone KU needed to go make tackles.
Listed at 6-foot-2 and 215 pounds, Potter, a three-star prospect from Miles' first signing class, initially looked out of place at times and overmatched at others as an unexpected starter. Be that as it may, his coaches think that abrupt exposure to Big 12 play proved beneficial.
"It was sink or swim, right? And I think he came out swimming," Eliot said recently. "It's going to help us down the road. Gavin is a guy — if anybody was going to be thrown into the deep pool and not know how to swim and figure it out, it was going to be him. He has so much confidence and no fear."
In his first career start at TCU, Potter's mistakes were obvious — Miles said as much afterward — and running backs sometimes dragged the freshman linebacker a few yards before going to the ground. But he was credited with 11 total tackles while doing his best to replace the injured upperclassman, Prox.
The veterans on KU's defense, who, unlike Potter and other freshmen, were made available for media interviews during the season, understood it would take time for Potter to get used to his larger than anticipated role.
Fellow linebacker Kyron Johnson, a junior this past year, said it took him time to develop, too, and estimated he "most likely" didn't play as well as some wanted or expected him to during his first couple of seasons at Kansas.
So Johnson became impressed with Potter as the season progressed.
"I've seen him improve dramatically," Johnson said. "He still has a lot of room for improvement, and a lot of that comes with experience."
Before long, Johnson said, Potter ran around the field during games more than the upperclassman could, and the freshman exceeded the junior's expectations.
Senior cornerback Hasan Defense said Potter's teammates witnessed the freshman growing more comfortable and settling in the more he played.
"At first you could tell he was a little jittery, a little nervous," Defense said, noting later in the season Potter got to a point where he could help relay in defensive play calls to teammates during games. "That's a good sign."
Per the Pro Football Focus snap counts provided to Jayhawk Slant, Potter, while starting eight games and making 56 total tackles, ended up playing the third-most snaps for KU's defense in 2019. In for 672 plays as a freshman, only seniors Defense (728) and Bryce Torneden (677) played more.
PFF also published, via Jayhawk Slant, individual player grades for the Jayhawks. Players who received an overall season grade below 56 were not listed, and Potter's grade was somewhere below that barrier — grades between 50 and 59 are described as a below average college football starter on PFF's grading scale.
Miles said Potter's weaknesses as a freshman were similar to many first-year players put in that position, and the head coach offered his thoughts on Potter's positive attributes rather than his negative ones.
"There needs to be an aggressive point," Miles said. "You have to know when to shoot the gun, to make the play, press to make the play. That's not a weakness of his in any way. He's an aggressive person by nature. He'll pull the trigger routinely."
Eliot said it is difficult for most freshmen defenders who are relied upon during the earliest stages of their careers.
"And he had some growing pains, especially when Dru got hurt, you know, he had to play a lot of snaps early and he made his mistakes and took his lumps," Eliot said. "But toward the end of the year it definitely paid off, and he played a lot better, and it's definitely going to pay off in the long run."
KU's coaches, Miles included, remain very high on Potter's future. The head coach described the young linebacker as long, wiry, fast, physically strong and "bright as a whip."
"He's a guy that learns well," Miles added. "I think he'll play linebacker here for a number of years."
It wasn't always ideal, but Eliot hopes the tough lessons Potter had to survive through before he was truly ready to start will ultimately speed up his development.
"And even though he made his fair share of mistakes early, he definitely improved from it and developed into a good linebacker for us last year," Eliot said.