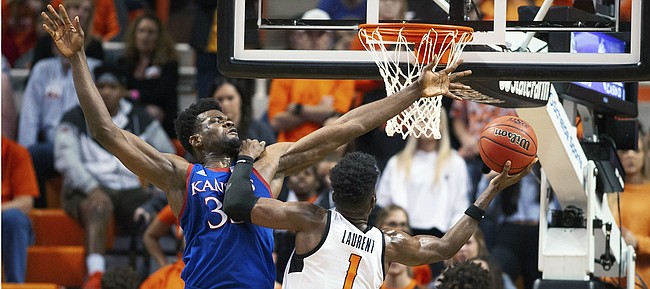 No. 1 Kansas Jayhawks (24-3 overall, 13-1 Big 12) vs. Oklahoma State Cowboys (14-13 overall, 4-10 Big 12)
Time: 8 p.m. | Location: Allen Fieldhouse, Lawrence, Kansas
TV: ESPN | Radio: IMG Jayhawk Radio Network
Log on to KUsports.com for our live game blog coverage and follow the KUsports.com staff on Twitter: @KUSports @mctait @bentonasmith @SJacksonLJW & @ByBradenShaw
Keys for Kansas
1. The close begins now
With Kansas picking up a monster win over the weekend in a hostile environment against a team that KU coach Bill Self has not been shy about calling a national title contender, KU's objective the rest of the way is clear — win out or else.
Self is such a believer in this year's Baylor basketball team that he thinks the Jayhawks will have to win the rest of their games to hold onto their spot at the top of the Big 12 standings by season's end.
"If we don't run the table, there's a good chance that they will," Self said moments before again calling Baylor the best team he's faced in his 17 years at Kansas.
That mentality should register with the Jayhawks, many of whom are still quietly seething about losing the Big 12 title a season ago and ending KU's NCAA-record streak of 14 consecutive conference championships.
In addition to trying to hold off Baylor for the league crown, the Jayhawks remained fixed on their biggest goals for the postseason. And finishing strong will position them well for a No. 1 seed in the NCAA Tournament — perhaps the No. 1 overall seed — and the best possible path to Atlanta.
It remains one game at a time for Kansas, though, and the Jayhawks are determined to use Saturday's win over Baylor as a springboard for even better days ahead.
Given the fact that KU's road win at Baylor was an all-out war and a rematch with in-state rival Kansas State looms this weekend, some might consider tonight a potential trap game.
That becomes even more true in the wake of OSU's impressive Bedlam Series win over rival Oklahoma — a projected NCAA Tournament team — over the weekend.
If there's one thing the Jayhawks can count on to help pull them through whatever fatigue they have against Oklahoma State, it's the fact that they'll be playing back in front of their home crowd, which will no doubt be ready to welcome them home enthusiastically after the win over the nation's No. 1-ranked team.
2. Bench production
Saturday's victory was won on the shoulders of KU's five starters, as the Jayhawks essentially played six guys in the 64-61 win over No. 1 Baylor, with Christian Braun and David McCormack combining to play 25 minutes in relief off the bench.
Given how taxing KU's recent victory was, the starting five likely would love nothing more than to jump out to a comfortable lead against the Cowboys and hand the baton to the bench to bring this one home.
That was almost the recipe in KU's road win over Oklahoma State in late January, when the Jayhawks built a big lead but then let the Cowboys come all the way back just before halftime before putting OSU away with a strong second half.
Tristan Enaruna, who did not play Saturday, and Braun, who started against OSU the first time around, combined to play 48 minutes in Stillwater, Okla.
Numbers like those, along with more than 4:10 from sophomore big man David McCormack would go a long way toward helping Kansas handle the Cowboys in the home rematch. McCormack missed the first meeting between these two to serve the second game of a two-game suspension.
Because of the reality of KU's current rotation, Devon Dotson, Udoka Azubuike, Marcus Garrett and Ochai Agbaji are all going to have to log close to their regular workload tonight.
But if the Kansas bench can be reliable and effective enough to let KU's starters play even four or five minutes fewer than their season averages, that would go a long way toward helping this team in the sprint to the finish.
"You want the guys to enjoy themselves, but we've got a Monday game," Self said after Saturday's win. "And they're exhausted. They've got to be toast. Dok and Marc and Och and Dot, those guys have to be toast, with as many minutes as they played."
3. Rediscover balance on offense
As tempting — and effective — as it can be for the Jayhawks to rely on points in the paint to push past their opponents, Self has said all season that this team is not going to reach its full potential if it doesn't make shots from the outside.
After racking up double-digit 3-point makes in wins over Oklahoma and Iowa State leading up to Saturday's showdown with Baylor, the Jayhawks reverted to their old ways a little in Waco, Texas.
Kansas hit just 3 of 13 from 3-point range and was outscored 21-9 by the Bears from beyond the arc.
The Jayhawks' 42-30 advantage in points in the paint helped offset some of that, but KU no doubt would love to find some consistent success from the outside again to build confidence in itself as a complete and versatile offensive team.
"We didn't make any shots and we still win the game," Self said of the win over Baylor. "That's unbelievable. You make three shots and still win the game. … It's nice to grind and see some good things happen."
Dotson, Garrett and Moss each hit one 3-pointer against Baylor. And Braun drilled a long 2-pointer from just in front of the bench. Moss also hit a long 2-point shot off his own dribble, and McCormack drained a midrange baseline jumper early in the second half.
That resulted in KU getting 15 points on jumpers, 42 points within 2 feet of the basket and 7 points at the free-throw line.
While the stat sheet said the Jayhawks dominated inside, so many of KU's points were hard-earned, physically demanding buckets. While those work and can help a team impose its will, getting a few more easy jumpers to fall from the outside and layups in transition can make life a lot easier.
The Jayhawks would love nothing more than to get back to that balance against the Cowboys.
Marquee Matchup
KU's offensive approach vs. Oklahoma State's defensive strategy
In the first meeting between these two teams, Oklahoma State's defense sagged off the 3-point line, packed the paint and tried to force the Jayhawks to make shots to beat them.
It happened, as KU drained 11 3-pointers in a 65-50 victory, a game that represented the first start of freshman Braun's Kansas career.
While the 11 3-pointers marked the third most triples the Jayhawks had made in a game to that point, it came on 33 attempts. That number hardly impressed Self, who was pleased that his team hit so many 3-pointers but was not a huge fan of their inefficiency.
The 33 3-point attempts remain KU's season-high in attempts from behind the arc and the Jayhawks are coming off a game in which they made just three 3-pointers in a hard-fought win at No. 1 Baylor.
Prior to that, Kansas had hit double-digit triples in back-to-back conference wins over Oklahoma and Iowa State.
OSU enters the game giving up an average of eight 3-pointers a game to its opponents on 30.5% shooting. The makes are the third most surrendered by a Big 12 team this season. And the defensive percentage ranks fifth in the conference.
On the flip side, the OSU offense, which ranks ninth in the Big 12 at 30.9%, made just 2 of 18 3-point attempts against that stingy Kansas defense that ranks second in the Big 12 in 3-point defense and 32nd nationally.
Jayhawk Pulse
With four games remaining in the regular season, the Jayhawks have entered the home stretch and are in a terrific position.
The Jayhawks' next three games, starting with tonight against Oklahoma State, are against teams ranked by KenPom.com at 60 and above — Oklahoma State 63rd, Kansas State 100th and TCU 87th. And Kansas has a win probability of at least 88% in all three games.
Beyond that, this team continues to take steps forward in several areas on an almost regular basis and is playing with as much confidence and focus as any KU team in recent memory.
But don't expect the Jayhawks to celebrate those realities or let off the gas.
"We haven't done anything yet," Self said. "All (the Baylor win) did was just set up a bigger game on Monday and a bigger game on Saturday and those sorts of things."
Added sophomore point guard Dotson: "We're not going to get complacent from this one. We're going to build off it."
Kansas leads the all-time series with Oklahoma State, 117-59, and Self is 21-13 against OSU overall, including a 20-10 mark while at Kansas.
KU is 63-12 all-time against the Cowboys in games played in Lawrence, including a 48-10 mark at Allen Fieldhouse.
KenPom.com projects Kansas as a 75-58 winner and has the Jayhawks with a 94% win probability in their final Big Monday game of the 2019-20 season.
The Jayhawks are 3-0 in Big Monday games this season and have won 16 consecutive Big Monday games overall.
Probable Starters
No. 1 Kansas
G – Devon Dotson, 6-2, 185, Soph.
G – Ochai Agbaji, 6-5, 210, Soph.
G – Isaiah Moss, 6-5, 208, Sr.
G – Marcus Garrett, 6-5, 195, Jr.
C – Udoka Azubuike, 7-0, 255, Sr.
Oklahoma State
G – Avery Anderson III, 6-2, 170, Fr.
G – Isaac Likekele, 6-4, 215, Soph.
G – Lindy Waters III, 6-6, 210, Sr.
F – Cameron McGriff, 6-7, 220, Sr.
F – Kalib Boone, 6-9, 205, Fr.