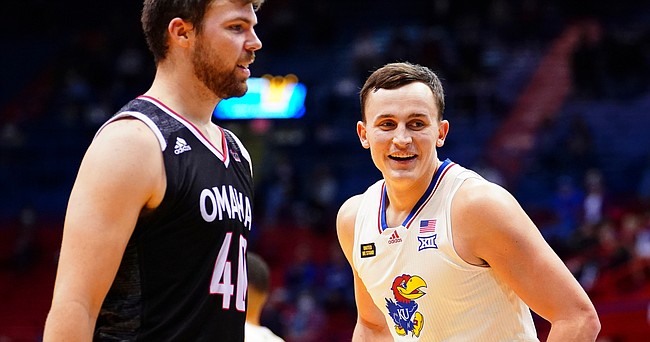 Kansas guard Ochai Agbaji has a simple theory about KU teammate Mitch Lightfoot.
"Anytime he's out there on the court, he's having fun," Agbaji said of Lightfoot following KU's 95-50 win over Omaha on Friday night at Allen Fieldhouse. "It doesn't matter how he's playing, he's always bringing energy and bringing that positive smile."
That certainly is what Lightfoot has come to be known for throughout his Kansas career.
But the fifth-year senior had an extra reason to feel good on Friday night. And nearly all of it came in the first half, when he eclipsed his previous career-high with 12 points in just 10 minutes.
For the game, he finished with 14 points in 14 minutes, topping his previous career-best of 11 points against Oakland back in 2017.
Photo Gallery
Kansas basketball v. Omaha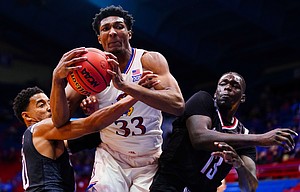 View a gallery of images from Friday's game between the Jayhawks and Mavericks at Allen Fieldhouse.
The big night, which helped KU (6-1) bully the Mavericks (2-5) in the paint from start to finish, came one day after Kansas coach Bill Self said he needed to play Lightfoot more than the 6.2 minutes per game he was getting during the season's first six games.
"I thought Mitch was terrific," said Self of the senior's third career double-digit scoring effort.
But it was much more than Lightfoot's 4-of-5 shooting clip and 5-of-6 performance at the free throw line that drew Self's praise.
Lightfoot also grabbed seven rebounds — three offensive — and blocked three shots, bringing to mind the play of another KU forward from the recent past.
"We should kind of measure Mitch like we did with Jamari (Traylor), just from an energy standpoint and intangibles," Self said of the 2016 KU graduate. "He makes some plays that others can't make. And if he scores, great. If he doesn't score, big deal; because he can still help us win games with his activity level."
Self and Lightfoot talked this week about that very thing. And it sort of helped Lightfoot reemphasize his approach.
"(I don't) expect and think I'm deserving of anything," the KU forward said. "I'm trying to go out there and give my team the best chance to win. I was able to do that tonight and I was pretty excited about it."
Document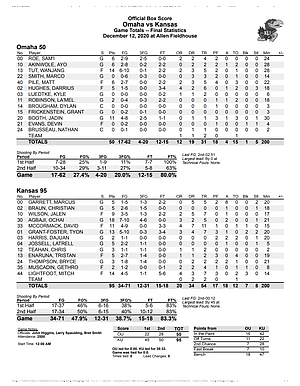 "I think my role is to give us energy," he added. "I need to help us get extra possessions, score when I'm needed to score, (grab) offensive rebounds, set good screens and run to the rim."
When things are really clicking for Lightfoot, as they were on Friday night, the 6-foot-8 senior who moves well and has good athleticism is capable of doing all of that and more.
His three blocks gave the KU defense energy and turned into offense on the other end. His buckets down low proved that KU has another scoring option inside beyond junior David McCormack. He even hit a 3-pointer late in the first half, which pushed him past his career mark for points scored in a single game and made Self smile.
"Mitch has shot the ball really well in practice," Self said. "It was nice to see him step away from the basket and make a shot or two."
The 3-pointer, which came on Lightfoot's first attempt from behind the arc this season, fell through the net with 33 seconds left in the half and KU scrambling to execute a two-for-one shot attempt scenario before the break.
"I heard coach yell, 'Two for one,' and I didn't know how much time was on the clock so I was trying to get it off as fast as possible," said Lightfoot, who admitted to not minding that the ball was in his hands when he heard Self's call.
"I was totally broken up over it," he deadpanned.
The shot went down. The Jayhawks were on their way to an easy win. And Lightfoot now moves forward with his most complete game of the season under his belt.
"We got the guy we all know him as (tonight)," Agbaji said after the victory. "Mitch was great."
Like any player, Lightfoot always would like to play more. But his devotion to KU's team-first mindset and his dedication to all things Kansas basketball have made it easy for him to take whatever minutes he gets while spending the rest of his time focused on being a good teammate.
"I have total faith in coach Self," Lightfoot said. "I trust him and I understand that there is a process and there are certain times where certain lineups work better than others. If that means we're going to win, I'll take it."