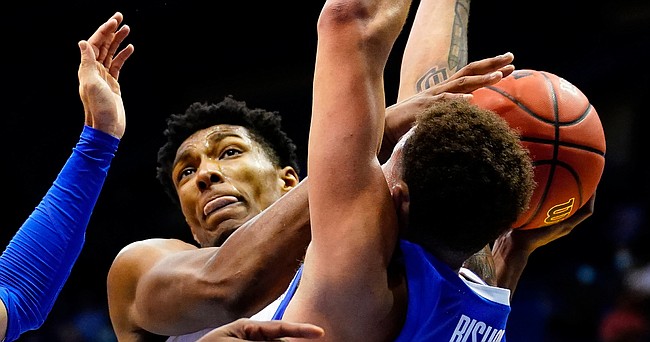 No. 5 Kansas Jayhawks (5-1) vs. Omaha Mavericks (2-4)
Time: 6 p.m.
Location: Allen Fieldhouse, Lawrence, Kan.
TV: ESPN2 | Radio: IMG Jayhawk Radio Network
Log on to KUsports.com for our live game blog coverage and follow the KUsports.com staff on Twitter: @KUSports @mctait @bentonasmith & @SJacksonLJW
Keys for Kansas
1. Finish at the rim
For the past couple of weeks, Kansas coach Bill Self has marveled at how much his team has struggled to finish layups and close shots at the rim during its 5-1 start to the season.
The issue first surfaced in Florida, where KU missed 22 combined shots at or near the rim in games against Gonzaga and Saint Joseph's, and continued against Kentucky and on Tuesday night against Creighton, when the Jayhawks made just 10-of-21 shots at the rim.
"It's unbelievable," Self said after the one-point victory.
Part of the issue has been clunky transition opportunities. Instead of getting breakaway dunks or uncontested layups, the Jayhawks are struggling to get the ball where it needs to go when they're on the run.
"In transition, you've got to make an extra pass," Self explained. "I mean, all you've got to do is throw the ball to the right guy in transition and it's two points. This sounds ridiculous: We need to practice two-on-ones. We need to practice three-on-ones. Those should be automatic. For us to not convert those, that's the difference in shooting 40% and shooting 50%, just converting three in tight. We've got to do a better job there."
2. Suffocating D
The Mavericks rank 255th in the country in adjusted offensive efficiency, per KenPom.com, and have yet to score more than 67 points in a game this season.
In their two victories (over SIU-Edwardsville and Middle Tennessee) Omaha did not even get that far, winning with point totals of 65 and 60.
Beyond that, the column for offense on KenPom's team page is full of red boxes, which show that the Mavericks rank 191st or worse in nine separate offensive categories.
According to Self, KU's defense has been good but not great so far this season. But this should be one of those games where even good defense completely shuts down the opposing offense, paving the way for an easy KU victory.
That's particularly true on the perimeter, where Marcus Garrett, Dajuan Harris, Ochai Agbaji, Bryce Thompson and Christian Braun have helped KU rank in the Top 80 nationally in steal percentage.
"We've got to make people feel uncomfortable," Self said Thursday. "That was the thing about Creighton. Our defense wasn't awful, but we didn't make them feel us."
3. More minutes for the bench
Self said Thursday that sophomore guard Tristan Enaruna, who played just nine minutes and scored two points with two rebounds, graded out better than any player on the Kansas bench.
Self also said he needs to play senior forward Mitch Lightfoot more minutes in general.

There's no time like the present to make those things — and others like them — become a reality. So look for Self to try to give some of his reserves a little more playing time in this one.
"We need to play the bench more," Self said of a group that ranks 216th in the country, playing just 26.4% of KU's minutes per game. "I think that'll happen as I get maybe a little bit more confidence."
Freshman Bryce Thompson, junior Tyon Grant-Foster and redshirt freshman Dajuan Harris all have made significant contributions in at least one KU game so far this season. But none of those three, like Enaruna and Lightfoot, have been given consistent minutes or been able to put up consistent production.
Part of their ability to do so falls in the hands of the starting five, who can help get the bench more minutes by jumping out early.
But even if that doesn't happen, KU's reserves, of which there are plenty, can help themselves by showing Self that they belong on the floor for longer stretches.
"I'm fine with it being different guys from time to time," Self said. "But I don't think it's a lot different than what it has been (in the past), we just have more guys we're trying to play."
Marquee Matchup
Kansas junior David McCormack vs. Omaha senior Matt Pile
McCormack turned a corner in the first half on Tuesday night, against a good Creighton team, by playing with more poise, patience and control.
The result was a productive first half that helped lead to a Kansas victory.
With that feeling now fresh in his mind, McCormack needs to follow it up with another solid showing against a somewhat underrated opponent.
Despite the Mavericks ranking 251st in the country in team height, according to KenPom, Pile caught Self's attention on tape.
"I like their big guy," Self said of the 6-foot-8, 240-pound forward from Wichita. "Their big guy can play. I mean he's a load, you can't move him and he's skilled offensively."
He's also averaging a double-double of 10 points and 10 rebounds per game in 30 minutes per outing over his six starts so far this season. The veteran from Eisenhower High ranks third nationally in rebounding and has the sixth-most career rebounds (761) among all active NCAA Division I players. His 22 career double-doubles also rank 12th among active players.
Pile is the only player on Omaha's roster with the kind of size that stacks up with the 6-10, 250-pound McCormack and he's going to be on the floor a lot, barring foul trouble.
"Omaha's actually much more of a traditional team than what we're used to playing thus far," Self noted. "So I think it'll be good for us to see if we can kind of dictate the pace."
Jayhawk Pulse
With just two more non-conference tests on the schedule before the beginning of Big 12 play next week, Self said recently that the Jayhawks have no time to take a breather after their fast and furious start to the season.
KenPom has Kansas with a 98% win probability and a predicted score of 84-61. The folks in Las Vegas see it the same way, placing KU as a 25-point favorite.
That does not guarantee success for the home team, but, from the sound of it, the Jayhawks are approaching this one as an opportunity to fine-tune some of the areas in which they've already performed well this season.
That alone should keep KU locked in and eliminate the potential for the Jayhawks to overlook the opponent, which is currently ranked 215th in the KenPom rankings.
On Thursday, Self called the Mavericks "a dangerous team," largely because of their ability to attack from different points on the floor and lead on their veterans to carry them through tough stretches.
The Jayhawks and Mavericks are meeting for just the second time in the history of the two programs, with the first meeting coming in December of 2017.
KU won that one 109-64 and current Jayhawks Garrett (4 points, 5 rebounds, 2 assists), Lightfoot (6 points, 3 rebounds, 1 assist, 1 blocked shot) and walk-on Chris Teahan (3 points) appeared in that game.
Probable Starters
No. 5 Kansas
G – Marcus Garrett, 6-5, 195, Sr.
G – Ochai Agbaji, 6-5, 210, Jr.
G – Christian Braun, 6-6, 205, Soph.
G – Jalen Wilson, 6-7, 190, RS-Fr.
F – David McCormack, 6-10, 265, Jr.
Omaha
G – Ayo Akinwole, 6-0, 165, Sr.
G – Sam'i Roe, 6-1, 180, Jr.
G – Marco Smith, 6-2, 175, Jr.
F – Wanjang Tut, 6-8, 205, Jr.
F – Matt Pile, 6-8, 240, Sr.