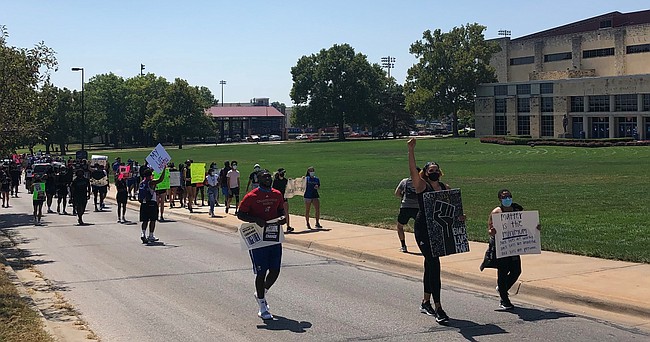 An emotional conversation inside the Kansas women's basketball locker room on Thursday turned into a Black Lives Matter march of nearly 1,000 KU athletes, administrators, coaches and supporters on KU's campus Friday.
"Our players deserve all the credit," KU women's basketball coach Brandon Schneider said after the march. "Because they're the ones who requested that we have a meeting. It was obvious once the discussion started that practice and workouts were not at all going to be the priority for that day."
Schneider, who described Thursday's conversation as "very heavy and very deep," said the march was just one of the ideas born from Thursday's team meeting. And he added that he was beyond impressed with how quickly his team and the university worked together to pull it off.
"I just couldn't be more proud of our players for expressing themselves and using their platform and voice," Schneider said.
KU junior Emma Merriweather, who led the pack and was credited with helping start the conversation within the women's basketball program, said she was "pleasantly surprised" by the turnout, especially considering the march unfolded on short notice.
It also took place on the 57-year anniversary of Dr. Martin Luther King Jr.'s "I Have a Dream" speech during the march on Washington in 1963.
Merriweather said the Jayhawks did not know the significance of the date when they organized Friday's march. But she chalked up the timing to things "happening for a reason."
"A lot of things that he dreamed about are things we're still fighting for and we can't let that fight die," KU women's basketball assistant coach Damitria Buchanan told the crowd Friday. "You guys have a platform and every single last one of you should use your social media accounts to promote the message of unity."
Marching for equality, peace and justice, athletes and representatives from all of KU's athletic programs met at 1 p.m. Friday at Stouffer Place Apartments on the south end of campus and marched to David Booth Kansas Memorial Stadium.
"This peaceful march today was powerful," KU Athletic Director Jeff Long told the crowd gathered at the stadium at the end of the march. "We have our chancellor here. We have our provost here. This doesn't happen everywhere. And it happened like a fire hitting flash paper because these women had the courage to stand up and take action. "Without them, we'd still be talking about what we should do."
The march, which featured chants, signs and honks and from cars passing by, traveled down Naismith Drive in front of Allen Fieldhouse, up the hill to KU's main campus, across Jayhawk Boulevard and back down to the football stadium past The Oread Hotel.
Administrators and coaches tried to enforce social distancing practices by separating the crowd into small groups at different stops along the way. But as the march progressed it grew, with students just getting out of class joining the walk.
Liz Thomas, a freshman from Olathe, was one of those students and she was so moved that she grabbed the microphone at the stadium.
"This is my fifth day on campus and I don't know anyone," Thomas said. "But it felt really good to jump into something that means so much to so many people."
It took nearly an hour for the final participants to file into Memorial Stadium, where students, administrators, coaches and members of the campus police department took turns addressing the crowd on a megaphone.
And while the march itself was significant in that it showed athletes in action, the words and reasons behind it meant more to those who participated.
"When we (started marching), I knew how many people were there," Merriweather said. "But I was in the front and when we got out here on the field I just kept seeing more and more people come. It was just crazy."
Asked about the conversations she and her teammates had on Thursday, Merriweather, like others on Friday, said the march was just the beginning.
"Just how it affects us, the things that we want out of it and what comes after we march," she said. "This is not going to be the whole thing. If this is what we're going to do, we have to keep going and it can't be a one-and-done thing."