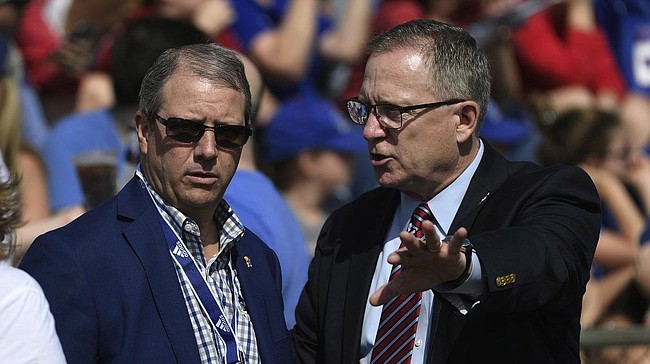 Lawyers for Kansas Athletics Inc. are accusing David Beaty's legal team of attempting to distract from facts relevant to the former KU football coach's lawsuit with "salacious allegations against (KU Athletic Director) Jeff Long made by a disgruntled former employee."
In a reply filed Wednesday, KU's lawyers accused the plaintiffs of ignoring case law and focusing on diversions, such as the deposition of Matt Baty, former director of the Williams Education Fund.
Baty testified that Long made an inappropriate comment, "sexual in nature," about an older female donor in a deposition unsealed earlier this week. The defense said Baty was asked by Long to resign because of a personnel issue in November 2018 and argued Baty had "motive to try to harm" KU's athletic department and Long in particular.
"The personal attacks and the unnecessary inclusion of full deposition transcripts are additional examples of plaintiffs' attempts to distract from the issues at hand while garnering media coverage," KU's lawyers wrote.
KU also said Baty had testified that Long's salacious remarks were nothing but an "inappropriate joke" and that Baty didn't think anyone at KU was trying to find dirt on Beaty. Baty testified that one particular remark, about KU trying to find a "dead hooker" in Beaty's closet, originated before Long officially started at KU in August 2018.
KU's lawyers also brought up a portion of Baty's testimony in which he admitted being close with Beaty and described himself as a business partner of the former KU coach.
Baty also stated he's "not really" working together with Beaty in a venture called Pure, which was described as a multi-layered marketing business that sells dietary supplements and pills. Baty also testified he used the term "business partner" loosely and described himself as "a business partner with thousands of people."
Long fired Beaty in early November of 2018, with three games remaining in the season. It appeared the termination would be without cause, but Beaty never received his $3 million buyout, leading to the lawsuit. KU would eventually send a letter to Beaty a year later to notify him he was terminated with cause because of alleged NCAA violations that occurred during his tenure, involving a noncoaching staff member acting in a coaching role.
Beaty's lawyers have previously brought up KU's treatment of allegations against other coaches, such as Bill Self, Mark Mangino and Les Miles, to contrast those situations with how Long and KU handled Beaty's alleged NCAA violations. In its response, KU described that as another distraction strategy.
The self-reported violations that allegedly occurred after Miles took over are the most similar to the violations Beaty was accused of — both involved noncoaches reportedly acting in a coaching role.
But KU's lawyers said the alleged incidents under Miles were "simply not the same" as the ones under Beaty, because Beaty allegedly orchestrated the violations. KU said the "facts that matter" in the $3 million breach of contract lawsuit are whether Beaty knew of and participated in repeated and intentional NCAA violations. The university argued that Beaty's former players — quarterbacks Carter Stanley, Peyton Bender, Miles Kendrick and Miles Fallin — and a former assistant video coordinator, Cooper Flower, all of whom were interviewed during KU's investigation, wouldn't have had any incentive to lie about Beaty.
According to the document, KU's investigation into potential violations under Beaty began when Flower was unwilling to sign a standard exit form that included a portion about her being unaware of any NCAA violations that occurred in the program. That also prompted KU to interview QBs about meetings led by video coordinator Jeff Love, who was not a position coach at the time.
Flower said that Love told her the first time they met that he had coached KU quarterbacks "under the table." And in their interviews with KU, the four quarterbacks said Love met with KU's QBs multiple times each week during the offseason, leading up to spring practices in 2018.
"Coach Beaty would pop in every now and then," Bender said.
The new court document also includes a reference to Beaty's 3-33 record during his first three seasons, before Long became KU's AD, and argues there's nothing wrong with Long considering the possibility of firing Beaty before the season began.
KU's lawyers, countering claims from Beaty that the department couldn't afford to pay his buyout, stated the $3 million "Beaty claims to be owed" remains in escrow and will stay there until the litigation concludes.