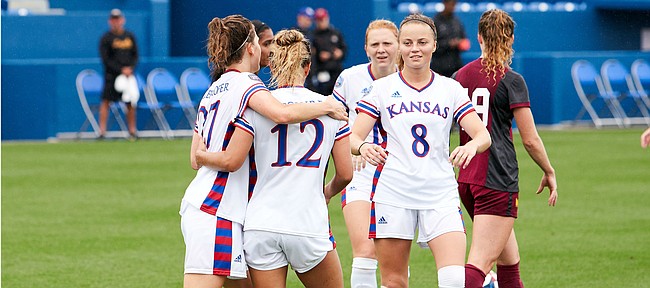 They tried a few times prior, but the Kansas midfielders broke through in the 13th minute. A pass combination between sophomore forward Bri Amos and junior defender Isabella Cavalcante found senior forward Katie McClure in the box for an easy tap-in goal.
"All I remember is (Cavalcante) passing it in out wide," McClure said. "But there was a lot of good movement by all of us, a lot of one-two touch playing around the defense and getting it out wide to Izzy, which is our strength."
Finding that pocket in the Florida Atlantic defense and the ultimate execution gave Kansas an early cushion en route to a 1-0 victory, and pushed McClure to second on the Jayhawks' career scoring list (28 career goals).
It also was the 15th career game-winning goal for McClure, a KU record.
"It's for my teammates," McClure said of the two accomplishments. "I couldn't do it without them and the coaching staff and everybody that's helped me get there."
And while that may have been the only goal scored in the match, there wasn't a lack of chances for either side. Florida Atlantic found multiple chances in and out of the box in the first half, mostly due to defender Hailey Landrus putting on a dribbling clinic down the sideline and midfielder Mary O'Hara being in the right place at the right time.
Accuracy hindered the Owls, though, as O'Hara and FAU's best chance came with a shot outside the box that sailed just over the net in the 27th minute.
"We did a really good job stepping to press the shots around the edge of the box," KU coach Mark Francis said. "We were really smart, I thought, in the defensive third about not overcommitting and diving in and kind of kept our feet."
In turn, this forced the hands of KU sophomore keeper Sarah Peters, who made two crucial saves in the first half, and the Jayhawk defense to up the physicality on the back line.
"I think (our defense) did really well on covering," Peters said. "I think we did really good on not allowing shots on goal today."
And physical is the best way to describe a first half in which Florida Atlantic committed eight fouls, including a yellow card in the 40th minute, and four fouls by KU. There were few easy passes and almost every header was contested.
Multiple players hit the deck, too, including senior defender Elise Reina who left with an apparent leg injury in the 33rd minute.
Nonetheless, the KU midfield tried to orchestrate any chances they could, led by senior midfielders Ceri Holland and Sophie Maierhofer. And if it weren't for offsides calls (four total) and slightly better execution in the final third, KU may have had more than two shots in the first half.
KU came out of halftime with a 1-0 lead, and FAU came out even more aggressive after the break.
Shot after shot, the Owls continued to bring numbers forward but could not find a way to put a ball in the back of the net. FAU finished with nine total shots and just two on goal.
"FAU had really physical forwards," Peters said. "I think the defenders that came in did really well. I think we have a deep roster and that allowed us to put in a lot of girls and not have us get so fatigued."
On the other side, outside of the McClure goal, the same could be said for KU. The Jayhawks forced eight corners but couldn't get a clean look inside.
Regardless, KU managed to hold on with the lone goal, extending the win streak to four and building momentum heading into the Jayhawks' first road trip.
"We weren't sharp today, and you've got to credit FAU partly with that because they did a great job of just putting pressure on us," Francis said. "We looked a step slow, to be fair, and part of it is the opponent doing a good job pressuring us and part of that was we were dragging a little bit from Thursday. We'll hopefully get our legs back under us by Friday."
KU will take on DePaul at the Boilermaker Challenge Cup at 3 p.m. Friday.