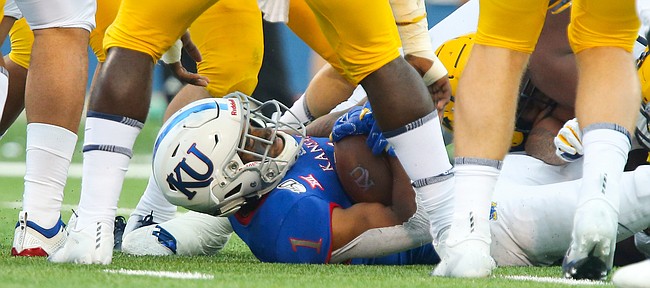 Coming off the least productive rushing game of his college career, Kansas sophomore Pooka Williams admitted it surprised him that the Jayhawks never got their run game rolling at TCU.
But it wasn't as if the Horned Frogs came at him with some revolutionary defensive approach.
"Linebackers, when they play us they don't play true to their game," Williams said, repeating a notion he shared a week earlier in reference to some issues with rushing production against West Virginia. "They just see a hole and fill a hole."
In other words, when KU hands the ball off or tosses it to Williams, defenses are selling out to stop him.
A late fourth quarter touchdown catch of 25 yards meant Williams still found a way to produce for the offense, but most of the Week 5 loss KU's star back barely had a chance to make an impact.
Williams registered career lows of eight carries and 12 rushing yards. The lopsided loss at TCU marked the first time in his 15 games as a Jayhawk that he didn't carry the ball at least 11 times. That previous low also came versus TCU, in 2018, when Williams finished with only 33 rushing yards. Although that was the lowest rushing total of his freshman year, Williams also caught seven passes for 102 yards and two touchdowns in that late October KU upset victory.
Reviewing the game footage from this past weekend, when Williams had 45 combined yards as a rusher and receiver — a career low — the second-year talent from Louisiana said he could see TCU defenders were more prepared for him to cut back against the grain of an offensive play.
"A hundred percent," Williams said. "Because when we watched film, they stayed home. When I reversed field or anything they stayed home. They didn't track or anything. That's called like the Barry Sanders Rule or something."
Such Sanders-esque highlight spins, jukes and more haven't come as frequently for Williams so far this season. From his perspective as a playmaker, he said there are ways for him to counter a defense that is anticipating his open field creativity.
"I've got to change how I run," Williams explained. "As in, instead of just trying to make everybody miss, I just need to knife for the 1st down. Like play a big back role."
KU (2-3 overall, 0-2 Big 12) has appeared intent on using him in such fashion. Williams often runs out of I-formation sets and/or between the tackles.
Five of his scant eight carries at TCU came in the first half, before the contest quickly got out of hand. With the Frogs apparently looking for Williams, he ran on first-and-10 four times in a punt-filled first half for the Jayhawks' offense.
Among his eight rushes in the blowout, a 10-yard gain in the second quarter was the outlier, as six others went for two or fewer yards — the Frogs brought him down in the backfield on three carries and stopped him after a one-yard gain on another.
Listed at 5-foot-10 and 170 pounds, KU's featured back repeatedly told reporters this week he doesn't mind carrying the ball inside, between the tackles, because he considers himself a "team player."
"I've done it before," Williams said. "I know I'm not the biggest back, but my heart's big. When I'm on the field I feel like I play like I'm 6-foot, 220. So it doesn't matter."
The hits he takes on those carries, he added, are "not really" harder than the ones that come in the open field or in space.
"If they are," Williams added, "you've got to take it like a man."
Already the featured back in KU's offense, Williams said Tuesday he wouldn't have to prepare any differently due to the absence of Khalil Herbert, who on Wednesday officially left the program. Williams also called Herbert his "brother," and said he would support Herbert "through whatever."
As the Jayhawks move on without their senior running back, Williams enters this week's matchup with No. 6 Oklahoma (4-0, 1-0) averaging 77 yards per game and 4.6 yard a carry. As a true freshman in 2018, Williams averaged 102.3 yards per game and 7.0 yards per carry.
Asked specifically about the dip in his yards per carry, Williams said nothing goes through his mind when presented with the dissimilarity.
"I've just got to stay focused," he said, "and keep grinding with the team."
Williams also said he doesn't get frustrated when runs aren't as open as they were a year ago.
"Because I know people game plan for me," he shared, "and sometimes they just focus on me."
Assessing his sophomore production through four games — he was suspended for KU's opener after an offseason arrest and domestic battery charge that ended with him accepting a diversion agreement — Williams called his 351 all-purpose yards and two touchdowns "all right," and again said he was more concerned about KU's success overall.
"Whatever they need me to do that's what I'll do," Williams said, "instead of worrying about my stats. It's a team thing."