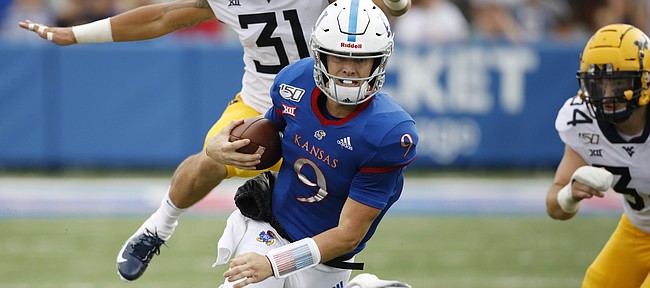 Carter Stanley didn't have to play his final college season at the University of Kansas.
At one point, the quarterback wasn't even sure he wanted to.
Earlier this year, Stanley had just wrapped up his fourth spring in the KU football program. Weeks away from graduating, he wasn't certain whether it would be worth his time to go through another August QB competition. Even if the circumstances had changed, with a new head coach calling the shots this time around, Stanley had been down that road before.
He felt as though he wrapped up April practices strongly, but by his own admission Stanley didn't play well in the spring game, in which he didn't even start. Doubts about his future with the program took root.
Unbeknownst to many, his decision remained up in the air as Stanley celebrated graduating from KU in May.
"And it had absolutely nothing to do with this coaching staff or the guys on this team or anything with this program," Stanley told the Journal-World about his thought process and looking into transferring. "I was kind of thinking maybe I just wanted a fresh start for that last year."
Now headed into his 12th consecutive start as a fifth-year senior, Stanley is happy he stayed.

It was the countless challenging moments he endured in the years preceding this one that nearly led him to close his career elsewhere.
"I did just about everything but officially enter the portal," Stanley said.
• • •
When the quarterback reflects upon his time with the Jayhawks, he doesn't hesitate to identify 2018 as his most discouraging season.
In Week 5 of Stanley's junior year, then-head coach David Beaty named him KU's starter. The Jayhawks didn't beat Oklahoma State, but the promoted QB delivered one of the better games of his career to date: 24-for-32 passing, 247 yards, three touchdowns, no interceptions.
At that juncture, Stanley never had felt more confident, with skill players such as Pooka Williams Jr., Steven Sims Jr., and Jeremiah Booker part of KU's offense.
"Before the first quarter of that next game is over," Stanley recalled, "you're already back as a backup."
The Jayhawks were at No. 9 West Virginia and off to a slow start offensively. After the third series, Stanley was benched.
"I get a ball deflected and intercepted and I get pulled for it," Stanley said. "So it was just extremely frustrating."
In the days that followed, offensive coordinator Doug Meacham lost his job. But Stanley wouldn't start another game in 2018.
"No explanation was given," Stanley said of his brief stint as the starter that year. "But I kind of understood it. At the time the coaches were kind of in a tough situation, kind of on the hot seat. As a player and as an older player, I understand why it was happening."
That didn't make it any less vexing, particularly for Stanley's parents, John and Beth. Throughout the quarterback's time at Kansas, far away from the family's Vero Beach, Fla., home, conversations, via texts or phone calls, with his parents became an important way for Carter to work through his at times volatile college football experience. His mother would send him motivational quotes, Bible verses or pictures of him from his younger days — "really cool stuff," as he described them.
Per usual, Stanley's parents were in attendance to watch their son play when his already up-and-down KU career hit its lowest point, with his starting job getting yanked away in the first quarter at WVU.
"It's just complete frustration because we knew he wasn't getting a chance to really try to do his best," Beth Stanley said in a phone interview. "The chances to do his best were always so limited and cut short."
• • •
John Stanley was in the midst of a "wonderful" conversation with his son nearly a year ago when the email reached his inbox.
As the two caught up over the phone, John read the subject line of an alert that pertained to Carter, but the loving father didn't have the heart to bring it up.
A few weeks after Les Miles took over the program, KU's new coach had secured a verbal commitment from one of the highest-rated junior college quarterbacks in the country, Thomas MacVittie. That would be a conversation for another day, and a familiar one at that.
Before the final QB competition of his KU career, Stanley already had battled Montell Cozart and Ryan Willis as a redshirt freshman, Peyton Bender as a sophomore, and Bender and Miles Kendrick as a junior. After starting KU's final three games in 2016, including a win over Texas, Stanley wasn't the No. 1 QB entering his sophomore year — although he would go on to start four games in 2017. His junior year brought even more irregularity.
"It's been interesting to say the least," John Stanley said of following his son's KU career, as he and Beth tried their best to provide guidance and support. "There's been certainly some bumps in the road along the way. I think the indecision and the inability or whatever the reasons were with the prior coaching staff on flipping back and forth for three years between multiple quarterbacks was kind of confusing. And I knew in my heart that if Carter was given a chance and was allowed some time and the first-team reps in practice, I knew he could do great things there."
Whether Stanley would get such a chance with Miles and his staff was the ultimate question, as the QB pondered his future while at times also considering his past.
• • •
It all began with a Twitter follow.
A high school senior at the time, Stanley was about to take a final exam on a Friday morning in December of 2014 when he noticed KU's new head coach, David Beaty, had followed him on Twitter. No other head coach from a Power Five program had bothered doing as such.
Beaty and his offensive coordinator at the time, Rob Likens, both appealed to the young prospect during a home visit soon after, with tales of QBs who played at their previous stops. Beaty spoke of his time as an assistant at Texas A & M, and Johnny Manziel, while Likens, who had worked at Cal, brought up Jared Goff.
Stanley committed before he even traveled to KU to see the campus and program in person. A couple of weeks later, he made his official visit.
"Despite the weather actually being miserable, I loved it here," Stanley recalled. "It was like 34 (degrees) and sleeting the whole time I was here. I was just like, 'Oh, man.'"
The QB even had a possible escape hatch upon getting a little taste of Kansas winter. It was during Stanley's visit to Lawrence that he found out that Florida head coach Jim McElwain showed up at Vero Beach High and wanted to meet him.
John remembers exactly how Carter responded to the news: "I'm done. I'm committed," Carter told him.
"Man, Carter, Florida's three hours away," a chuckling John recalled thinking.
Sure enough, he signed with KU the next month. Before long he embarked upon what would seem like a nonstop QB competition. Three years in a row, he left preseason camp as a backup. And in each of those seasons he saw starting opportunities come and go.
Stanley said he never felt too much regret about sticking it out, but he did actually think about transferring following the 2015 season. He was far away from home. He sat out as a redshirt, his first fall without playing since he was 5 years old. KU went 0-12.
But he decided to see it through.
"The only other time I considered transferring was this spring," Stanley said.
• • •
The weeks between the end of spring practices and graduation felt crucial, a career crossroads Stanley did not want to speed through blindly.
Open to the idea of playing the 2019 season for another program as a graduate transfer, he studied the transfer portal, tracking the names of quarterbacks who had become available.
He bounced some of his thoughts off his parents while determining which way to go.
"Seeing the way Kansas football played out over the years," Beth Stanley said, "we were trying to give the best advice that we could. And we just, we knew with all the different factors of a new coaching staff coming in that Carter would be competing against whoever they wanted to bring in. Our advice to Carter was this is your decision."
As he inched toward one, he might have been closer to leaving than even his closest confidants realized. He dug deeper into researching options, trying to gauge how he might fit in with different teams.
"The grass isn't always greener on the other side," John Stanley remembered advising. "It's a monumental decision. It's a huge decision because you've got one more year somewhere. And you do not want to make a mistake. The last thing you want to do is transfer somewhere else and be second or third string."
Nor did the pensive QB want to compromise his future with the Jayhawks. Even though players can enter the transfer portal to further assess interest from other programs and then return to their current school if they so choose, Stanley thought going that route would be the equivalent of quitting on his teammates. So he just gathered as much information as possible before ultimately making his selection.
"I did everything but meet with Coach Miles and say I want to enter the portal," Stanley said of how close he came to leaving.
His mother will tell you his love for KU led him back.
"He has always remained so loyal," Beth Stanley said. "And he's always kept this posture that he has unfinished business."
• • •
On Thanksgiving week, ahead of the fifth-year senior's final game in a KU uniform, the Stanleys all are pleased with his choice.
"We're all Jayhawks for life at this point," John said.
That's a sentiment Beth shares, too, while also acknowledging she "absolutely" was worried months ago that Carter coming back to KU may be a gamble.
Her son, of course, recognized that, too. MacVittie had started the spring game after all. And even in July, Miles told reporters the junior college transfer had a slight edge in KU's QB race.
In a way, all those previous competitions that led Stanley to the brink of leaving also played a part in his return. He knew how to prepare himself for one last preseason depth chart battle, and because MacVittie looked like the frontrunner, he realized he would have to do more than ever to finally enter a season as KU's starter.
"When I decided I was staying, when I came back this summer it was full go. I was doing everything I could — staying after runs and lifts to throw with the guys," Stanley said. "It would have been the worst decision of my life, maybe, if I stayed here, worked my tail off and didn't win the job."
Stanley felt like he was improving by the day. His final preseason wasn't like past camp competitions. When he was younger, he always thought he had to prove to coaches that he could make big plays. But now he was playing smarter and cashing in on chunk-yardage plays at opportune times. The interceptions and turnovers that kept him from winning past camp battles were replaced with wiser decisions that would better manage an offense. More check-downs and 5-yard routes and less forcing the issue.
Stanley's approach won him the job, and he's thankful Miles and his staff gave players at every position a "fair opportunity" to compete for starting spots.
"That meant the world to me," Stanley said.
• • •
Miles and his assistants weren't naive about Stanley's ability to transfer. All the same, KU's head coach said he never introduced the topic to the veteran, nor did Miles recruit Stanley to stay.
"You know, he wanted to see if he was going to be that guy," Miles estimated of the QB's choice.
As the coach watched Stanley in August practices and beyond, Miles witnessed traits he wanted in a starting QB. He calls Stanley tough, competitive, talented and a leader.
"He decided to stay and work out. He was behind at a point," Miles said. "Very confident, really, to take back the job that he had finished second in. It was a wise move because it puts him in the position that he's in right now, leading the team and playing virtually every snap."
Stanley has started every game for the Jayhawks in Miles' first season. He enters KU's finale versus No. 11 Baylor ranked fourth in the Big 12 in touchdown passes (24) and has completed 61.7% of his 345 throws, for 2,569 yards, with eight interceptions.
His senior season, like his entire KU career, has come with highs and lows. Stanley led the Jayhawks to an upset road win at Boston College a week after the Jayhawks only scored 7 in a home loss to Coastal Carolina. After passing for 415 yards in a win over Texas Tech, the Jayhawks' offense faltered against rival Kansas State in front of a sellout crowd. Though he had secured the starting job and manned the position all year, Stanley got benched the third quarter of KU's loss at Oklahoma State.
"I just wish that he had more time with us in this program," Miles said, "because if he did, he would just be so much more comfortable."
• • •
Saturday will mark the end of Stanley's wild ride.
Teammates such as senior left tackle Hakeem Adeniji would love to help him go out with an exclamation point.
"That's my brother, man," Adeniji said, when asked about the QB playing his final game for the Jayhawks versus Baylor. "I'm starting to tear up thinking about it now."
Adeniji's message for his friend and quarterback this week will be the same as always: that the team will "put it on the line" for Stanley, so the Jayhawks can go out and "make some memories" on the field.
"To me, Carter's a guy who came in and worked his tail off every day," Adeniji said. "He gives his all to the team. He'll put his body on the line and take whatever. He takes a lot of criticism, but he's a heck of a player, heck of a competitor, heck of a leader. Me personally, seeing him day to day, I have nothing but good to say about him."
That type of connection with teammates, Beth Stanley thinks, shaped the QB's resolution to remain a Jayhawk.
"He loves the guys on the team," she said, "and felt like (transferring) was kind of jumping ship for selfish reasons."
Ahead of what will be his 21st and final start, Stanley credited many former teammates for getting him where he is now as a player. When he was younger and still learning so much about being a college QB, Stanley said veterans such as Michael Cummings and Cozart taught him a lot. More lessons would come from teammates Booker, Daniel Wise and others.
All of those moments, as well as his sporadic in-game opportunities in years past, set the stage for a senior season Stanley will remember fondly, even though KU (3-8 overall, 1-7 Big 12) fell short of his ultimate goal of capping his career with a bowl game.
"I've had successes and failures in front of tens of thousands of people before, and I think a lot of is I'm not afraid to fail," Stanley said of a key to his turnaround in 2019.
After four tumultuous years and one breakthrough season, Stanley, who currently has 37 career TD passes, will leave the program second only to Todd Reesing (90) in that category. He called the feat, one that wouldn't have been possible had he left, "pretty cool."
"It's just a blessing," Stanley said, "to be here, to have the opportunity to play the sport that I love and be an alumni of KU."
How Stanley's time as a Kansas QB will be remembered isn't up to him, but he knows what he would like for his legacy to be.
"Honestly, just a team guy, a guy that was here for his teammates," Stanley said. "A guy that came here looking to build the program, and certainly leave it better than what I came in."
None of it has been easy. But Stanley has no regrets.
"I'm super happy I stayed," he said, "and just extremely thankful for this place."