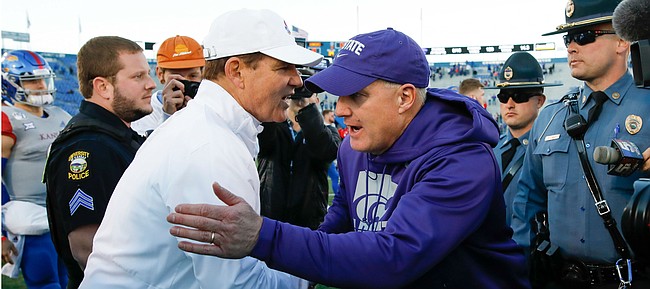 Not yet, KU fans.
Despite all kinds of momentum suggesting it might be, and a fun and flashy new offense to play with, Kansas football under Les Miles is not quite ready to beat Kansas State, even with a new coach leading the Wildcats.
Instead of snapping a 10-game losing skid and partying like it was 2008 — or even just threatening to do either — the Jayhawks on Saturday fell flat in every aspect, losing 38-10 in front of a capacity crowd of 47,233 at David Booth Kansas Memorial Stadium.
Photo Gallery
Kansas football v. Kansas State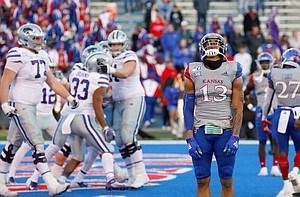 View a gallery of images from Saturday's game between the Jayhawks and Wildcats at Memorial Stadium.
While a win Saturday without question would have been the most significant KU football victory in 3,959 days — Kansas beat Minnesota on the last day of 2008 to win the Insight Bowl — the latest clash with K-State was not a total loss, despite what the final score says.
Five days after comparing the Sunflower Showdown rivalry to Bedlam in Oklahoma, the Michigan-Ohio State battle in the Big Ten and even the old classic pro clash between the Dallas Cowboys and Washington Redskins, Miles now knows exactly what this one is about.
And it's not one you can treat just like any other game.
The Wildcats, even under first-year coach Chris Klieman, clearly didn't. And that was the norm for years under former K-State coach Bill Snyder, who made it his personal mission year after year to make sure his teams gave their absolute best to Kansas.
No one's blaming Miles for not making every day of Year 1 of a massive rebuild about Kansas State.
You don't build anything of substance and sustainability by doing it that way, no matter how much a win over your in-state rival would please the fans and donors. And you certainly can't take any day for granted.
"Every victory right now, at this point in time, is awfully important," Miles said after Saturday's loss. "Including the one we just walked off the field and did not get. So, yeah, I'm kind of looking at each game kind of balanced."
But next year, with the Miles culture and clear expectations in place from the jump, KU's new coach can and should do more to make sure KU fans in 2020 aren't watching a replay of what they saw Saturday.
The old story about Snyder's preparation for Kansas is legendary. Snyder asked, the story goes, that every one of his assistant coaches spent time preparing for Kansas every day of the year. But it went deeper than that.
When the Wildcats coaching staff divided their upcoming schedule in half to break down opponents in the spring, the group of six always included Kansas.
When they did it again during the summer months, often grabbing the other half of the schedule and preparing a loose game plan for those opponents, they never excluded Kansas. Ever.
The KU game was circled on the schedule. It was talked about or thought about in some manner every single day. And it was crystal clear to everyone in the facility that that game meant more.
Now it's Miles and KU's turn to match that.
Doing so will not guarantee the results that Jayhawk fans want. But it will give Kansas a better chance, and it should reignite the rivalry that has become oh so lopsided to the tune of an average K-State victory of 40-14 over the last 11 years.
Miles has seen that firsthand now. And he knows rivalries. So it can be done.
"I think it's exactly the style of rivalry that I'm used to seeing," he said of his first taste of the Sunflower Showdown. "Close proximity, they know us, we know them and it was a hard-fought game."
After another bye this week, KU (3-6 overall, 1-5 Big 12) still has three games to play before any real evaluation of Miles' first year at Kansas can begin. But it's not too soon for the K-State clock to start ticking.