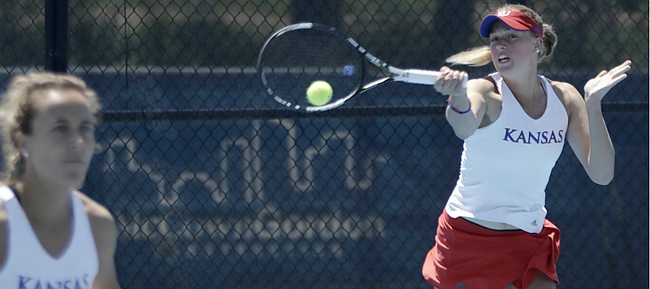 Apparently playing in just one Sweet 16 this spring wasn't enough for a trio of University of Kansas tennis seniors.
Less than two weeks removed from helping the program reach the round of 16 for the first time since 1998, the Jayhawks' No. 1 singles player, Anastasia Rychagova, as well as the No. 1 doubles team of Nina Khmelnitckaia and Janet Koch, are at it again, this time at the NCAA Division I Women's Tennis Individual Championships, at the USTA National Campus, in Orlando, Fla.
Rychagova secured on Tuesday a spot in the Sweet 16 of the singles championship a couple hours after Khmelnitckaia and Koch pulled off the same feat in the doubles championship bracket.
Facing California's Julia Rosenqvist in the second round of the singles tournament, Rychagova eventually pulled ahead in a back and forth third set to win, 6-4, 4-6, 6-4.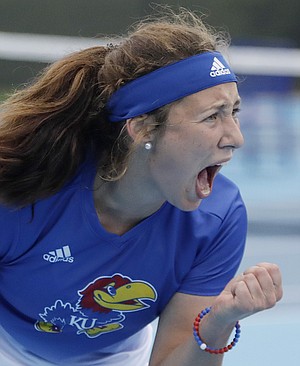 The No. 6-ranked doubles team in the nation, KU's Khmelnitckaia and Koch opened their portion of the tournament on Tuesday by taking on a familiar opponent, No. 19-ranked Caroline Lampl and Kimberly Yee, from Stanford. Earlier this month, as the Jayhawks reached the Sweet 16 of the NCAA Tournament, Khmelnitckaia and Koch picked up a point for KU by prevailing over Lampl and Yee.
It was a different format and setting this time around, but the same victorious result for Khmelnitckaia and Koch. The Kansas duo moved on to round two of the 32-team doubles championship, with a 6-2, 3-6, 10-7 win.
"Today," KU coach Todd Chapman said afterward, "the ladies were tested mentally and physically and came up with the right tennis in the critical moments. We are proud of all three and look forward to tomorrow's challenges. At this time of the year, it is always great to advance to another day of competition."
KU's doubles partners, now 19-1 during the dual portion of the season, won their ninth match in a row, improving to 26-5 overall and 17-3 against ranked opponents.
Khmelnitckaia and Koch will take on No. 14-ranked Martina Okalova and Vera Ploner, of Tulsa, on Wednesday in the round of 16.
Rychagova reached the second round of the 64-player singles tournament by defeating Denver's Bianca Mok, 6-1, 7-6 (2) on Monday night.
With her second-round win Tuesday to advance to the Sweet 16, Rychagova improved her singles record to 22-3 for the entire 2018-19 season, including a 13-3 record against ranked opponents.
In the round of 16, No. 13-ranked Rychagova will take on Georgia's No. 2 Katarina Jokic on Wednesday.