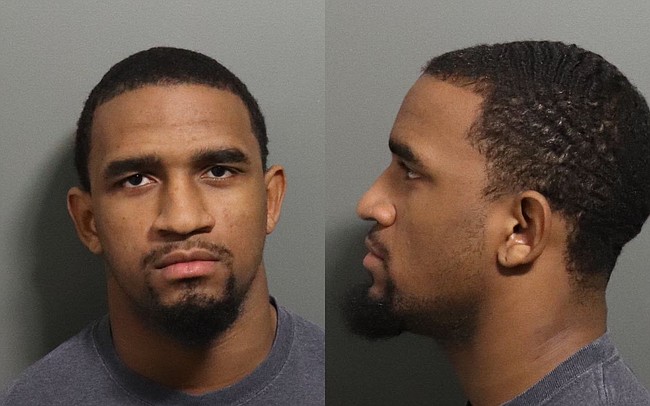 A University of Kansas star football player who was accused of punching a woman in the stomach and grabbing her throat has agreed to steps that could end the criminal case against him.
Pooka Williams and Douglas County District Attorney Charles Branson signed a diversion agreement regarding a misdemeanor domestic battery charge stemming from a December 2018 incident, according to court documents filed Thursday.
Williams is required to complete 40 hours of community service by Nov. 30. He must also undergo a domestic violence offender assessment by April 30, and barring additional recommendations from the evaluator, he would have to complete an anger management course by Nov. 30.
Williams is also barred from drinking alcohol or taking recreational drugs and cannot contact the victim in the case for the duration of the 12-month agreement. Along with the agreement, Williams paid a $158 court fee.
Hatem B. Chahine, Williams' attorney, declined to comment on the agreement Friday.
A diversion is a process whereby someone accused of a crime is "diverted" from the usual legal procedures and instead completes the terms of an agreement, which may include some sort of rehabilitation program or fine. If the program is successfully completed, the criminal charges are dropped.
Chahine previously said the June 3 trial scheduled for the charge would be dropped if an agreement was filed.
"If diversion is approved, and we decide to do it, there won't be any more court," Chahine said after a court appearance in January. "It would keep a conviction off his record."
The charge stemmed from a Dec. 5, 2018, incident in which Williams, 19, whose full name is Anthony Ray Williams, is accused of punching an 18-year-old KU student in the stomach, according to an affidavit.
On Dec. 6, the woman in the case told a KU police officer that Williams punched her in the stomach and grabbed her throat around 12:30 a.m. Dec. 5 when they were at Stouffer Place Apartments, 1835 Ousdahl Road.
During the interview, the officer found that the woman had bruises on her arms and side, according to the affidavit. She also showed the officer text messages from Williams in which he admitted to punching her in the arms.
The officer interviewed Williams, who reportedly said that he pushed the woman when he saw her in a room with other men at the apartment building. Both Williams and the woman said they were in an intimate relationship.
KU police arrested Williams at the KU Public Safety Office, 1501 Crestline Drive, and he was booked into jail at 3 p.m. Dec. 6.
Williams spent the night in jail and made his first court appearance Dec. 7 in Douglas County District Court. He was formally charged with domestic battery, a misdemeanor.
Chahine entered a not guilty plea on Williams' behalf. A prosecutor said Williams did not have any criminal history.
Judge James T. George set a $1,000 bond for Williams and ordered him to not make contact with the victim or return to her residence.
KU football coach Les Miles said on Dec. 7 that he was aware of a reported incident involving Williams.
"We are taking these allegations very seriously," Miles said. "We have suspended Pooka from all team-related activities pending further investigation."
As of Friday afternoon, Williams was still suspended from team activities, KU Athletics spokesman Jim Marchiony told the Journal-World.
"We continue to take this matter very seriously," Marchiony said.
Williams is a running back from New Orleans who arguably became the face of the team during his freshman season, in 2018, winning several weekly and seasonlong awards for his performance on the field.