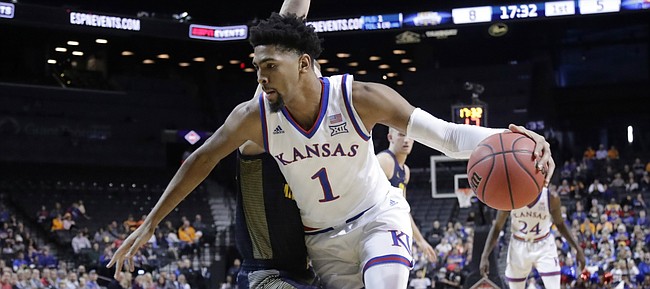 After two and a half months and 18 games for each team, the writers who cover the Big 12 Conference saw it the same as the coaches who watched from the sidelines.
Two days after winning the honor in a vote of the Big 12 coaches, Texas Tech's Jarrett Culver topped Kansas junior Dedric Lawson in the vote for Associated Press Big 12 player of the year, the AP announced Tuesday.
Culver received 14 of the 18 votes for the conference's top honor, with Lawson receiving the other four.
Lawson on Tuesday earned his second Big 12 Newcomer of the Year honor, given out by The Associated Press.
Both players, along with Kansas State guard Barry Brown Jr., landed on the AP all-Big 12 first team as unanimous selections. Iowa State senior Marial Shayok and K-State's Dean Wade rounded out the first team.
The AP's second team all-Big 12 squad looked slightly different from the coaches' picks, which were announced Sunday.

TCU's Desmond Bane, Texas' Jaxson Hayes and Baylor's Makai Mason all made both teams. But the AP squad had Texas Tech's Davide Moretti and TCU's Alex Robinson instead of Texas Tech's Matt Mooney and West Virginia freshman Derek Culver.
There was no AP all-Big 12 third team, which included KU freshman Devon Dotson in the coaches' picks.
Texas Tech coach Chris Beard, who guided the Red Raiders to a share of the Big 12 title after being picked seventh in the preseason poll, earned the Big 12 coach of the year award in both places, earning 15 of the 18 votes on the AP ballots.
The 2019 AP All-Big 12 team, with players listed with school, classification, height, weight, class and hometown ("u-" denotes unanimous selections):
FIRST TEAM
u-Barry Brown Jr., Kansas St., Sr. 6-3, 195, St. Petersburg, Florida.
u-Jarrett Culver, Texas Tech, So., 6-6, 195, Lubbock, Texas.
u-Dedric Lawson, Kansas, Jr., Jr. 6-9, 235, Memphis, Tennessee.
Marial Shayok, Iowa St., Sr., 6-6, 198, Ottawa, Ontario.
Dean Wade, Kansas St., Sr., 6-10, 228, St. John, Kansas.
SECOND TEAM
Desmond Bane, TCU, Jr., 6-5, 215, Richmond, Indiana.
Jaxson Hayes, Texas, Fr., 6-11, 220, Loveland, Ohio.
Makai Mason, Baylor, Sr., 6-1, 185, Greenfield, Massachusetts.
Davide Moretti, Texas Tech, So., 6-2, 175, Bologna, Italy.
Alex Robinson, TCU, Sr., 6-1, 180, Fort Worth, Texas.
---
Coach of the year — Chris Beard, Texas Tech.
Player of the year — Jarrett Culver, Texas Tech.
Newcomer of the year — Dedric Lawson, Kansas.
---
AP All-Big 12 Voting Panel: Eric Bailey, Tulsa World; Tommy Birch, Des Moines Register; Tom Bragg, Charleston Gazette-Mail; Chuck Carlton, Dallas Morning News; Paul Catalina, ESPN Central Texas; Mark Cooper, Tulsa World; Brian Davis, Austin American-Statesman; Drew Davison, Fort Worth Star-Telegram; Matt Galloway, Topeka Capital-Journal; Justin Jackson, The Dominion Post; Joe Mussatto, The Oklahoman; Randy Peterson, Des Moines Register; Soren Petro, Sports Radio 810; Kellis Robinett, Wichita Eagle; Nathan Ruiz, The Oklahoman; Carlos Silva Jr., Lubbock Avalanche-Journal; Matt Tait, Lawrence Journal-World; John Werner, Waco Tribune-Herald.