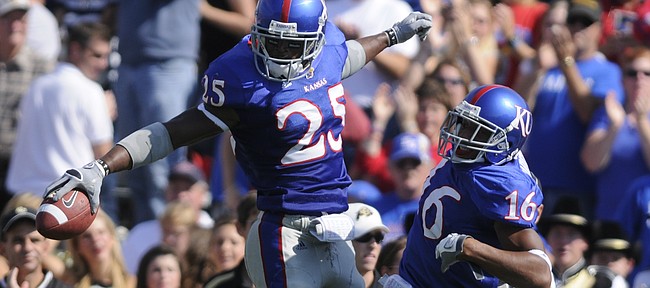 Former Kansas football standout Darrell Stuckey will be coaching up youth athletes in his hometown of Kansas City, Kan., on Saturday, when the one-time San Diego Charger pro bowler will head up what's being touted as Dotte Football Camp.
"I am hosting a free camp solely because I love this game and want to share my passion with the youth of my community," Stuckey said in a release. "I want athletes to walk away with something they can take back to their own teams.  I did not have opportunities like this during my developmental years and I want to give back and show kids that through hard work, all things are possible."
Stuckey's camp, which will take place at Bishop Ward High, is a USA Football Fundamentals clinic.
The camp is scheduled to run from 9 a.m. to 1 p.m., and is open for players between the ages of 7 and 18.
Those interested in participating can register online at DarrellStuckey.com. Registration also will be open at Bishop Ward beginning at 8 a.m. on Saturday.
The session is designed to introduce children to football by teaching them some basics of the game.
"As a young player you can never have too many fundamental skills," Stuckey said, "so we will focus on fundamentals as well as advanced football drills." 
Stuckey, a fourth-round pick of the Chargers in 2010, played seven seasons in the NFL and was a special teams captain with the organization for five years. He made the Pro Bowl in 2014.
Stuckey gradated from KU, finishing his college career with 295 total tackles and eight interceptions.
A Kansas City, Kan., native, Stuckey attended Stony Point North Elementary, Arrowhead Middle School and Washington High.