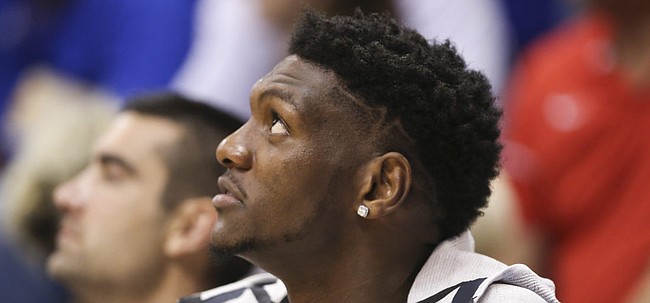 A Kansas City-based attorney representing Kansas basketball forward Silvio De Sousa released a statement on De Sousa's behalf Thursday afternoon and its message was simple.
"It's time for the NCAA to be fair to Silvio and immediately reinstate his eligibility," wrote Scott Tompsett, of Tompsett Collegiate Sports Law in Kansas City, Mo.
In a brief phone interview with the Journal-World shortly after the statement was released, Tompsett said he had represented De Sousa "through the investigation," which has sought to determine whether De Sousa's eligibility was compromised because of alleged involvement of his guardian, Fenny Falmagne, in the FBI investigation into corruption in college basketball.
Tompsett did not provide an exact time frame for how long he had represented De Sousa or indicate who hired him.
According to an NCAA spokesperson who corresponded with the Journal-World last month, KU would have needed to rule De Sousa ineligible and have submitted a reinstatement request before the NCAA could begin to review his case.
When asked last week if KU either had ruled De Sousa ineligible or submitted a reinstatement request to the NCAA, Kansas Athletics spokesman Jim Marchiony said, "We cannot get into any particulars, but everyone is working together for a resolution that is best for all parties involved."
In a statement released late Thursday evening, KU Athletic Director Jeff Long said the university is working closely with NCAA staff to resolve issues concerning De Sousa's eligibility.
"While the past several months have been difficult for this young man, Silvio continues to work hard in the classroom and in practice and he has been an exemplary teammate," Long said in the release. "His patience and cooperation throughout this process have been admirable and we look forward to a resolution."
The 6-foot-9, 245-pound power forward has been voluntarily withheld from competition by Kansas while the school and the NCAA have worked together to investigate De Sousa's situation.
De Sousa's guardian, Falmagne, is alleged to have taken $60,000 from Under Armour to steer De Sousa to Maryland. In addition, discussions of a $20,000 payment by an Adidas official to Falmagne, which testimony in federal court said was never made, and an alleged $2,500 payment to Falmagne to enroll De Sousa in online classes so he could attend KU early out of IMG Academy in Bradenton, Fla., have been a part of the investigation.
In agreement with De Sousa himself, who told the Journal-World and other media outlets last summer that he had nothing to worry about regarding his eligibility, Tompsett contends that De Sousa has done nothing wrong.
"Silvio has cooperated fully and completely with the investigation of his NCAA eligibility, which has now caused him to miss over half of his sophomore season," Tompsett's statement said. "Silvio came to the United States from Angola at the age of 15, and he did everything he was supposed to do and was asked to do to become an eligible student-athlete at the University of Kansas. Silvio followed the rules. He did nothing wrong."
The statement continued: "If adults did something illicit or against the rules, they did it without Silvio's knowledge or involvement. Their actions and conduct can be dealt with through the courts and/or the NCAA major infractions process."
While student-athletes battling eligibility issues in the past have been allowed to play when it was proven that family members or guardians were the ones taking illegal payment, an NCAA rule change in 2012 closed the loophole that separated third parties from student-athletes, therein giving NCAA officials the option of levying sanctions against a student-athlete regardless of who knew what.
According to his website biography, Tompsett has more than 25 years of "experience in all areas of NCAA infractions and compliance work. He has represented institutions, athletic directors, coaches and student-athletes in over 100 major and secondary infractions cases. He appears regularly before the NCAA Committee on Infractions and Infractions Appeals Committee."
The bio also indicates that Tompsett "has guided dozens of coaches through the NCAA infractions process, including a Hall of Fame coach and national champion, conference champions and other nationally recognized coaches, successfully defending many coaches against allegations of major violations, including unethical conduct allegations."
KU coach Bill Self, at his regularly scheduled news conference Thursday afternoon, was asked if he had been given any update on De Sousa's status or situation.
"I don't have any Silvio news as of today," Self said. "None."
When recently addressing a media report that indicated that KU officials were prepared to rule De Sousa ineligible and request immediate reinstatement from the NCAA, Self characterized De Sousa as "crushed" by not being able to play in KU's first 17 games — and counting — of the 2018-19 season.
No. 7 Kansas plays at West Virginia at 1 p.m. Saturday in Morgantown, W.V.