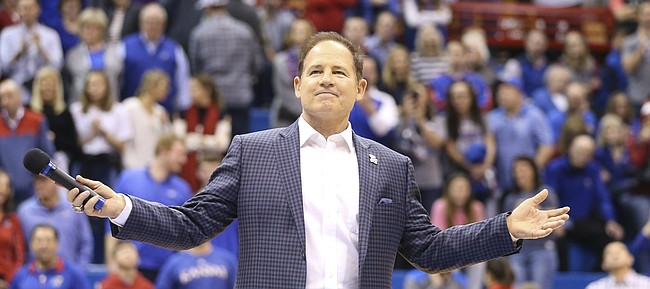 Editor's Note: With KU football's preseason camp now under way and the start of the season less than four weeks out, it's time to start sizing up how the Jayhawks will fare in 2019 under new head coach Les Miles. Yesterday, we brought you a look at the new era of Kansas football from the point of view of the pessimist. And today, we've flipped the script and are looking at things through the eyes of the optimists.
After a long offseason full of changes, Kansas fans are that much closer to learning the answer to the biggest question surrounding Les Miles' football program: How good can the 2019 Jayhawks be?
Kansas fans have asked themselves that question every season for the better part of the last decade. The answer has often been less than satisfying.
But for the fourth time since 2010, KU is starting over with a new head coach and that alone is enough for some Kansas fans to feel optimistic about the season ahead.
After four rough and repetitive seasons under David Beaty, the program finally has new leadership and it certainly does not hurt that the personification of that leadership owns a national championship ring and, up a level, once chaired the College Football Playoff Committee.
Surely, by just adding Miles and KU Athletic Director Jeff Long, the program is in better shape and headed toward better days. Right?
But coaching is just one aspect of the game and it takes much more than a new approach at the top to deliver victories to Lawrence.
Not to worry, says the optimist. These Jayhawks actually have the type of talent on both sides of the ball to be competitive right away.
And it all starts with a man named Pooka Williams. In Williams, who earned all-Big 12 honors as a true freshman and a preseason all-Big 12 nod this summer, the Jayhawks have a player who is talented enough to play for a one-on-one against just about anybody in the country, can hold his own week in and week out.
Williams is talented enough to play in any backfield in the country, and the Jayhawks are lucky that their running game not only includes Williams, but also talented backs around him to keep him fresh and keep defenses guessing.
There are a couple of other reasons on offense to feel good about the new era of Kansas football, most notably an experienced and mature offensive line led by Hakeem Adeniji and a talent-rich group of pass catchers itching to break out.
Heck, new blood at quarterback in the form of Thomas MacVittie is also reason to get excited, even if we've never seen him play a down at Kansas.
We have seen the others who came before him play. And even though each of them had their moments, none of them proved to be consistent enough to elevate the offense. Maybe MacVittie won't be either. But as of today, it's at least a possibility. And sometimes new faces in key places are just what is needed for a turnaround.
If that proves true, that could be good news for the KU defense, as well.
With a front seven full of new names, it could be merely a matter of time until we discover the next Daniel Wise, Joe Dineen, Ben Heeney or Dorance Armstrong in crimson and blue.
And a strong and experienced secondary led by safeties Mike Lee and Bryce Torneden and a host of returning cornerbacks should help give those guys up front the time they need to find their footing and perform.
And then there's the schedule. You can't ask for two better games to open a new era than Indiana State and Coastal Carolina at home.
Indiana State is 16-28 in its past four seasons, including an 0-11 mark just two years ago.
Coastal Carolina is transitioning to a new head coach after six successful years under Joe Moglia, and the Chanticleers' new head coach has never competed in the SEC or won a national title game.
Roll all of that into one big, juicy optimist's burrito and dig in. There's plenty of reason to believe that things are changing for the Jayhawks and that this is the year, after all of that waiting, that things are finally going to be different.